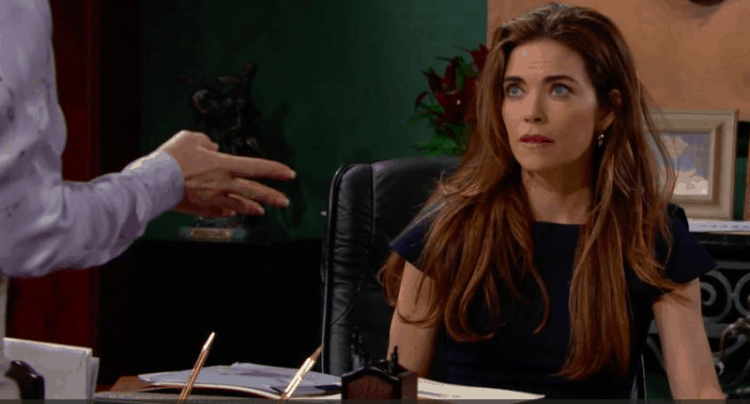 Young and the Restless fans are going to need to pick up their jaws off the floor after this episode yesterday. Things were more than a little heated and on fire when the world seemingly fell apart, and we are feeling it. There was a major moment when Mia opened up to her husband's brother about her pregnancy — and informed him that there is a great chance he is the father of her baby, but that she is not sure. She did renew her vows and sleep with her own husband around the same time that Arturo helped her move and also slept with her. She's not all that likable, and that's why we have such a hard time with the fact that they both seem to have a weakness for her knowing that she's not sure which one of them she has real feelings for at all.
But, that's not all. There is more to this one than what meets the eye. For one, we do know that there is a lot happening that will not be very nice. Kyle is going to tell his wife that her mother is blackmailing his father using her as her pawn. This is going to hit her very hard considering the fact that she is in the middle of some stuff with her own life. She's got a lot of stuff going on already, especially finding out that her husband is seeing his own ex and even got a hotel room with her so they could sleep together — which they did not. She's a mess right now following her health issues and all that is going on, and this news will only serve to push her over the edge a little bit more. We hate to see what she's going to turn into.
What's Happening on Young and the Restless
Billy wants to make #Villy official! 💍 Do you think he should propose? #YR pic.twitter.com/Xnteso9FHN

— Young and Restless (@YandR_CBS) April 15, 2019
And we think that she should say no.
What's Next on Young and the Restless
https://twitter.com/YandR_CBS/status/1117427287882964993?ref_src=twsrc%5Etfw
Cane has been working hard to talk his wife out of what she wants, which is to end their marriage. She is adamant that she's done, that she wants nothing more to do with their marriage, and that she is over this in a way that will not make them feel very good about any sort of reconciliation in the future. Now Cane has to focus on his own future, what he will do, where he will go, and how he will tell the kids that their mother is done with their marriage. Will he tell them what he did, or will he let them think that their mother changed her mind about him and wants to end their marriage of her own accord? And what will he do? Will he pursue something with Victoria now that she is back with Billy and clearly working on that as a good thing in her own life? We don't know what he will do.
But we also know that Mariah is in the middle of something she doesn't want to deal with. She's going to get a message that is nothing short of disturbing and upsetting. She's going to feel that things are not working out in her favor, and she's going to feel that things are going to end on a poor note for her. That's not something that will work out in her favor, and we cannot believe that there is anything else going on in this situation that works for anyone else. For the moment, however, we are going to wait to see who the message is from, what is says, and how it freaks her out.
Stay tuned for more Young and the Restless and be sure to check out TVOvermind daily for the latest Young and the Restless spoilers, news, and updates.