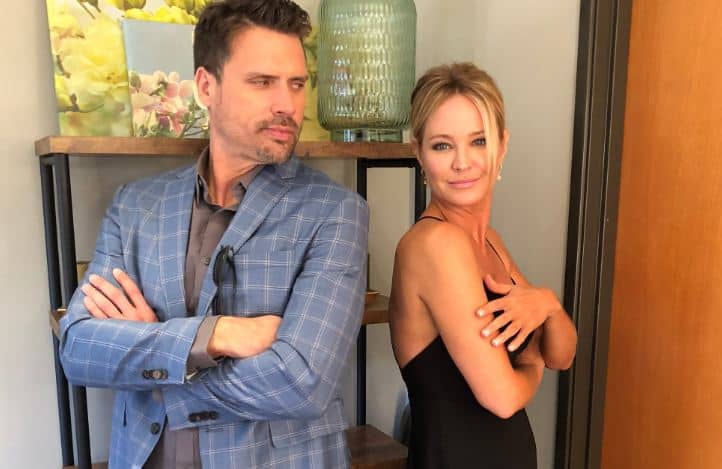 Young and the Restless fans are finally seeing Cane suffer the consequences of his actions. His wife, who is currently in prison, is now fully aware of the fact that he cheated on her. She now knows that he's been having an affair with Victoria, even if it's been nothing more than a lot of kissing and some very serious conversation — she's crushed, sickened, and upset by all of it. She's not someone who will do very well when she realizes that there is very little she can do about this, either. She's hurt. She's upset, she's crushed, and she's not having much of this at all. She's not sure what to do. But she's not going to let him get away with this. If she thought things were bad before, they're about to become a lot worse for her, her family, and her husband.
And then there is Sharon, who is forced with a decision. Phyllis wants to partner with her so that they can have an alliance against all these people that they hate. They are both struggling with a few things in their personal lives these days, and they are both feeling like there are a few people who they want to get back at, and they are going to have a lot of fun with this situation. Will Sharon accept Phyllis' proposal that they work together? Rey and Arturo are trying to make amends, too, and we are not sure how that will work, either. They have a lot of stuff going on in their lives, and they have a lot of problems. Having Mia home in the meantime is not working for either of them, and we wonder how they will continue to work through their own issues.
What's Happening on the Young and the Restless
https://twitter.com/YandR_CBS/status/1086382729166385152?ref_src=twsrc%5Etfw
We love this, and we think you will, too. You can see more of it if you take the time to head over to the Y&R Twitter page and click on the links that they are sharing with their fans.
What's Next on the Young and the Restless
Phyllis reveals a plan of attack today on #YR. pic.twitter.com/Kvuk7GjJYU

— Young and Restless (@YandR_CBS) January 21, 2019
It turns into something big when people make poor decisions, and that is what is going on right now. It turns out that there is a chance that Cane believes it was Billy who told his imprisoned wife that he was kissing Victoria. It's not like it's a big secret that he's been working on getting back together with his ex since things did not work out with Phyllis, and this is not something that he appreciates being in his way. So, there is that. And now we are going to watch as Cane show sup at the Abbott home to make sure Billy knows how he feels about that — which is not good. His plan is to punch him right in the face, and that's the plan. And it's a good plan, but it's not the most effective plan.
And then there is Nick, who doesn't like what he feels that Phyllis is up to. He's starting to think that her motives are less than pure, but we are just over here wondering why this surprises him in the least. She's not ever been a woman who puts anyone other than herself first, so we are a little surprised in every way that he might think she would right now. It doesn't work like that for us, and we don't know why he feels it would. But, that's neither here nor there at the moment. So, we will just see how this plays out the rest of the week. It may be good, but it may not.
Stay tuned for more Young and the Restless and be sure to check out TVOvermind daily for the latest Young and the Restless spoilers, news, and updates.