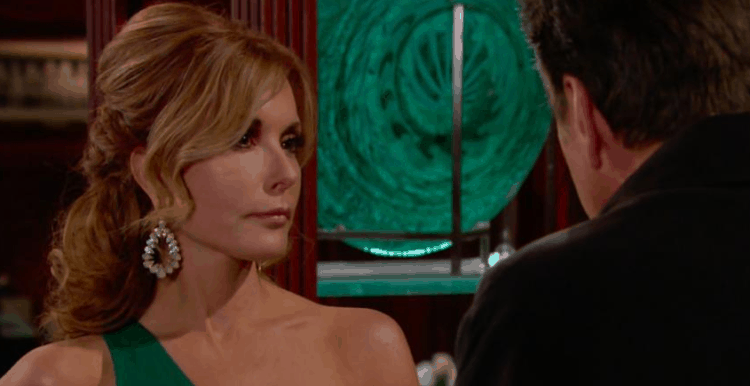 Young and the Restless fans are still not sure what is going on with Victoria and Billy. She went from ignoring him and not wanting him to contact her, speak with her, know where she was to opening the door for him, having a party with him, and hosting a poker game with him after she spent some time with another man. She's clearly not in her own right frame of mind right now, and she doesn't seem to get that. Billy is not the right man to take care of her situation, either, because he's just as much of a mess as she is on a regular basis. She is not in a good place, and we get that she needed time, but we don't get that she ran off to Vegas and began making these mistakes that are going to cost her so much of her own peace. She only just got back a lot of that peace in the recent weeks.
Phyllis has a plan, and it's not working out for her. Summer is not going to be happy when she finds out that her husband got a room with Lola, and we still cannot figure out what Lola is thinking. She was so clear she would never be caught in any situation in which she was another woman to another woman, and yet she decided that when Kyle made is clear to her that he only wanted to be with her but that it was Summer who was getting in the way. Now Summer and Kyle are married and she decides that it's all right to take him to a hotel room and try to sleep with him? We are so confused, and we do not get where she is going with this.
What's Happening on Young and the Restless
Rumor has it that I may be with this talented guy on Monday's show! #yr @DougDavidsonYR @CBSDaytime @YRInsider @YandR_CBS pic.twitter.com/zmLFyL3w2S

— Lauralee Bell (@LauraleeB4real) April 12, 2019
Rumors aren't always fun, but this one is.
What's Next on Young and the Restless
Battle lines are drawn, and big questions need big answers! 💍 It's all coming up this week on #YR. pic.twitter.com/KGTFWMYBxO

— Young and Restless (@YandR_CBS) April 14, 2019
Phyllis is going to do something that will make us all cringe, and we are not proud of her for this one. In fact, we are a little bit surprised she would do this and that she is getting herself into this situation, but we know that she's just that kind. She's going to do something awful, and it's going to shock even the people who know her and know she will do anything to get her way. She and Jack have been bonding, but things fell outside of her control recently. And this means she has a big problem to deal with. She has a chance to use her own daughter to blackmail Jack, and she will do it. This is not something we are very fond of, and we even think that Jack will be surprised and grossed out by her sheer ability to sink that low.
Meanwhile, we also know that Summer is going to work so hard to figure things out with Kyle. She wants to be married to him and she wants it to be real and working and all that, but he will tell her about Lola and their time together. She is so desperate for Kyle to love her and want to be with her that she will tell him that she's not mad about it, that she will move on from it, and that it will all be all right. It's not going to end well for her.
Stay tuned for more Young and the Restless and be sure to check out TVOvermind daily for the latest Young and the Restless spoilers, news, and updates.