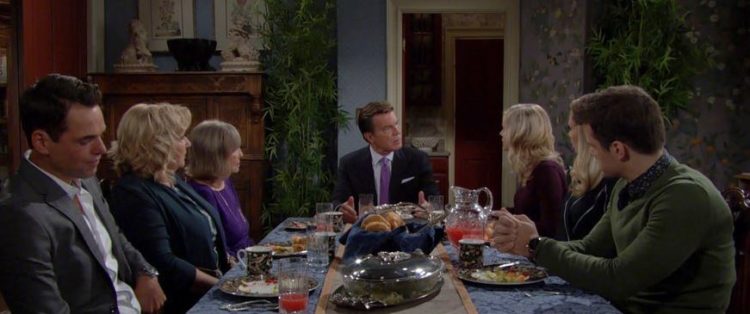 Young and the Restless fans are beyond excited about the fact that so many things are going on that we just don't know about, and we cannot wait to see this all fall down into a situation we want to see happen. For one, we got to see that there was a chance that Kyle had no chance to see himself with Lola with Summer in the picture. He was quick to take Lola out on a date only to find out that Summer was more than happy to interrupt. She might have just come off her time with Billy offering to sleep with her as a way for him to get back at her mother, but she's there for Kyle. And she's not about to let that go and make herself feel like anything other than a person who will get the man she wants. We just aren't sure about these women who fight for men who don't know how they feel. Find a man who only wants one woman, ladies.
Our favorite thing to see, however, was the moment when we saw Phyllis smack Billy. She's not unaware that what she did with Nick was wrong, but finding out that he offered to have sex with her daughter so that he could get back at her was beyond all she could handle. That was not right, no matter what she did first. She knows she was wrong, but this was a line she was not ready to cross or deal with. And that's all there is to it. There is very little we can do to make things feel better for them, but we can sit back and make sure that things work out as well as can be for some of them.
What's Happening on the Young and the Restless
Our #WCW is the gorgeous @camryngrimes! Tell us your favorite thing about her. #YR pic.twitter.com/NdiPuo7VbA

— Young and Restless (@YandR_CBS) October 17, 2018
We have so many favorite things about her. Our favorite favorite, though, is that she's hilarious. She is definitely someone who wants to make the most of her life and of the things that are going on in her situation. She's a person we love to love, and she's also one of our favorite people.
What's Next on the Young and the Restless
Ridge is heartbroken. 💔 #BoldandBeautiful pic.twitter.com/4guOtJUIoq

— Bold & The Beautiful (@BandB_CBS) October 12, 2018
The end of the week is going to be very interesting for fans of this show. It turns out that Sharon is going to remain firm with Nick. She's not backing down, changing her mind, or making this easy on anyone. She's maintaining her new friendship with Rey, not giving anything but problems to Nick, and making her own life decisions. Nick should know that he messed up and that he can't just have her back and make things right, and he's learning that the very hard way. He caused her pain and suffering, and that hurts her more than anything in the world. He's not happy with himself, but he's also not happy with her at this point. But that's not our problem.
Nick is making it his goal in life to get back at Rey for being there for the woman he loves, and he wants to know more about him. He's going out of his way to learn as much as he can about Rey, and we do think that he is going to learn a few things that might just change the way he's been feeling as well as the things that he is doing. There is not much else that they can do to get this situation under control, but we do think there is a lot that might go on when he learns what he's going to learn. And don't think he will not uncover more than we all think he might about this man and his own family.
Stay tuned for more Young and the Restless and be sure to check out TVOvermind daily for the latest Young and the Restless spoilers, news, and updates.