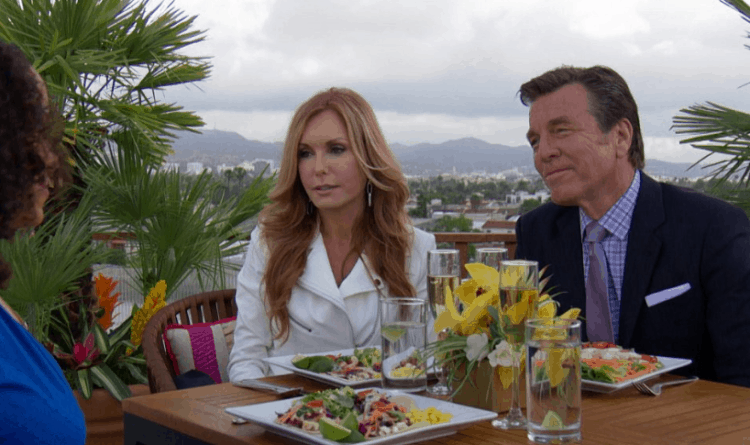 Young and the Restless fans are never happy with the way lives are being spent, but that doesn't mean we get to say much about it. We don't always have a reason to wonder why people make their decisions. Nick is hiring Michael to fight Adam, and he wants to keep his son. Even though the boy is really Adam's son, he's not about to sit here and let him have the child he's been raising. He's going to fight as hard as he can to keep Christian, but what will work for him now that his brother is alive, well, and ready to become a parent to a child who has never known another father? We know he wants his son, but he should consider what might be best for the boy. That's what would make the most sense, but we suppose he doesn't always make a lot of sense in his life. Nick, though, won't stop fighting.
Chelsea is going to have to focus on her own life now, too. She's back, and she's keeping her son, but now he has to worry about telling her she has to fight to keep this child for herself, also. Now that Adam knows what happened all those years ago, we don't know if there is much we can do but sit here and wonder how it all went awry for them. They have been in the middle of a few situations that don't make the most sense, but they also have a chance to see things work in their own favor. We'd like to see them get it together, but will they? Will they find a way to keep this child where he needs to be, and will they find a way to work together to keep his life normal?
What's Happening on Young and the Restless
Genoa City has plenty of amazing dads to celebrate, so we couldn't pick just one to post! Here are a few of many. 🌟 Happy #FathersDay from #YR. ❤️ pic.twitter.com/O0vdpC4bXn

— Young and Restless (@YandR_CBS) June 16, 2019
Celebrating the dads is our favorite thing to do.
What's Next on the Young and the Restless
Michael forces Kevin to come clean today on #YR. pic.twitter.com/8xPsxyfxhV

— Young and Restless (@YandR_CBS) June 17, 2019
Will Devon and Elena finally make the connection we all want to see them make? It's been a long road for them, and she's not sure how she feels. He clearly has some feelings for her, and she does for him, but she's really kind of taken aback by his generosity. When he paid her student loans off, she wasn't sure what to think. We all think she should just enjoy it, live it, and love it, but he is not sure that she is feeling that good about it. We do admit it was a bit of a grand gesture, but he is also a man who feels those are sometimes the best gestures. For now, though, we don't know how they will figure that one out. They do have so much to deal with, but we aren't sure it's all good news.
Then there is the fact that we do see things working out in the favor of many others. We can see things taking a turn for the best when Adam and Sharon decide to ignore their feelings. Unless, of course, they don't ignore them. She's got to get away from this family and the men in it. She knows they are no good for her, yet here she is making poor choices and living her life to a degree we are not sure is great for her. She's got to do something different, but they are fighting the chemistry and the passion they can feel between them when things are bringing the together all the time.
Stay tuned for more Young and the Restless and be sure to check out TVOvermind daily for the latest Young and the Restless spoilers, news, and updates.