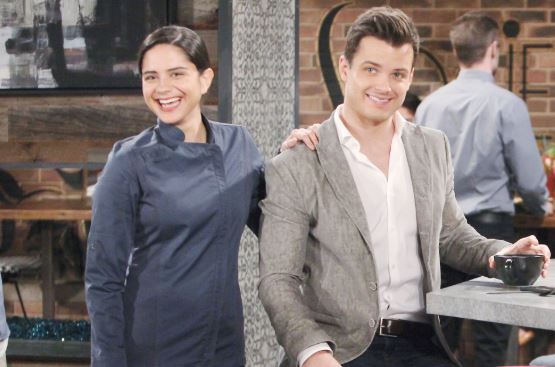 Young and the Restless fans aren't sure how to focus on things that aren't in good working order. For example, we know that there is a situation involved in this area of living that makes us a little uncomfortable. That situation has everything to do with Sharon. She's gone out of her way to make things work with Rey – but only until she decided to sleep with Adam. When it was him and his life that was the problem, she was not that wiling to forgive him. When it was his actual wife he wanted to try and make things work with, she was not all for it. She was against anything that would work for him, but she ultimately decided to forgive him. He didn't cheat on her, of course. She was aware he was married and this was something he wanted to work on.
She cheated. Recently. As in, like, last week. And she is willing to let him think that things are all right and okay, despite the fact that she knows he is not a fan of Adam, their own history, or their friendship. What kind of game is she playing with Rey, and does she even care that he will end up hurt and she will end up losing a lot more than she thinks she can lose in the end of this? Will this even work out? We assume it will not work out in the least, but what happens when they decide that they have more to worry about than ever? We cannot tell you what will happen now, but we know it will not be so pretty. She's making a mess of her life that she cannot help, and we get that. What we don't get is her game.
What's Happening on Young and the Restless
Our #WCW's can bring the drama to any occasion. 👏 Stay tuned to see if they make it through the #Kola wedding without a fight. 😂 #YR pic.twitter.com/nfXuqWlIJq

— Young and Restless (@YandR_CBS) August 14, 2019
We agree.
What's Next on Young and the Restless
Even cold feet can't hinder true love. ❤️ It's the wedding of the year this week on #YR! pic.twitter.com/mOIV0c3jnN

— Young and Restless (@YandR_CBS) August 11, 2019
It's wedding day. It's time. It's the moment that so many people have been waiting around for. It's the day that Lola and Kyle will get married. Or will they get married? We don't know if they will actually get married. It appears that Summer knows his secret, which means that she might not allow him to get married. She's not exactly a fan of anything he is up to, but that's not something she's ever been when his decisions do not involve being with her. She's a mess, and she might just use this situation to be her own mess. But, what happens when things don't work out for her? And what happens when they are walking down the aisle and she has to decide what to do? Will she be able to decide what to do? Or will she make a bigger mess of herself? We cannot decide how this will work out.
It turns out that Theo might have more to this than anyone else is thinking he has. Is there any chance he might make things worse for himself than he is making the game a winner? Is there a chance he will mean what he says when he sends a horrible text message to Kyle on the day of his wedding? Does he mean that at all? Does he mean that there is anything else he can do to stop this, to make it work, or to get his life in order? Will he make this a problem for Kyle, and will there be a real wedding?
Stay tuned for more Young and the Restless and be sure to check out TVOvermind daily for the latest Young and the Restless spoilers, news, and updates.