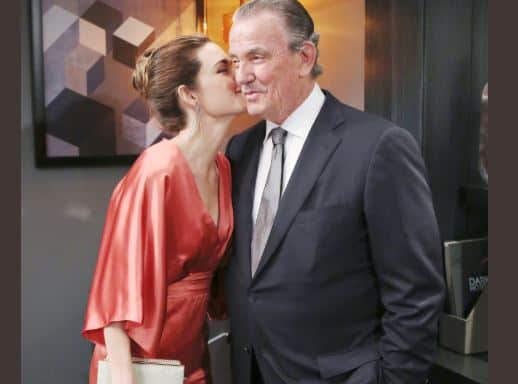 Young and the Restless fans are not sure how Adam will fall when Kevin and Michael fill out their plan and put it into action. They have a plan to take him down, but he never seems to fall too long or too hard, so we aren't sure they can really take him down in the same manner that they think they can take him down. There's a lot going on in their lives that will prevent this from happening, and we do get that. But, then there is the fact that there is a lot going on that we cannot handle. We cannot handle the fact that they think they will come out on top, but they will probably only make things worse. Kevin is unstable since he came back, and that's because he's been through a lot. He feels there is a lot that needs to happen.
Phyllis is putting in overtime making sure that her life is taken care of. She is working very hard to ensure her tracks are covered, her life is in control, and things are working to keep her from looking like the bad guy. We think she has a plan that she's yet to speak into existence, but she's done it. She's made it all work out for her, and she's made things happen that don't seem to make her feel good about herself. She's a woman who has a long road ahead of her, but she's covering her tracks and trying to figure it out. Will she, though, or will this only turn into something bigger and more upsetting? Nick is preparing for a fight, and we know that she's got his back, and this is going to be the most interesting thing that happens around here for a long time.
What's Happening on the Young and the Restless
These two are off to New York! ✈️ #YR pic.twitter.com/OtOhmxtAdI

— Young and Restless (@YandR_CBS) July 16, 2019
Well, aren't they cute?
What's Next on the Young and the Restless
New beginnings, bitter rivalries, and so much more! It's a can't miss week on #YR. pic.twitter.com/p1F2rIsJOQ

— Young and Restless (@YandR_CBS) July 14, 2019
Abby is going to go out of her way to make a bold move. Things in her life rarely ever seem to work out for her, and this might be the move she needs to make. We hope it is one that is good for her rather than one that is designed to make other people miserable or upset or whatever. We hope she is in this to win this and not to make us all wonder what else is going on in her life. She's got so much to offer, and we hope that she can make it happen, make it work, and make her life seem like something worthwhile. She's got a lot on her plate, and she's got a lot to offer, and we like that about her. But, we also know that she's not in a place where she can just make things in her life work out in her favor. But, who knows.
Then there is the fact that we know Traci can get Cane to open up. He's in a rough place in his life right now thanks to the fact that so many things have happened in his situation. His wife left him for his cheating, he shared a kiss with Traci after she finished the book he inspired her to write, and they are living in a life that might be something special. Of course, we don't know how special it might be. But we hope that it's very special. We hope that they have something to offer one another that is right and good.
Stay tuned for more Young and the Restless and be sure to check out TVOvermind daily for the latest Young and the Restless spoilers, news, and updates.