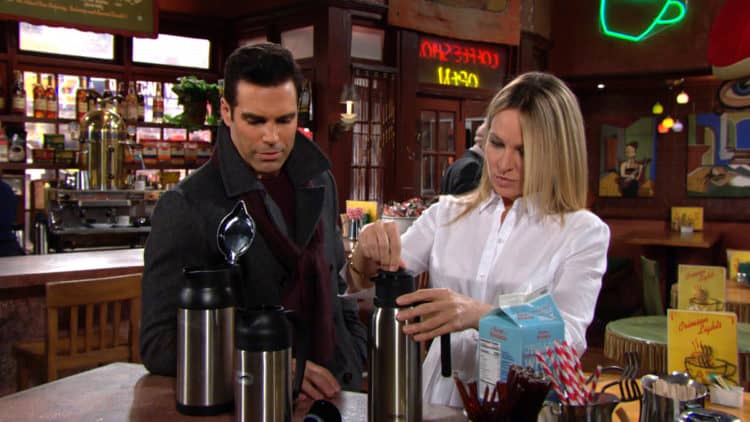 Young and the Restless fans are still just sitting here shocked by Sharon and her situation, and that is what takes the frontrunner position in our minds. She found a lump in her breast last week, and it was a shocking realization for her. She immediately called her doctor and scheduled an appointment, which was absolutely the right thing to do, but she's not telling anyone. We get it. On one hand, we know that she is worried, scared, and not sure what the future holds for her. Why would she make everyone who loves her worry and go through that same fear with her if there is no reason for it? But, on the other hand, we also know that she has a chance. She has an opportunity to be open and honest, but she's not taking it and we know that Rey will think her distance and lies have to do with something else. It's causing problems that aren't there.
Chelsea and Nick decided to end things, thank goodness. It's hard to date a woman when she's secretly also planning dates with your brother, the father of her child, behind your back. She moved in with him, and they both knew at that moment that she and Nick were done. He could not handle being with a woman who lives with his brother, knowing his brother the way he does, especially when it's clear that his brother wants his family with this woman back. It's a mess, but Victor is speaking to his son about things, and Nick and Phyllis have bonded again. It's a thing that doesn't seem like it's going to go anywhere, but we know that they always find a way to make things go somewhere. It's what they do and how they roll.
What's Happening on Young and the Restless
https://twitter.com/YandR_CBS/status/1215341831694667776?ref_src=twsrc%5Etfw
Fun moments to relive!
What's Next on Young and the Restless
The word is out about Chelsea and Nick's breakup this week on #YR, and she's moving on. Make sure to tune in to see what happens! pic.twitter.com/IyQXdhpVLy

— Young and Restless (@YandR_CBS) January 5, 2020
It looks like Victoria is done with the games and with the things that are going on in her life as a result of Billy and his personality. She's going to ask him about things that she's not feeling very good about, including the fact that he seems to be spending a lot more time with Amanda than he does with her. She may just want to know what's going on, why they have bonded so much, and where this is going. Will she even ask him if it's gone a bit too far at this point? More importantly, will she believe him when he tells her he's yet to sleep with Amanda? We aren't so sure. Her own father is making it clear that he feels there is a lot more going on than meets the eye, so she might be more inclined to feel the same if she's given the option to choose.
Devon is going to say something about Amanda that might just shock those around him. We don't know what he is going to share, but we do know that it will be cringe-worthy in some capacity. It might be that he is developing strange feelings for her because she looks so much like Hilary. It might be that he's learned something about her that makes it all seem as if it's a mess, but we just aren't sure in this moment. He is someone who doesn't always think first, so this could be a mess. And then there is a situation where Sharon is going to get some support from Nick, and that's not going to go over well with Rey.
Stay tuned for more Young and the Restless and be sure to check out TVOvermind daily for the latest Young and the Restless spoilers, news, and updates.