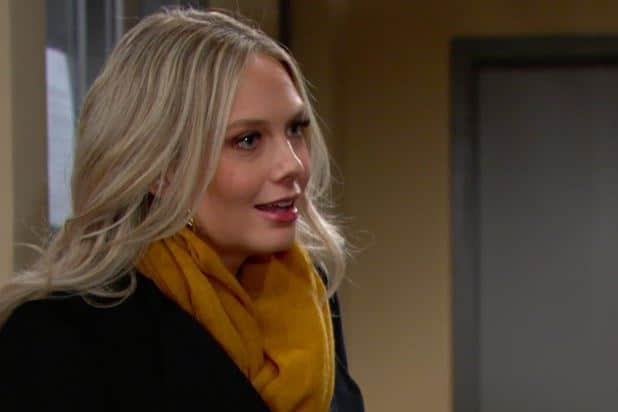 Young and the Restless fans didn't think it would take long for the young men who hit Nikki to come clean about what they did. Reed already told his mother what happened, and now he's going to confess to the crime. He was only driving because he was trying to prevent a drunk Charlie from driving home. They didn't realize – in the fog – that they hit someone. And Reed really didn't realize that it was his own grandmother he hit with the car until it was too late. They tried so hard to cover up what happened, but things did not work out for them that way. They've had some issues in their lives, and they've had a lot going on to deal with and to work with. We don't know if there is anything that will work out for them, but we do know that they are going to come forward and come clean about it. And that's good.
Jill is back, and she's got some news. It's not news anyone really wants to hear, but she's still telling what she knows despite what everyone wants to hear. She's made it clear she is not in the business of making sure people are happy or that they are feeling good about their lives so much as she is looking to ensure that they are aware of what is going on. She's here for a while, and she might just have some answers. There might be more to this than we thought, but we do think that there's something to be said about what is going on around here. Maybe she can get someone to focus on the big picture rather than all the small stuff they're working on right now. We just don't know what she's up to.
What's Happening on Young and the Restless
We decided to have some fun with the #YR cast…well WE had fun watching them! 😂 And you will too. 🎈💥 pic.twitter.com/8b2bnLJzcA

— Young and Restless (@YandR_CBS) January 2, 2019
We might not know exactly what's going on here, but we do suspect that we like it a little bit more than we should. It's good stuff.
What's Next on Young and the Restless
Get ready for the #NewYear in Genoa City! 🎉 #YR pic.twitter.com/TCBLvGDswG

— Young and Restless (@YandR_CBS) December 31, 2018
Nikki is not going to sit back and allow everyone in her life to control things. She's got to take control of a situation that is weighing heavily on her mind, and we think that this is not just her health. We think she's about to make it public that she was the one who did the killing and that JT is dead because she killed him. Will she share that she only did it because he abused her daughter, or will she allow them to think that she did it for no other reason than because she wanted to and she's that kind of girl? We don't know precisely where she is going with this one, but we want to see it unfold in some way other than her going to jail and turning on everyone else. But we will see as time goes on. She might not get a chance to say anything, after all.
Victoria isn't sure how she feels about Billy. He's making it clear that he is in it to win it with her, but she's not sure how she feels. She's just come off a week of making out with Cane, whose wife is in prison for the death of her sister-in-law in a car accident, and this should not be happening. But they are swearing to one another that this will not happen again and that they will not make any more moves to make this a thing. They will make sure they are good to go, and they will make sure that they are working on things as they see fit. We don't know that might happen in the long run, but we do know that there is something going on that we don't like.
Stay tuned for more Young and the Restless and be sure to check out TVOvermind daily for the latest Young and the Restless spoilers, news, and updates.