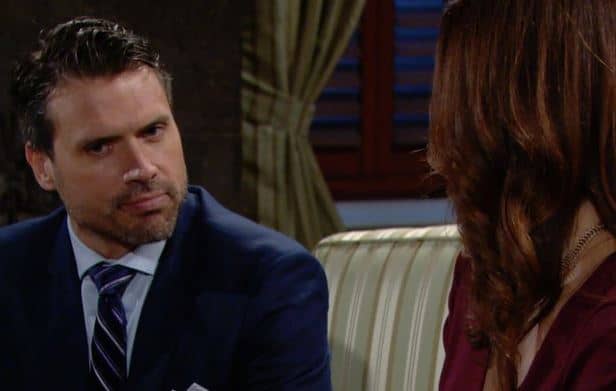 The Young and the Restless fans might not have much to celebrate this week, but things might just be looking up in some way. There is so much going on with everyone, and it does appear that everyone is mostly on survival mode at this point. Not too many people seem to be all right with their lives at all right now, and that's not going to be a good thing. There are a few people who might just work through this, but at what loss to themselves? Cane is looking to work with Victoria so they can get a few things handled, but what about her? She's going to go to prison for murdering her ex husband. Well, she might not go for that since she is not technically the one who killed him, but she will certainly go for being a co-conspirator in this death. This is not looking good for her, but she does have to sit back and face the facts.
Her work with Cane might not be enough to handle all that is happening around here, and that is not good news for anyone. For the people who might be in trouble, though, there is a lot that might happen. And we do know that many people are forcing situations. One of those people is Mariah, and that is not good. She's in a bad place with Tessa at the moment, and she's not looking to see that get any better. We can all see that she's in a position where she has to stop what is going on in her life and end this before it gets any worse, but she cannot seem to pull that specific plug. At the moment, however, we think that there is a good chance she can do that and make it work for her.
What's Happening on the Young and the Restless
This is exactly how we feel on Mondays! 😂 Who loves this picture of @MelissaOrdway as much as we do? #MugshotMonday #YR pic.twitter.com/B5IOrRQf3n

— Young and Restless (@YandR_CBS) December 10, 2018
This might just be our favorite mugshot Monday photo of all time. We think that this might just go down in history as one of the best things we have ever seen in our lives. Bring us more!
What's Next on the Young and the Restless
Here's the Genoa City holiday survival guide:
Cover your tracks,
Watch your back, and
Lawyer up! 👏

You're not going to want to miss #YR this week. pic.twitter.com/CKHRBlZgEj

— Young and Restless (@YandR_CBS) December 9, 2018
Things might start looking up for Victoria when she gets a surprise visitor right now, and that person happens to be her son. She's not seen him in a while since he took off from Genoa City, but he's back. And we might not be surprised to see that her happiness quickly fades as he is made aware of all that is going on with his mother, his father, and all that stuff. He might be looking to find out who did this to his father, but he will die if he knows it's his mother. She will never allow him to find out like this, but what will she do if that's the case? How can she stop this and make it go away?
And then there is Phyllis. She's riding high on all the good in her life right now, and includes her situation with NIck. She's happy with him, but she's not all that worried about the little lies she's been telling him. Do they even count as lies in her mind? She might just feel that they are definitely not lies but more like untruths she's simply not said to him at this point. She's not sharing things with him that she does not feel are completely necessary, and that's her issue. She's working hard to keep things going in her life the way she wants them to go, but she is also looking for a way to make her life feel a little bit more productive. She's not happy with any of this, but it's all going to work out in the end if her mother takes responsibility for what is going on with J.T. and the investigation they are under.
Stay tuned for more Young and the Restless and be sure to check out TVOvermind daily for the latest Young and the Restless spoilers, news, and updates.