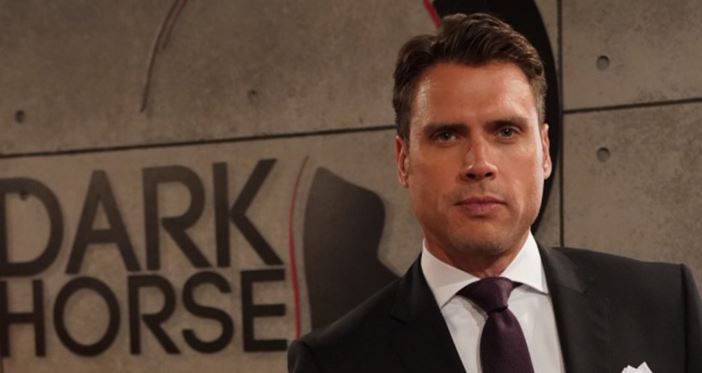 Young and the Restless fans know that things didn't to the way they thought they might go last week. For one, we all saw that Jack and Victor are not brothers. We didn't really know where to go with that one, though, so we aren't all that upset. We kind of thought it might be cool to add this little bit of a storyline to their already tense and stressful life-long situation, but they didn't really work. Seeing them get along and bond like they did was disconcerting. They've spent their entire lives trying to ignore one another and not spend that time together, and here they are actually bonding and making an effort to spend time with one another. We have to admit it was too weird for us to deal with, and that's where we are right now. We kind of like that they are not brothers, and we think that it works better this way.
Billy is a mess. He stole a bunch of money from his family business, but he has to face the facts. His family is worried about him, well some of them. The rest are worried about themselves. There is a mess at Jabot, and he created it. Ashley is working on her life with something going on in the background. Jack is still looking for his father. Traci and Jill are both back trying to help Billy. Nick told Phyllis he's telling Sharon that he slept with Phyllis a few weeks ago, and Sharon wants to tell him that she and her friends and his sister and mother killed and buried JT's body. Everyone is currently a mess, but no one will ever be as much of a mess as Devon who simply cannot get over the loss of Hilary last month.
What's Happening on Young and the Restless
In honor of the big day next week, we're looking through the #YR archives for some of the best weddings! Which is your favorite? #FlashbackFriday pic.twitter.com/EyLpujEEji

— Young and Restless (@YandR_CBS) September 28, 2018
We love a good wedding, and we really love when they let us get to sit back and check out all the other really good weddings that happened around here. There really isn't much we don't know and can't figure out about this wedding coming up, but we think it'll be good.
What's Next on Young and the Restless
Billy finds himself in hot water today on #YR. pic.twitter.com/DxeyXxudvE

— Young and Restless (@YandR_CBS) September 28, 2018
This week will bring some serious stuff and we think a wedding might just occur. We aren't sure that this will go down the way that anyone wants to see it go down, but we do think that there is a good chance that they will all find themselves invited to a wedding that might or might not happen. Nick and Sharon want to get married, but he did this little thing where he slept with his ex, and then she did this little thing where she was made aware of a murder and helped to hide a body with his family. This is not a thing either of them want to discuss, but it's also not something that they can just sweep under the rug. For one, too many people know about both things. And we think they both made the decision to share their secret with the other.
And that might mean someone stands up at the wedding and says no thanks or someone else stands up and objects. It could go either way, but someone is going to find that things are rarely what they seem. We aren't certain what might happen, and we also have no idea how much more of Victor we will see. His actor is going on a leave from the show for something we are unaware of, but we don't know when he will finally leave the show and not be seen so much anymore. It might be now, or it might be later. It's up in the air for us.
Stay tuned for more Young and the Restless and be sure to check out TVOvermind daily for the latest Young and the Restless spoilers, news, and updates.