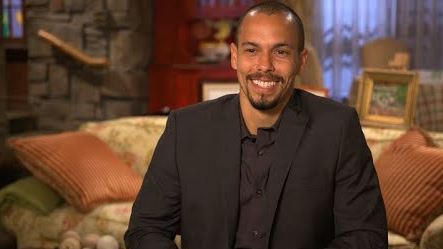 Young and the Restless fans know that sometimes couples really do spend some time together outside of work, too. They spend hours together every day, and they are in situations that most people who work with other people are put in. In the average place of business, you don't get to make out with your coworkers and call it work. You call it an affair. On a soap set like this one, sometimes you make out with your coworkers because that is in the script. And sometimes, you make out with them outside of work because you like them at work, too. And that is called a relationship. These Young and the Restless stars had some relations of their own outside of work, even if most of them did not work out for the best.
Chrishell Stause and Justin Hartley
She's been on several shows, but she met her husband on the set of Young and the Restless back in the days when he was Adam Newman. Adam was killed off a few years ago much to the sadness and despair of fans, but he took something really good with him when he left. He took a wife. They met in 2014 on the set, and then they got married in 2016. His decision to leave the show around the same time that he got married ended up working out really well for him. He was famous enough when he was on the show, but he's far more famous now that he is the star of one of the hottest primetime shows on television right now (This is Us). They are living their dream at the moment, but there is no mention of any kids or anything like that in their future. Although, they might not tell us since it's not any of our business to begin with. That's find with us, too. We like it that way.
Amelia Heinle and Thad Luckinbill
Did you know that they were married? They are J.T. and Victoria, and they just had one of the most awful story lines in the history of the show. They were married on the show many years ago, and then they got married in real life. Then he left the show, then he came back to the show last year, he abused her and hit her and made her miserable, and then she and her mother and their friends killed him and hid his body. But that's not what happened — entirely — in real life. They were together in real life when they got married on the show, but they were not together in real life when she killed him with her mother. They'd divorced already. They got married back in 2007 and had a baby the same year (a son) and they had a daughter in 2009. However, they filed for divorce in 2017 and ended things for good.
Eileen Davidson and Vince Van Patten
She's just as famous for being a real housewife in Beverly Hills as she is being a daytime soap star. She just left the show in late 2018 to end her career and spend more time with her family, and that was a big decision. She did bring something with her from her time on the set, too. She brought with her a husband. She met her husband at work, and they've been together a very long time. He is a former tennis pro, a poker commentator, and more, and he was actually the man cast to play a casual boyfriend of hers back in 2000 on the show. They were a short-term couple on screen, but they have been together off the show ever since. They married in 2003, have one son, and they are still going strong nearly 19 years later. They did good with their situation, and they seem to keep their private lives relatively private, too. That works out well for some people, and we think that their privacy is amazing considering all they do in the limelight. We are excited for them to start their new chapter together, too. It's good for them to have this time to be together more than they are not together.