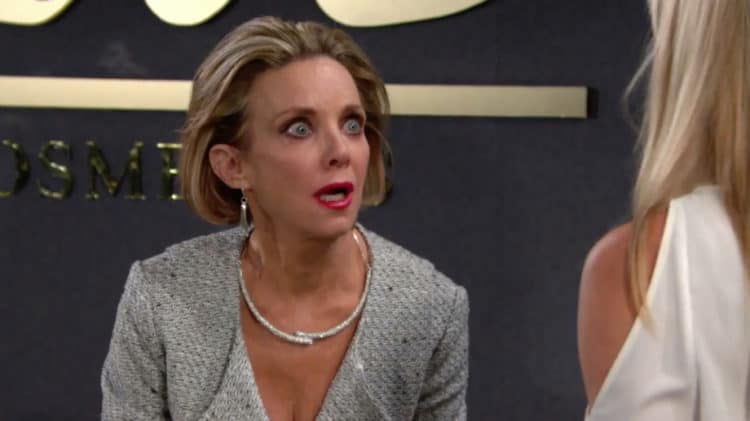 Young and the Restless fans love a good villain, which is what makes this week such a good one for everyone. There is not a shortage of villains around here, and we all know this. In the past three days, we've taken some long, hard looks back at some of the worst of the worst, and today is not going to be a big change from that. Today, fans are headed back in time to 2005 — which, ironically, does not feel like it was already 15 years ago — to see what's up with Sheila, Lauren, Michael, John, and Gloria. Sheila is always causing problems, and she's not making any exceptions to the rule when she shows up to ruin Lauren and Michael's honeymoon. John, on the other hand, is doing all he can to find out what is up with Gloria and the past she's been living, and he's shocked to find out a few things he did not know about her. This is a lot, but he's going to handle it. We thought we might take a long look back at the lovely Gloria, and we hope you enjoy what we've learned.
She's Got a Colorful Past
Gloria might not have made her way into Genoa City until 2004, but she had a long history of life prior to that. She was from the streets of Detroit, which is where she met River Baldwin. He was charming. She was 16. She was immediately drawn to him, and she allowed him to drop out of his college, move her to a commune filled with hippies and get her pregnant. She gave birth to Michael, and that's when she and her man decided they'd become protestors. They did that, but then he was accused of setting off a bomb that killed someone. He didn't do it, but he had to go to Canada to escape arrest, and he left her alone with their son for ten years. A decade later, she was waiting tables, got married to man by the name of Tom Fisher, and she had Kevin. He was an alcoholic, and he was not good to her boys. Michael took off as a teen, but his mother could not stop him. When Kevin was of age, he took off and went to his brother — who was in Genoa City. That's when she was found by her son, taken back, and her life changed.
Her History with John Abbott
She might not have much luck with good guys who make good decisions, but that all changed when she rolled in to Genoa City with her boys. She met and charmed the elder Abbot, John Sr. They went on a cruise together, he fell hard for her, and that was that. They returned married, and we can all remember when Ashley and Jack found out and did not approve in the very least of his father's new wife, the much younger Gloria. Fortunately for them, it turns out she was still married to her alcoholic husband, Tom, who she thought died. That meant her marriage to John was not legal or valid. Tom blackmailed her, but he divorced her and left her free to really be wed to John, which they did make happen.
The Murder
Right around the time of this honeymoon and this situation we are watching today, John killed Tom. He knew that this was a bad man, and he shot him when he and Sheila kidnapped Lauren and took her hostage. He was in an alley and he shot Tom. But, he also lost his memory in the process. This was not good news for anyone, but it did happen. He was then able to remember what he did, he was prosecuted for his crimes, and he was sent to jail as a result of that. Things did not work out for hm as he spent 7 years in prison for this, and Gloria did all she could to make things right with his kids, to cement her place in their lives, and to be with them when she could. It was all she could do to make things right, but it was not good news.