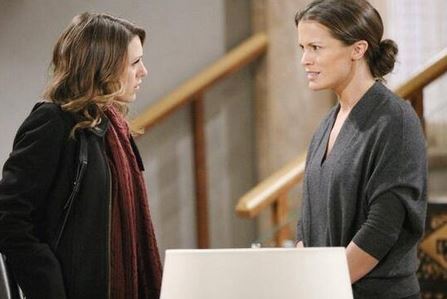 Young and the Restless fans remember what happened the last time Chloe and Chelsea were in the same room together. It was the day Chloe was set to get married, and her very best friend Chelsea was a bridesmaid. Unfortunately, that's also the day Chelsea found her dead husband's ring in her friend's drawer and knew she killed him. Chloe turned to Victor, her partner in crime, disappeared. Came back, Kevin found her, they lived with the doctor, they lied to everyone. She faked her death.
It was quite the situation, and it turns out that while we all know Chloe is alive and well and living her kind-of best life with her husband and their daughter, Chelsea has no idea about any of this. It turns out she's about to find out, and she's not entirely happy abou that whole situation. In fact, we suspect she's downright furious about it.
And when Chloe walks in and shocks her, it's going to be big news. We don't know if this is going to happen, of course. We just know that it's likely and the rumors are already going crazy. Since Chelsea is leaving the show and Chloe already left the show and they are real life friends, it's not too uncertain. So it might just happen, and we might see this as a sort of farewell to their characters and the on-screen friendship they once shared. It's going to be good if it happens, and we know we've seen crazier things happen.