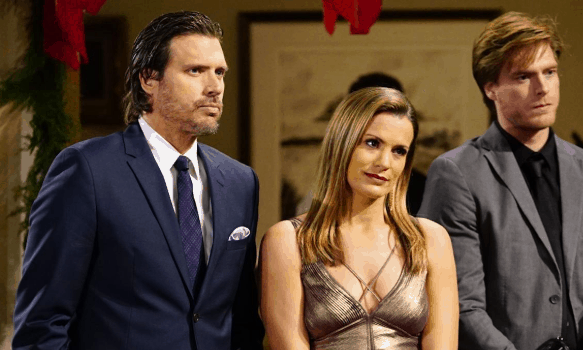 Young and the Restless fans are not going to be too shocked that we thought it was time to focus on the best of the best in terms of women on the show. We talked about our favorite men last week, and this week it's all about the women and what they bring to the table. We've said it time and time again that there are so many people who come and go around here, and it seems like even more these days. They come and they go, and they make it a thing that they don't have to deal with. But, we notice, and we judge. We don't judge in a harsh was, of course, but we notice when they new faces come and go. And we try to figure out if they work with our line of thinking in terms of our best, and our favorite, actresses on the show. Do they work? Yes, they do. But are they the best? Well, that depends on what you're looking for.
Sharon Case
She's the only Sharon we know, love, and want to see in Genoa City. She brings this character to life in more ways than one, and there is nothing about that we don't love. She's the woman who makes us realize that she is bringing the heat, and she always manages to do that. When she's good, we love her. When she's not, we hate her. She makes us believe what she is up to, what she is bringing to the table, and what she stands for. It is not an easy job to make people believe you are what you say you are and that you can do what you say you can do, but she's got it on lock. She's got this in her pocket, she's got the skill and the finesse to make us believe it, and she's done what's best for her. She is, hands down, one of the women who makes this show what it is, and there is nothing about that we do not love in every manner of speaking. She is fabulous and amazing, and we just love her.
Michelle Stafford
What we love so much about the woman who brought Phyllis to the show is that she was so fabulous. She was a woman who had so much to offer, and then she left. She was taken over by another woman who was really good at what she did, but we miss her. We miss her even more because the role she plays on General Hospital is not our favorite. It's not that she's not good at it, but we don't love Nina that much. She's not the kind of woman who makes us all that happy. She's sad. She's weak at times, and she's not super impressive. But, she's someone who is powerful no matter what she does. We are beyond excited that she is coming back to the show to take over the role she once played, and we cannot wait to see this actress move in on what was once the role she made famous and exciting and bring it back to the kind of powerful she had back then. She's spectacular. She's amazing. We cannot wait.
Eileen Davidson
If you asked us if there was one person who stands out the most to us, it would be her. She is the queen of Genoa City, and we don't think that anyone could argue with us there. She's going to have so much to go down in history for this role, and we get it. We get that she is the best. We get that she is the one who gets to be this person without too much else in their lives. We get that she gets to be this woman who has this amazing job, who does this role with power and finesse, and how makes us feel she is the character. No one else can ever fill this role of Ashley the way she does, and there is no getting around that. It's impossible. It's not happening. It's something we know cannot be done. It's too much to ask of anyone else, and it would not be fair.