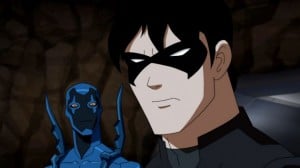 After returning home from a lovely picnic, I made it my top priority to watch the latest episode of Young Justice to bring you my latest thoughts on the going ons of DC's Earth-16 universe. Instead many fans of the show, including myself, were shafted royally this morning as Cartoon Network pulled the entire DC Nation block from its October schedule. Without warning, mind you.
In place of Green Lantern and Young Justice, the network aired two episodes of their How To Train A Dragon series, which sent Twitterverse and fans of the DC Nation block into a tizzy. Green Lantern producer Giancarlo Volpe explained Cartoon Network's 'reason' for duping fans this morning, and revealed that he had no clue that the preemption would take place.
"Apparently, Cartoon Network preempted it in celebration of their 20th birthday," Volpe tweeted. "Their logic, not mine."
Um, should we even call that explanation "logic?"
Mr. Volpe's Twitter timeline gives evidence to just how in the dark the Green Lantern producer was about the last-minute change-up. Reading his initial reaction and everything following makes up for the drama we missed this morning. Common decency to your business partners, much, Cartoon Network?
Then to add insult to injury, Cartoon Network went to Twitter to announce that the DC Nation block would return not next week, not in a month, but in January of 2013. Say it with me, folks:
What. The. Hell.
On one hand, the preemption makes sense… to an extent. It could help explain why the official DC Nation website had no preview clips for the next episodes of both Young Justice and Green Lantern. Instead, there is a clip available showing what to expect when both shows return to TV, which is very spoiler-y so watch at your own risk.
At the end of the day, a heads up from Cartoon Network would have been nice, especially after the network just started airing new (fantastic) episodes two weeks ago. What are your thoughts on this switcheroo by Cartoon Network? Sound off below…
Source: Spinoff Online, Giancarlo Volpe's Twitter
Photo Credit: DC Nation Official Site