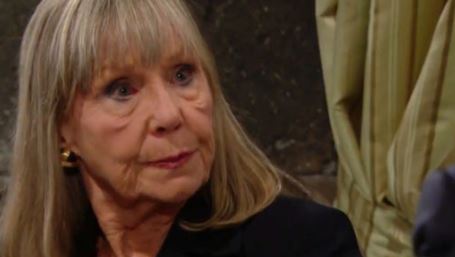 Young and the Restless fans are going to find out that while Dina might not be a main character at this point, she's still keeping secrets. At the risk of sounding as if we are making a tasteless joke, it's actually not all that surprising she's keeping secrets. For one, she's suffering from serious memory problems. Her secrets are probably safer than ever since she's having such a difficult time handling the things that are coming into her mind. However, she's also got a secret that might take someone down. And we know who.
It's her own son. Jack is the one who will suffer if this comes out, and there is no way to know that it won't. She seems cognizant of the fact that she currently has a secret, but what happens if she forgets she's not looking to share it with anyone? What happens if she decides to spill this piece of information to someone forgetting just how privileged and important it really is?
She might make that mistake. She might even use this as a way to get what she wants and to come home to the place she loves the most. She is not above any of this, and we all know. Jack is going to learn fast that he might think he has problems now, but he has even more problems about to come into his life. He's not going to get out of this without some issues. And that's what is worse.