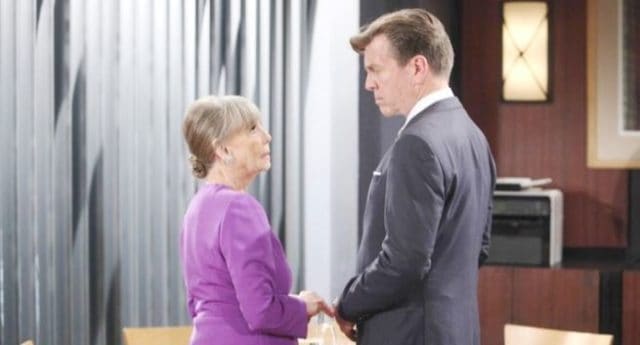 Young and the Restless fans know that Dina's secret is out. We don't think there was ever a time when she intended to let this secret come to life. We assume she meant for this to stay kept locked up her entire life, but she never predicted that she would have the health problems she's having now, and she certainly never thought she would be her own worst enemy. Her memory has betrayed her. It's caused her to lose her mind. It's caused her to lose her life. She's not able to get things to work for her the way they are going right now. She's not able to get it together, and she's falling sicker and sicker.
If she was cognizant of the things going on in her own life, we imagine she would be horrified to know that she has shared this information with the wrong people. Knowing she shared the secret of her son's paternity with all the wrong people would devastate her if she realized what she did. But she is only getting worse. Her condition is never going to improve, but she's getting so much worse she can barely function.
And we think the end might be near for her. She's unable to get it together, and things are just falling apart. She's not going to last much longer, and her family might not want her to at this point. She's a liability to them in all that she's done wrong and all that she's been unable to handle. They are devastated that she's managed to keep so much from them, and they are now fearful that they are going to have a problem with their lives if she remembers more things they don't know about.
The fact that she has so many secrets even they are unaware of has them terrified, and we wonder when they will finally make a decision to get her out of here before she can hurt anyone else. It's harmful for them, and they know it. It's time for them to handle this.