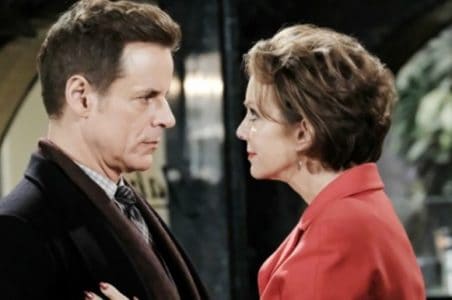 Young and the Restless spoilers indicate Billy needs some information. He needs it bad enough he's going to try and get it from Ashley. He wants to know if the rumors that there is an internal struggle for power at the company are true. He wants to know what she knows, and he wants her to open up to him. What he doesn't seem to realize is she has no interest in doing any of that. She's not the kind of person who wants to spread that kind of drama-filled gossip with him, and he's not going to get anything from her. What else is good about this situation is that Ashley is going to tell him under no uncertain terms is what he heard any of his actual business. Go Ashley.
Ashley has her own plan, which is why she's not spreading rumors. She wants to take over control and be more involved in things, and she's working hard to ensure that happens. She knows things aren't looking good right now, and she's using that to her advantage so she can take it and make it her own. She's got her eye on Jack and his position, and he has no idea she's working on a plan to get him out of her way.
Gloria is not happy about any of it. She wants to keep Jack in his position since they're sleeping together, so she's going to try and get between Ashley and Ravi since she views them as a threat to Jack. What she doesn't realize is Ravi is way too interested in Ashley to do anything about what Gloria wants, so they're not going to bother. Gloria knows if Ashley has any power in this company, she's going to put Gloria's pink slip on the top of her list of things to do. They are not friends, Ashley has no desire to have her at the company, and Gloria knows it. Unfortunately, she's got her own plans and they don't involve being ousted.