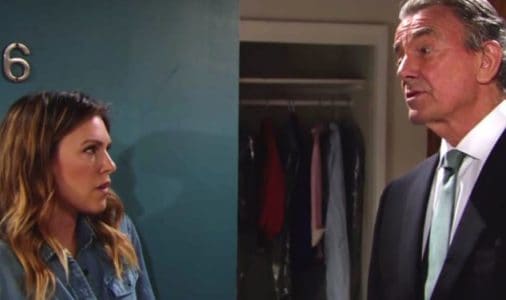 Young and the Restless fans are shocked that Victor managed to find Chloe. We were under the impression she was gone for good and wasn't coming back, but she's there and she's making a deal with Victor. You'd think he would want to get rid of her and get rid of the evidence he had anything to do with what happened to Adam, but here he is confronting her about it and making deals with her to benefit him and his family. He's going to offer to hide her in a location no one will find so that she can't hurt him or hurt his family again. He thinks she did some seriously awful things, but he didn't find out what really happened until she was already gone. Now he's even more upset with her, and he's beginning to wonder what she's been up to that might change his way of thinking.
We will see that Victor has a plan in mind, and it might not be what he's telling Chloe. He wants to get her out of his life and out of his way so that she can't bring evidence to the police that he was involved in the entire set up of Adam. He maintains he had nothing to do with the explosion that allegedly took Adam's life, but she's also going to tell him she has evidence that might implicate him in the mess. He certainly doesn't want any more trouble from her, so things might change for the better this week.
Victor has a plan, and he's a man with a plan that he might not realize isn't going to go his way. He has no idea that things might just change spectacularly within this realm of thinking. If Chloe really did keep Adam alive and hide him somewhere as a hostage, is his time running out? Or did he escape on his own and work his way out of her trap and away from his family to keep everyone safe and happy? We don't know just yet, but we do know that things aren't always as they seem here, and that goes for Victor and his own plans, too.