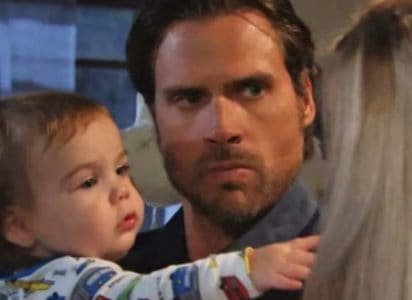 Young and the Restless fans are curious about Christian. There's been such speculation that it's going to be used against Nick in the near future by Victor. The boy doesn't belong to him. He has no idea that Sharon's baby isn't his baby even though they all know what happened so long ago. We know that this young man belongs to the long deceased Adam, Nick's brother. This means that the boy is not his son but his nephew. It also means that Nick has no idea that his entire family has been lying to him.
Even his own girlfriend, who was once the wife of his dead brother knows the truth. She's not telling him, and she's been keeping this secret from him for many years. They haven't been able to find a way to tell him, and she agreed with his father that this is not the kind of secret that anyone should ever learn about the people in their lives.
Now that he hates his father so much and keeps pushing at him, however, there might be a chance that Victor will tell his son that he is not the father of the boy and that Chelsea  has known this for many years. There is a chance he might do it for no other reason than to ruin the life of his son — and that would not go over well for anyone involved in this situation. What does this mean for the future of the boy and for Nick and Chelsea?