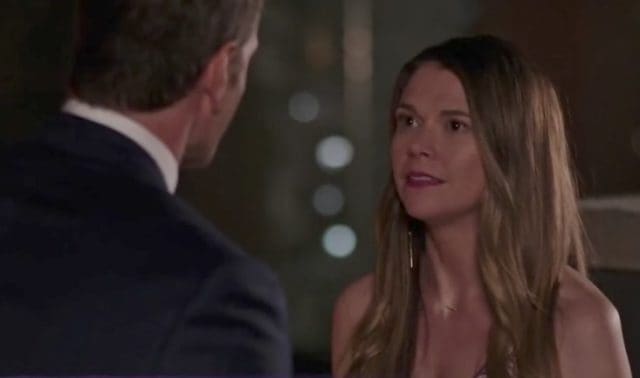 The title of this week's Younger is probably the most on the nose title the series has ever had. "A Novel Marriage" was quite literal in revolving around Pauline's book, a satire of her life being married to Charles. While Pauline puts the past behind her with this novel, she is completely unaware of the triangle she is apart of. As much as this episode was about Pauline, Liza, and Charles's triangle, it put a lot of emphasis on the importance of a woman's career in her life. Liza and Pauline have similar stories, and in different ways are choosing to put their careers first for the first time in their lives.
We've established that these are not times of happy relationships. Claire and Josh are the exception. They are in the honeymoon phase of their relationship, and don't want it to stop. That could easily change if they don't find a way to keep Claire in the country once her work visa expires. Liza wasn't ready to be Mrs. Josh (we don't know his last name do we?), but Claire might be. I get the feeling that Josh might be so head over heels he'll make that type of impulsive decision before season's end.
Meanwhile, Diana is in hell. Richard might have skills that make her happy in some ways, but he has zero parental prowess. I can understand why his ex-wife has had enough. Let it be known that the millennials some complain about being lazy don't get that way without being indulged. I doubt Richard is going to do anything to get his son out of the house before Diana's grace period is up.
Relationships make us crazy, which is why this is a show primarily about women who are passionate about their careers. With Kelsey, Liza, and Pauline trying to drum up more buzz for Pauline's book, Lauren has the perfect solution. She invites the women to the most exclusive women's club in town. The place does provide a lot of opportunities. Kelsey meets a producer from Good Morning America who would help Millennial Imprint get onto the show. Pauline is not as happy to be professionally courted by the woman who invented Pinx, period pants. Yes, they are a thing.
What Lauren hasn't told anyone is that she was unexpectedly fired. For someone as driven as Lauren to suddenly find herself unemployed and living with her parents like so many other adults her age is a huge blow. Illegally staying at an exclusive women's club so she won't get kicked out of the inner circle is not the solution to this problem. With Kelsey's help, Lauren will regroup.
Liza has to decide once and for all if she wants her career or she wants Charles. At this point in time, she can't have both. She's been spending so much time with Pauline, too much if you consider that they are both in love with the same man. More than that though, Pauline also wants a career. She no longer needs the approval of her husband's high society colleagues, just their buzz for her book. First and foremost, Liza needs to put her career first. She and Charles could have a chance, but for the first time in her life Liza could really have a shot at advancing her career. She needs to take it. After making this decision, Liza almost gets caught once again. Thank goodness for Jake! Honestly, if Liza wasn't completely head over heels for Charles, Jake would be the perfect fit. He knows her secret, they have much in common, and they have a great time together. They are just better as friends. If only.
Did Liza make the right decision?
Save
Younger Season 4 Episode 10 Review: "A Novel Marriage"
Summary
Younger reaffirms Liza's dedication to her career, but will it cost her a chance with Charles?