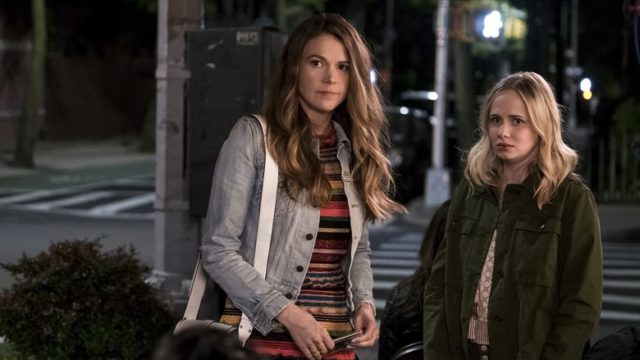 Going into this week's Younger, it seemed that Kelsey was going to be the one caught with her world suddenly on fire. That actually did happen, but the fallout spilled out beyond her. It was the perfect storm of terrible timing as Kelsey's lapse in judgment put her, Millennial, and Empirical itself in jeopardy. Yet it led to the most shocking moment of Season 4 yet, which had me saying out loud "Holy Moly, that just happened!"
First things first, how our feelings change without us even realizing it. Diana is a wonderful executive and an excellent boss, but when it comes to romance, she sucks. Richard tells her he loves her (albeit in a text message) and her response is the equivalent of 'I like you, too'. Yet she realizes she has stronger feelings for the guy than she originally thought. Please let this one stick, because when Diana is happy…well, not everyone is happy as you'll see, but there's a slightly greater peace in the office at the very least. Maggie just needed someone with better grooming.
Miracle of miracles, another person has discovered Liza's secret and there's no reason to panic! Liza runs into Jay Malick, the publisher who tried to hire her at Bonfire, while she is having dinner with her daughter. Caitlin doesn't know not to call her own mother 'Mom', so there really is no way to walk this lie back. After hearing the whole story the next night at dinner, Jay is completely fine with it. Moreover, he has absolutely no expectations of Liza and will keep her secret no matter what. It's tempting to think that it might be some kind of trick, but the guy just likes having a new friend his own age. It's actually really sweet, until Charles shows up. The whole run-in is rather ordinary. You can tell something is brewing under the surface.
As Millennial gains success from the unconventional Labradoodle book Liza was blackmailed into publishing, Kelsey tries to capitalize in another unexpected way. Nothing good can come from a Twitter feud. It's the largest worldwide playground. It's like playing dodge ball. Everything is great until someone breaks the rules and aims for the head. Since the Twitter feud with her boyfriend is boosting both of their sales, there doesn't seem to be any harm in it. Boy is she surprised when Zane poaches the most lucrative author Empirical would have signed in years. Charles is more furious than we've ever seen him, but Kelsey was only the ammunition for his frustration. Liza was the trigger. In a matter of 10 seconds Charles admits his feelings for Liza, including his confusion that she is dating someone his age, and is serenaded "Happy Birthday" by a clueless staff.
Millennial's editors have never faced such a collision of personal and professional drama as this before. How will Younger handle the fallout?
Save
Younger Season 4 Episode 6 Review: "A Close Shave"
Summary
Kelsey's fun and games ends in a shocking confession for someone else on this week's Younger.