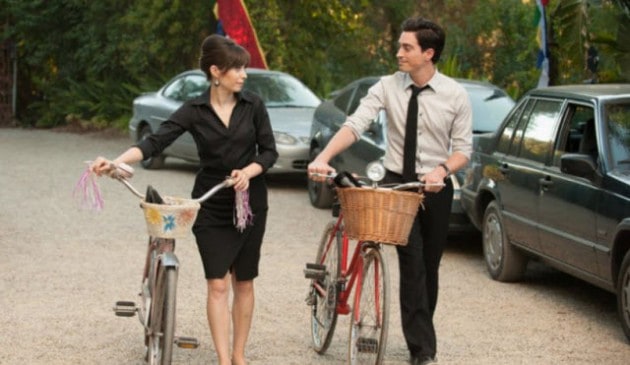 What's the protocol to inviting a new boyfriend or girlfriend to a family funeral?  That's the dilemma faced by Zelda in last night's A to Z.
Although not related by blood or marriage, Debbie was like a second mother to Zelda when her own flighty mother would disappear for months on end.  Keep in mind that at this point Zelda and Andrew have only been dating for three weeks so the funeral is an awkward topic.  Zelda believes it's way too soon to introduce Andrew to her crazy family, whereas Andrew just wants to be there to support her.
It's a good thing Andrew went with his gut instinct to surprise Zelda at the funeral, which was actually more of a hippie party than a somber occasion.  I actually really liked the quick flashback to younger Andrew and Stu after Andrew's mother died.  Stu didn't wait for an invitation to the funeral, he just showed up with a meat platter in hand.  You wouldn't guess that a thoughtful kid like that would turn into the bumbling idiot he is now.
Big Bird's latest fun in the Wallflower office has been to set out "honey traps" like a foosball table or massage chair in an effort to make her task of lay-offs easier.  Stu falls for the foosball table and faces unemployment if he doesn't turn in a profitable idea by the end of the day.
Long story short, Stu crashes the funeral and ends up competing with Stephy for the attention of a fellow mourner and Youtube star, Tyler Ward. (Don't worry, I never heard of him either.)
Andrew fit in almost too well with Zelda's family, encouraging her uncle who was supposed to give the eulogy to take mushrooms.  Now Zelda had to deliver the eulogy which only stressed Andrew out as he watched her slowly resort back to her no-nonsense "lawyer mode" as he calls it.
As the saying goes, all's well that ends well.  Stu didn't lose his job, and Andrew's presence at the funeral only made his relationship with Zelda stronger.  It was very sweet how he could relate about losing a mother and actually turned her into the blubbering mess she admitted she was most afraid to show him.
[Photo via NBC]