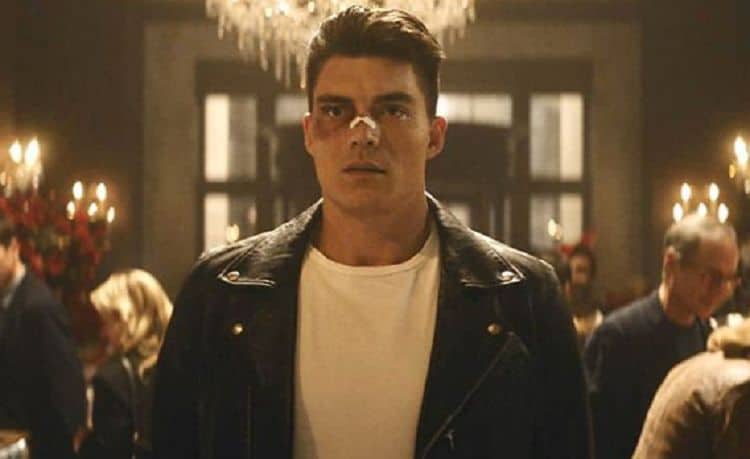 When Zane Holtz was a young boy, he wanted to become a surgeon. However, by the time he turned 12 and after watching so many movies, he was convinced that he wanted to be an actor. His career started in commercials before making his way into the film and television industry. He now has a few credits to his name, and despite having a hectic schedule, his family always comes first. The facts below tell you more about the actor who loves wearing Nike workout clothing.
1. He is passionate about Jiu-jitsu
Zane is an outstanding actor but had his career not taken off, he believes he would have ended up as a jiu-jitsu instructor. He has been doing Brazilin Jiu-jitsu for more than fifteen years, having started training in 2004 and even has a black belt. In 2015, Zane competed in the Jiu-Jitsu World League tournament and was featured in the Jiu-jitsu magazine. He said that he tries to compete twice a year and trains 4-5 times weekly.
2. His advice to aspiring actors
Looking back at the journey he took to be where he is today, Zane says he would not change a thing. He admits he took jobs that paid poorly all because he needed the money and did not care much about the quality of work. He advises that it is okay to do so because it is still an opportunity to evolve in one's craft. Zane opines that with the future being so unpredictable, being featured in one episode might turn into a recurring role. Besides, once someone gives it their all, they might attract the attention of a director and become a lead; hence the bottom line is one has to risk to be rewarded.
3. He is open-minded
Zane loves learning everything about a foreign culture. Therefore when in Bulgaria filming "Hunter Killer," he enjoyed the new experience, although at first, he was not sure he would. One thing that stuck with him is the Shopska salad, which is a basic salad to the natives, yet for Zane, it was the best salad he has ever had. Since the ingredients are also readily available, he retries making the salad at home, but it does not turn out the same.
4. His first film role
The actor's career in the showbiz industry was through commercials as a child, but his first memorable role in a movie was "Holes," where he played Barfbag. Zane's character was bitten by a rattlesnake and died in the opening scene, which led to Shia's character making relevance to the film. What Zane remembers most about the movie is how the rattlesnake spit venom everywhere, and later on, he walked towards it barefoot without a worry in the world.
5. He kept reptiles as pets as a child
It is rare to find someone comfortable around snakes; even Christians will tell you that God said man and snake will never get along. However, Zane is not nervous around the reptiles. While most people may think that the picture of him around snakes in the poster of "Dusk till Dawn" season 2 is computer-generated, he told AssignmentX that it is not. The reason he does not mind being around them is that he grew up with them as pets; he had two snakes and a big frog.
6. He believes in being prepared for a role
Zane takes all his roles seriously, and in his character for "Katy Keene," the actor had to take singing lessons and refresh his boxing skills since he had done a bit of boxing while in high school. Zane said that although the series' pilot did not reveal anything about there being a boxing scene, he wanted to be prepared since KO literary means "Knock out." Consequently, he wanted to start hitting the bag as soon as he could. Besides, that was one of the reasons he was excited about being in the show.
7. He was unsuccessful in his first audition of "Hunter Killer."
In 2015, the chance came for Zane to play the character of a Navy Seal, and since he had always wanted to have a role that had so much physicality in it, he tried his luck. Unfortunately, he did not book the part, but seemingly he was meant to be in it because when the movie got a different director, Gerard Butler, Zane auditioned again in 2016 and landed the role. For him, it was a dream come true because he also got to work with Gerard, whom he had always admired since his appearance in "300."
8. He has been to the Playboy Mansion
In his interview with D.J Cotrona Online, Zane said he could not remember the first time he ever got a hold of the Playboy magazine. However, he recalls the first time he went to the Playboy Mansion mostly because he had a wonderful time with the Three Six Mafia performance. Moreover, he loved swimming in the famous Grotto pool, which does not have a good reputation; it was reported to have resulted in over 100 people contracting Legionnaires' disease in 2011 after they swam in it.
9. His first celebrity crush
Zane does not hesitate to mention Sarah Michelle Gellar as the first celebrity whom he had a crush on mostly because of her phenomenal performance in "Buffy the Vampire Slayer." By then, Sarah was only 20, and her exceptional acting skills landed her a nomination for Golden Globe award and five Teen Choice Awards. Zane's mother knew her son's obsession with the budding actress, and she even signed gifts to look like they had come from Sarah.
10. His favorite meal
If there is one thing that will remain top of the list of the most-loved fast foods, then burgers take home the prize. Even in London, people are causing an uproar because the triple cheeseburger that McDonald's has promised as a trial is not available in any of the Capital's restaurants. Well, if Zane lived in London, he would be one of the angry customers because his choice of the last meal if on death row is a cheeseburger, accompanied by a Manhattan.