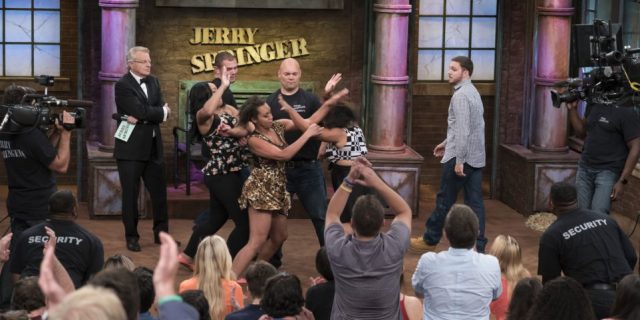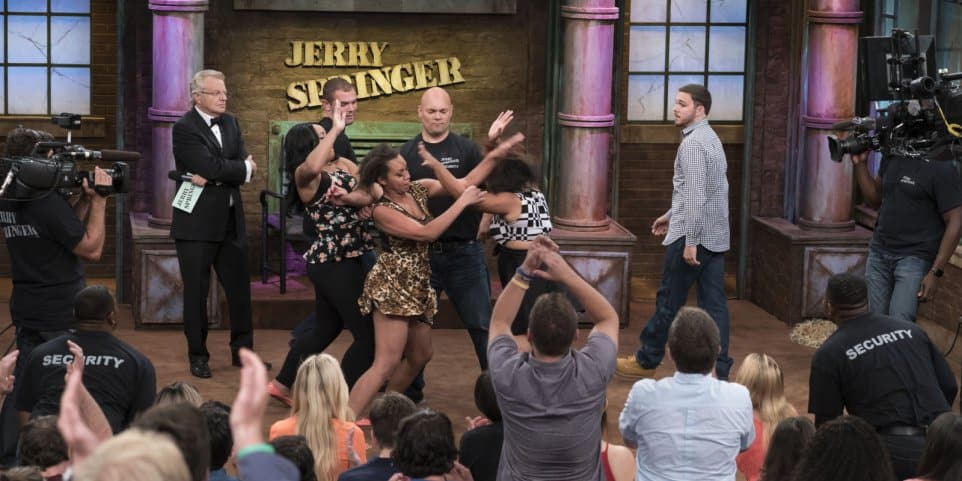 While Jerry Springer certainly wasn't the first host of a daytime show that consisted of an obscene amount of drama and fighting, he's definitely become the king of it.  Precursors to guys like Springer were Morton Downey Jr. or even Phil Donahue despite the fact that violence was less prevalent on those shows.  However, Jerry Springer perfected the "art" and upped his ante as soon as he stepped up to the plate.
Springer decided that not only would he have a talk show with some of the worst people on earth as guests, but he would ensure that every single show there'd be some kind of dramatic fight.  It's what essentially lead fans to their popular chant of "Jerrry Jerrry!"
It's hard to believe the show is even still on the air but it's still kicking, punching, and slapping all over daytime television.  However, despite the show's 20+ year run, there are still some things you might not know about its host.  Here are some crazy facts about Jerry Springer:
Politics
Before he became the host of America's trashiest TV show, Jerry Springer had a run in politics. He ran for Congress in 1970, but landed in Cincinnati's city council a year later. He was even the mayor for a year in 1977 and even tried to run for governor in 1982, but that was stopped by a sex scandal.
Phil Donahue Replacement
In September 1991, Cincinnati NBC affiliate WLWT needed a replacement for The Phil Donahue Show. They approached Springer about hosting his own politically-focused daytime talk show, called… The Jerry Springer Show. In 1992 he moved the show to Chicago, where they decided to switch up the concept… a bit.
One of his shows was dropped
In 1997 Springer was a temporary news commentator on Chicago's WMAQ. Longtime anchor Carol Marin ended her 19-year run with the station because she refused to share airtime with him. "I am sorry she found it necessary this week to use me as the stepping stone to martyrdom," Springer said of the incident. Soon after, co-anchor Ron Magers also cut ties with the show.
After dozens of protests, the station couldn't take the heat and dropped the show altogether. The Springer Show was quickly picked up by a Fox affiliate, who had to air the show twice a day to cover costs.
Steve Wilkos
Security director Steve Wilkos, a former Chicago cop and marine, was hired for a 1994 episode, and he thought it was going to be very temporary. "The pay was good and I figured it was a one-time gig," he said. "But I ended up doing another show, and another, and before I knew it, I was hired as the full-time director of security. So, I left my career as a cop to give this a shot."
Wilkos eventually gave advice on a "Steve to the Rescue" segment, and subbed in for Springer while he appeared on "Dancing with the Stars." This led to Wilkos getting his own show in 2007 called "The Steve Wilkos Show."
National Association of Broadcasters Convention
At the show's peak popularity in 1998, education secretary William Bennett and Connecticut senator Joe Liebermann spoke out against the show at the National Association of Broadcasters convention urging the program be removed from broadcasters' schedules. "Drop it, or if you won't drop it, urge the producers to clean up the show," Lieberman pleaded.
"We're here for three reasons," Bennett added. "The first is to remind broadcasters of the high standards they once had; the second is to remind people in the business how low much of it has sunk, and also to remind people of the enormous influence and responsibility they wield."
Feature film
Around the same time, Springer played a talk show host by the name of Jerry Farrelly in the 1998 box office bomb Ringmaster. The movie was about love triangles and cheating… sound familiar? Springer may have not gotten an Oscar nod, but he did score himself a Razzie for Worst New Star.
Shady Dealings
According to an assistant producer, the stories were mostly real, but they did "shady" things to get them on air. At the end of each episode, a phone number was put onscreen and people were standing by to take calls. Most of the time people would impulsively call in, and the producers would if the story sounded real (or good) they would fly them out the very same day, put them up in a nice hotel overnight and get them on camera the next day. That way they never had a chance to think it through.
A Musical for the show existed
A musical version of the show, called Jerry Springer: The Opera, debuted in London in 2003. It toured around the UK in 2006, and the Christian community protested, one of the reasons being that it contained around 8,000 obscenities. BBC decided to air a performance of the show in 2005, and 45,000 angry viewers contact the station about the show's content.
Still, the show expanded to the US in 2007. Of course, Las Vegas was the first American city to host the performance. The next year Harvey Keital played Springer in a two-day New York City performance.
I don't even watch
Jerry Springer has admitted that he himself does not watch the show. He knows how ridiculous it is, and says it's just a job.
Worst Show Ever?
Time Magazine called it the WORST television show of all time.
Credit: The Chive
Save