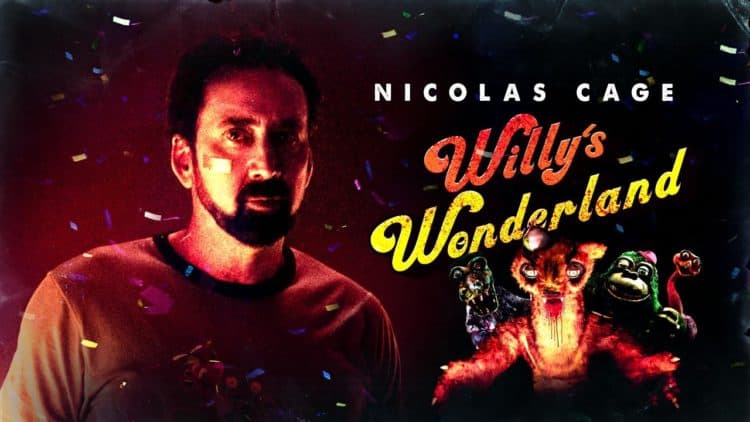 The wait is finally over! Nicolas Cage's much anticipated horror film, Willy's Wonderland, that has him playing a Janitor battling evil animatronics, is now available on VOD and in select theaters. To celebrate the release, we spoke with one of the film's creatives, Émoi, whom not only served as the film's composer, but also provided the voice of Willy Weasel. Below we asked him ten questions about everything from his background, to what his favorite Nicolas Cage film is.
-Can you talk about your background in music. What made you want to become a composer?
When I was 5 my Mom put me in a vocal ensemble, and I got hooked. As a teen, I started playing guitar, then fumbling around on keys, bass, drums, etc. Later, I would become much more serious about piano. But like so many others, music became my escape, my addiction. I knew I was incapable of ever stopping, but to make a career out of it, I assumed that I would need to become a performer – and I had terrible stage fright. On the other hand, I have always loved the relationship between picture and music. They both can take each other to places they cannot go on their own. When I realized I could sit in front of a piano in a dark room by myself and write to picture, there was no question that was what I was going to do.
-Was there a film score that has a lasting effect on you growing up, that made you pay attention to film scores?
It's so cliche to say, but honestly, Star Wars. In particular, Return Of The Jedi. Besides that, I listened to a lot of horror and fantasy soundtracks. I loved the score to Killer Klowns, Return Of The Living Dead, anything Tangerine Dream, Never Ending Story, and I couldn't believe what Christopher Young did with Hellraiser. How do you make a theme so unsettling, and yet completely beautiful at the same time? I also have always been a huge fan of musicals.
–Willy's Wonderland is your first full length feature to score. Were you surprised by anything, production wise, during the creative process?
Because of the pandemic, I had to isolate – and that meant taking on all the music department roles myself. So the workload became surprisingly massive. I was very fortunate to have such a supportive team behind me.
-Aside from the director, Kevin Lewis, what other creative did you work closet to?
Besides Kevin, I worked very closely with Grant Cramer, David Ozer, and Jeremy Daniel Davis. Grant is who played Mike Tobacco in Killer Klowns From Outer Space, and he is a veteran producer with a wealth of experience – he's actually who brought me onto Willy's Wonderland. Dave is the CEO of Landmark —a guy who is just amazingly down-to-earth and always positive, always encouraging. Jeremy was the founding producer on Willy's who read the script and immediately recognized its potential – he is who brought on Kevin and Nic Cage. All three of them played such crucial roles in the making of Willy's. No composer ever had a more supportive team.
-According to IMDB, it says you not only scored the film, but you were the music editor, and the voice of Willy Weasel. Can you talk about how you juggled all these roles? Was it difficult?
It was challenging for sure. I wrote "The Birthday Song And Willy's Jingle" in December of 2019, then I came back on in May of 2020, and had 2 1/2 months to write and record the score (including the additional character songs). At this time, we were still thinking the pandemic might end and there would be an October release. Of course, that didn't happen, and so I ended up staying on as music editor until January 2021. I was in it for the long haul, and at times it was very challenging.
-What was your favorite part of working on Willy's Wonderland?
I grew up going to places like Chuck E. Cheese. And I just found it so magical to be able to take my imagination back there. I also love this genre, I love Nic Cage, and so it was really a dream to work on such a cool movie.
-Now that you have horror under your belt, is there another genre of film you would like to score?
I certainly wouldn't mind staying in the horror/thriller genre for a bit, but I also do love fantasy and adventure stories. Anything melancholy, darkly romantic, supernatural,…Sign me up!
-How would you describe your general musical aesthetic?
My compositions tend to explore and evoke the odd, whimsical, romantic, eerie nature of this very strange existence we find ourselves in.
-Besides Willy's Wonderland, what is your other favorite Nicolas Cage film? Why?
I have to say, I have a particular fondness for Wild At Heart. I think because it was my first exposure to how incredibly fearless Nic Cage can be. When I saw it for the first time, I found the film both incredibly disturbing, and incredibly inspiring – Nic's performance was seared into my mind, and I definitely needed to run out and get myself a snake skin jacket asap!
-What do you do in your free time?
What's free time? Never heard of it (laughs). I'm actually working on a musical of my own that I think will become the opus of my career.
*Émoi's Willy's Wonderland original motion picture soundtrack is now available digitally.