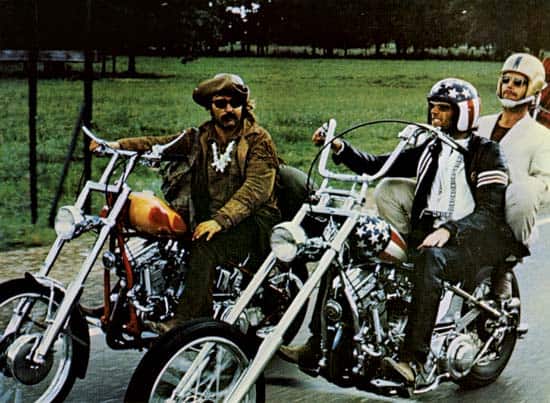 Easy Rider is essentially about two bikers making their way across America towards Mardi Gras, which is their initial goal. After that it's time to keep moving on, but during and after their stay in New Orleans they're constantly looked down upon and berated by those that don't understand their lifestyle and obviously don't approve. They're not the most unsavory characters in the world but to some people bikers have for a long time been some of the most untrustworthy. This is kind of a negative stereotype as a good number of them are like the bikers in the movie, laid back and just wanting to ride the highways of America looking for a new experience.
That stereotype is hard to get past though.
10. Dennis Hopper and Peter Fonda were either drunk or stoned for a lot of the film.
The joints you see them smoking are very real even if the LSD and the cocaine weren't. According to Jack Nicholson they must have smoked over 100 joints over the course of the film.
9. Hopper was intent on getting Jack Nicholson stoned.
It was likely to get a more realistic reaction that would look good on camera. Oh, and it worked to perfection since Nicholson started repeating the same word over and over.
8. The look of Fonda's jacket and his gas tank caused him to be pulled over by the cops quite often.
Having the American flag on his jacket and gas tank were still considered to be offensive at that time. People might even frown on it now.
7. This movie came at a very dark time in Dennis Hopper's life.
He was almost constantly in a state of drug-induced paranoia and was screaming at people constantly on the set. It led to a lot of cast quitting and filming him to make it clear why they were leaving.
6. Nicholson actually broke one of Fonda's ribs.
Fonda's bike was notoriously squirrely and would shake slightly from side to side if it was overbalanced. Nicholson squeezed a little too hard with his knees trying to right himself and injured Fonda.
5. The guys taunting Hopper and Fonda in the movie were locals.
Hopper noticed some of the locals staring and cracking jokes about him and Fonda and decided to use them for the movie.
4. Peter Fonda was an experienced motorcycle rider.
That's why his bike is so heavily modified and Hopper's isn't. Hopper wasn't that great of a rider back then.
3. The cocaine in the film is fake.
This should come as no surprise but Fonda said it was because they couldn't afford the real thing. They didn't have much of a budget for this movie after all.
2. They didn't have permission to shoot in the Catholic cemetery that was used.
Catholic members of the audience were shocked to see them filming in the cemetery since it was supposed to be off limits.
1. Fonda tried to have Hopper fired during the filming of the movie. 
The two of them fought constantly and there were many times when Fonda, who was the producer of the film, tried to get Hopper canned.
It's kind of a wonder this movie got made at all with all the controversies going on behind the scenes.