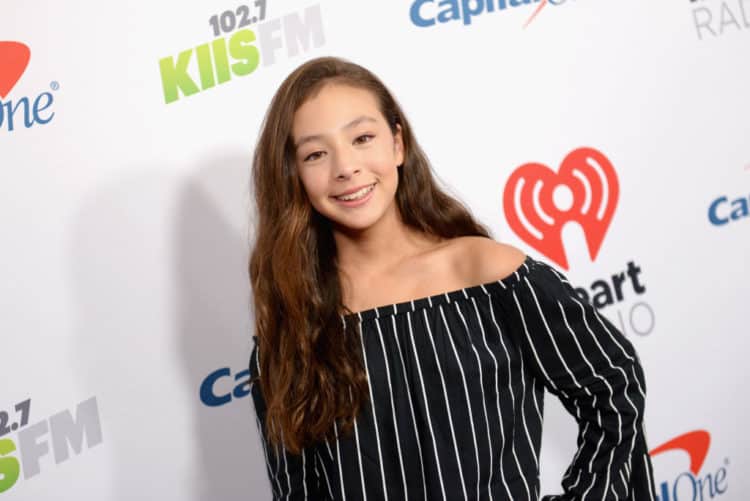 If you recognize this young lady, and it'd be hard not to if you watch Modern Family, then you know her as Lily Pritchett, adopted daughter of Cam and Mitchell. She's been one of the stars on the show that has gone through a lot of growth and development throughout the years and has managed to capture the attention of a lot of people since her role isn't always seen as the most important but is constantly being brought up as something that is there and ready to be utilized as a strong plot point. In fact a lot of episodes that feature Lily as one of the prominent characters tend to be some of the funniest episodes that the show has produced. While she's not the outgoing character that some of the others are she doesn't really need to be since her subdued act and mild manner at times is a perfect foil for the eccentricities of the characters played by her costars.
Here are a few things you might not have known about Aubrey.
10. She joined Modern Family in its third season.
If you'll remember she replaced the twins that shared the role of Lily originally since if memory serves their parents didn't want them to be thrust into show business in such a manner. Whether the twins have gone on to do anything else is hard to tell but Aubrey has been entertaining a lot of people throughout the years with her act and has only gotten better with time.
9. Aubrey has a regular YouTube segment with her mother.
The two of them host a segment that's mostly food-related and seem to have a good time with what they're doing. Whether it's something they'll continue to do or not as Aubrey's career keeps moving forward is unknown but it's likely something that keeps them close.
8. She's of Korean heritage instead of Vietnamese as depicted on the show.
Before anyone starts railing on about how people should be able to tell the difference keep in mind it's never been brought up as much an issue since a little research into her background is all it takes to realize her origins. If there's any problem with her being called Vietnamese on the show it's never surfaced to the degree that it's considered a problem.
7. So far she hasn't done a lot in terms of acting, apart from the show that is.
Modern Family has been her big thing so far in her career but she has managed to branch out just a little and has starred in a couple of other projects as well. As she gets older it will be interesting to see if she decides to step aside from acting to get an education or if she'll keep going with it.
6. In 2012 and 13 she was the youngest actor walk the red carpet at the Emmy Awards.
She was only 5 years old at the time and no doubt was quite taken by the glitz and glam. It's easy to think that she was a little intimidated as well even with a chaperone at her side. That's a lot for a kid to take in after all.
5. There's not a whole lot about her on the internet to be honest.
There's just enough to get an idea of who she is, what she's done, and what a person might expect from her in the years to come. So far the information that's come to light about her is kind of sparse but considering that she's a kid it's not unreasonable to think that her parents don't want to push her too far too fast.
4. She was four years old when she started Modern Family.
Throughout the years as she's grown up on the show she's developed a much bigger personality as she's had to contend with her costars and make sure that she pulled her weight. To this point though she's become fully initiated and is able to stand her ground quite easily as she's one of the most loved characters on TV.
3. So far she's won a few awards.
One has to wonder if these are awards that include the rest of the cast or if she truly impressed someone at such a young age since it's not uncommon for a kid to win awards, but it's not so common that you hear about it all the time. It's impressive though.
2. She got to be a guest judge on Beat Bobby Flay.
Anything and everything an actor can do to increase their level of exposure is being done these days and it's not a bad thing really since it's interesting to see where certain actors are going to show up now and again. It's nothing new either since it's been done for decades.
1. Her parents are also in the entertainment industry.
Aubrey's father is an entrepreneur in the media industry and her mother is a stand-up comedian, so it's obvious she had at least a little bit of expectation when it came to what she'd be doing with her life.
Hopefully she'll stick around and do more great things, but it'd be nice to see her get an education too.