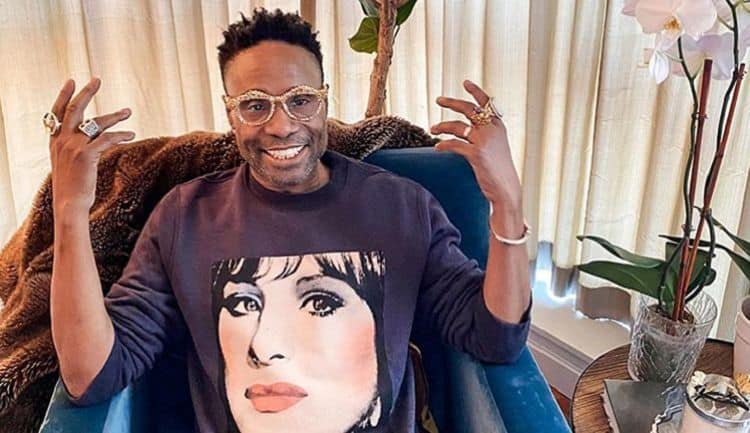 Pop singer, LGBTQ activist, actor, vocal coach, Broadway performer… entertainer Billy Porter has more talents than most of us have had hot dinners. With a long, varied career in the industry, the star has a resume that most entertainment veterans can only dream of, featuring roles in such hit musicals as Kinky Boots, Grease, Dreamgirls, and Jesus Christ Superstar, and in TV shows such as Pose and The RuPaul Show. But there's a lot more to Porter than just acting talents. To learn about the popular entertainer, keep reading.
1. He ran away from home at 15
Porter was raised in East Liberty, Pittsburgh. He lived with his sister, stepfather, and mother, who suffers from a degenerative neurological condition. His early years were unhappy; after suffering for years at the hands of his abusive and homophobic stepfather, Porter ran away from home at 15 to work as a summer entertainer at Kennywood Amusement Park. He returned home for a brief spell but eventually made his permanent escape at the age of 17 when he left for college.
2. He's found strength in adversity
In an interview with Esquire, Porter described the horrific sexual abuse he'd suffered from the age of 7 until 12 at the hands of his stepfather. While this would have broken many, Porter believes it gave him the strength and independence to become the man he is today. "Weirdly, (it) was the best thing that ever happened to me," he revealed. "I could look around and see all of these adults with no capacity to do anything to help me. I will do it myself".
3. He gave a sermon at 11 years old
Long before he realized his future lay in the entertainment industry, Porter was entertaining ambitions of a very different, and godlier, sort. For a brief period in his youth, Porter felt his salvation lay in the church. At the age of 11, he gave his first (and only sermon) to his packed-out local church. "So many people felt something special–a special energy coming from me in my life early on," he shared with Esquire. "It's immediately about 'little preacher man.' You're going to be a preacher. Because it's the only space that they understand a special energy like that." Unfortunately for God, but fortunately for the rest of us, Porter soon found very different ways of expressing that special energy than on the pulpit.
4. He was the first performer to play Lola gay
25 years ago, Porter was cast in one of his best-known roles to date, Lola in Kinky Boots. Until Porter, Lola had traditionally been played straight (albeit in a dress). After being cast, Porter made the unprecedented decision to give Lola a gay backstory. After living a life filled with authentic choices, and preaching others to do the same, Porter felt it would have been irresponsible of him to take a Broadway drag queen and play it straight. His decision clearly paid off. His stellar performance not only bagged him a Tony, it also opened up all the doors that, until that point, had been firmly closed to him.
5. He married his partner in 2017
In 2017, Porter married his finance, Adam Smith, co-owner of the eyewear company, Native Ken. The pair first met in 2009. After a year of dating, they briefly broke- up but got back together in 2015. A year later they got engaged after Porter decided he wanted to get married while Barak Obama was still in power. "I finally found–we finally found–the thing that has been so elusive, and I'm so excited to share that," Porter shared about his marriage.
6. His gave a mind-blowing performance at the Tony Awards
During the 2019 Tony Awards, Porter gave an impromptu, off-camera performance of 'Everything's Coming Up Roses" that, according to audience members, was the highlight of the evening. "Billy Porter taking the stage and blowing everyone's minds was not planned. Only the Tony's. Only on Broadway. Only with theater people," Darren Criss would later say to Variety, while The Prom star Brooks Ashmanskas felt moved to comment "He had his heels on; he looked beautiful. The highlight of the evening, I thought."
7. He's made some spectacular fashion choices
Over the last few years, Porter has drawn almost as many headlines for his statement fashion choices as he has for his Broadway performances. This proved especially true at the 91st Academy Awards ceremony in February 2019. Rather than wearing the traditional evening suit, Porter decided to wow his fellow guests with a full-skirted, strapless velvet gown topped off with a tailored tuxedo jacket. He may have looked fabulous, but for Porter, the look was about more than just fashion. "I've always wanted to wear a ball gown, I just didn't know when," he told Vogue. "From this [Oscars] moment, I want people to understand that you don't have to understand or even agree with other people's authenticity or truths, but we must all respect each other."
8. He's released four solo albums
Porter isn't just a legendary singer of the stage, he's also committed his voice to record. So far, Porter has released three solo albums, the first, the eponymous Billy Porter, was released in 1997. The 2nd, At the Corner of Broadway + Soul, was released in 2005 by Sh-K-Boom Records. 2014 gave us Billy's Back on Broadway, while his latest and last release was the 2017 classic, Billy Porter Presents the Soul of Richard Rodger.
9. His appearance at the Met Gala caused a stir
Porter is as good at making an entrance to a party as he is at making one on stage. As just one example of this, we have his incredible and frankly inspiring entrance to the May 2019 Met Gala. Porter had the red carpet applauding when he appeared on a litter of 6 semi-naked men while wearing a "Sun God" ensemble which ran to a bejeweled catsuit, 10-foot wings, a 24 karat gold headpiece, gold-leaf shoes and an assortment of jewels from Andreoli, John Hardy, and Oscar Heyman.
10. He's written a play
Porter is one talented guy — as well as being a gifted actor and singer, he's also proved a hit with a notebook and pen. In 2014, Porter penned the play "While I Yet Live", a coming of age tale about a young man growing up in Pittsburgh, PA (sound familiar?). The show got its Off-Broadway premiere on September 24, 2014, and proved as much of a success as Porter's other ventures.