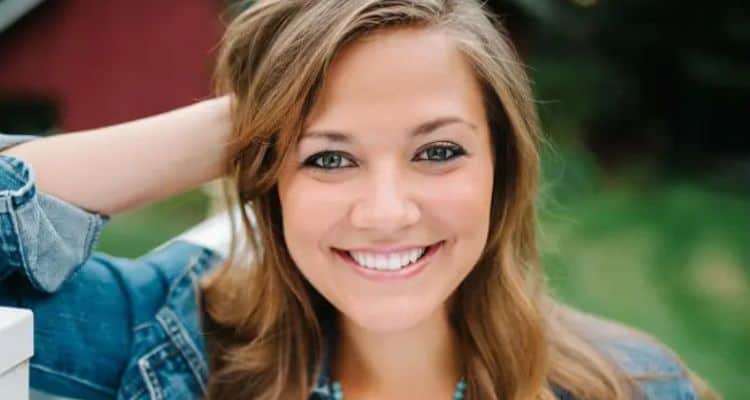 Emily Kroul is best-known to the world for her appearance on Storage Wars. After completing auction school when she was just 17-years-old, she became one of the world's youngest auctioneers. During her time on the show Emily became a fan favorite for her professional demeanor and bubbly personality. However, auctioning off forgotten items isn't the only thing Emily is passionate about. She has a completely separate life outside of the auction world and she knows how to keep herself busy. Now that there's a very slim chance that Storage Wars will be coming back for another season, Emily has more time to focus on her other interests. Keep reading for 10 things you didn't know about Emily Kroul.
1. She's A Cowgirl
There are lots of people out there who may refer to themselves as cowgirls, but they aren't the real deal. Emily, on the other hand, is really about that life and being a cowgirl is more than just aesthetics in her world. Her husband, Cody, is a longtime rancher, and Emily is right by his side enjoying life on the farm and riding horses.
2. She Has Her Own Business
I wasn't exaggerating when I said that Emily is really all about the cowgirl lifestyle. She started a business called Western Wears which has given her the chance to show off her incredibly leather artistry. Through her business she sells items such as custom boots, bags, and other leather goods.
3. She Was On American Idol
Music has always been a big part of Emily's life and she's worked towards becoming a professional singer. In 2016, she auditioned for American Idol . Although she put on a great performance, judges felt that she was lacking the vocal power they were looking for. It's unclear whether she is still trying to pursue singing opportunities.
4. She Loves To Cook
Emily is definitely the type of person who is good at lots of things and the list doesn't stop at auctioning and leather work. She is also a good cook who loves to prepare delicious meals for her friends and family. Sometimes she even shares pictures of the meals she's made with her followers on Instagram.
5. She's A Proud Mom
Emily has accomplished a lot of cool things throughout her life, but nothing has made her more proud than being a mother. She and Cody welcomed their first child, a daughter named Millie, in 2019. Millie may be just a baby, but she's already learning hw to ride horses and enjoy other elements of farm life.
6. Storage Wars Isn't The Only Show She's Been On
Storage Wars is the show that helped Emily gain reality TV fame, but it isn't the only show she's ever been on. She made her reality TV debut in 2012 when she appeared on the Animal Planet show Money Barn. While her reality TV days may be on hold for now, we may get the chance to see Emily on TV in the future.
7. She's Participated In Auctioneer Competitions
Auctioneering isn't something that many people would think of as competitive, however, it definitely does have a competitive side. In 2008 she came in second in the International Junior Auctioneer Championship. The following year, she won the Iowa Auctioneers Contest. Most notably, she won the International Auctioneer Championship in 2018.
8. She Loves To Garden
By now it's clear that Emily loves spending time outdoors, but her love of nature goes farther than the traditional cowgirl things. Emily has also taken up gardening and she's gotten very good at growing her own vegetables. In an Instagram post she said, "My garden is getting COLORFUL! I absolutely love bringing this beautiful natural color into my home straight from the garden. Purple, yellow and orange carrots, red beets, greens galore, yellow squash, purple and yellow onions."
9. She Has A Degree In Business
Going to auctioneer school isn't the only formal education Emily has received. She also earned a bachelor's degree in business management from University of Wyoming. The things she learned in school have definitely come in handy in her career as an auctioneer and her role as a business owner.
10. Her Father Is Also An Auctioneer
Auctioneering is basically the family business for the Wears. Emily's father, Brent,  is also an auctioneer who owns a company called Wears Auctioneering. Emily spent some time working for this company at the beginning of her career. Both of them working in the same field has allowed them to build a very close father/daughter bond and Brent has always been someone Emily can turn to for advice.