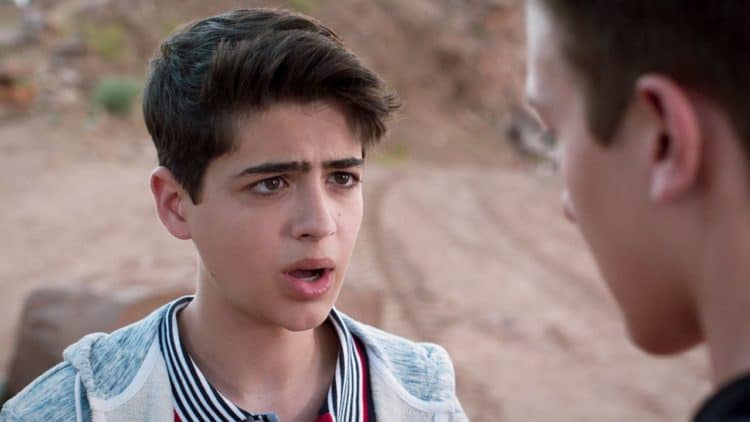 Joshua Rush has certainly made Disney Channel history. When he took on the role of Cyrus Goodman in the popular coming of age teen show Andi Mack, he knew that themes of diversity and stories about living a diverse life would be significant. Not only is the character of Cyrus Jewish, but he also happens to be gay. Joshua told Good Morning America that Cyrus allows all people's stories to be valid and that his life circumstances contribute to "making diversity normal". It's part of the reason why Joshua made headlines when he supported Disney's choice of having Cyrus come out as gay with a polite Twitter response to someone who tweeted that it had been a "very poor example" for young viewers. Joshua is proud to portray Cyrus because he knows that kids who watch Andi Mack can see stories and role models which show them that it's okay to be who they are.
1. Joshua describes himself as "an emotions guy"
When he was a ninth grader, he told Los Angeles Wave Newspaper that growing up in Houston gave him the chance to experience life as a southerner, but that he's not completely comfortable with everything southern. He said it keeps him grounded and he has fond memories of his life there. He even visits Houston a couple of times a year. But, while Los Angeles is materialistic, it also helps him look toward the stars. Even so, he prefers friendships and emotions over things.
2. Joshua's dream role is to portray James Bond
He also likes all the James Bond movies, the way that their luxury and sports cars are designed, and the "cool gadgets" which are used in them.
3. Joshua feels a cool connection to the character of Cyrus
Joshua has noticed the many similarities he shares with Cyrus. Both are the funniest in their groups. Both are Jewish. Both defend their friends regardless of the costs involved.
4. His favorite Disney Channel show growing up was Sonny With a Chance!
He used to watch it before he became a part of the Disney Channel himself, and he loved it. He described it as a young person's version of 30 Rock. But he also loved acting with Bette Midler and Billy Crystal in Parental Guidance because of the experience it gave him.
5. Joshua's career started when he was 10 months old
His first job was as a baby model. His parents relocated from Houston, Texas to Los Angeles, California when he was nine years old so that he could pursue his acting career. His earliest memory of seeing himself in any role was when his family drove to the Houston outskirts to see him dressed in a suit as part of a print campaign. He appeared on one billboard.
6. Joshua went to Israel to have his Bar Mitzvah ceremony at Kibbutz Gezer
His grandfather lives in Ramat Gan, Israel, and both his parents are Jewish. An Ashkenazi Jew, Joshua shared his Jewish upbringing in his role as Cyrus Goodman. Cyrus celebrated his bar mitzvah on the Andi Mack show. Joshua wore the tallit given to him by his grandparents for his own real bar mitzvah and he also wore it as Cyrus. It was a significant moment for the Disney Channel because it was the first time the Jewish rite of passage was portrayed on a Disney Channel show. Joshua recited the same portion of the Torah on the show that he had recited at his own bar mitzvah. Joshua prepared for the Andi Mack version by studying his haftorah at Salt Lake City's Congregation Kol Ami because the show is filmed in the city. After the bar mitzvah episode premiered, he received a note of congratulations from his rabbi in Los Angeles. Though Cyrus has a carnival themed party after his ceremony, Joshua's bar mitzvah was a small event which was streamed over the Internet so that his friends at home could watch it live.
7. Joshua speaks Spanish and is learning conversational Hebrew
He learned Spanish from his nanny while he was growing up. He's learning Hebrew as part of his trips to Israel to visit with his relatives. He told Jewish Journal that he loves walking through the markets in the Old City section of Jerusalem. He also loves the Dead Sea. He says that every street and cobblestone of the city is filled with history.
8. Joshua may study political science when he attends college
He's dreamed of being a Congressman. He expresses his desire to make changes in the world on Instagram until he decides where to take his career. He's self-produced a current affairs program @newsinarush. Each episode airs on Monday night and each episode lasts no more than a minute. Joshua's goal is to help his viewers understand what's happening in the news. He has more than 37 thousand followers. The episodes have covered topics including the recent national emergencies, Brexit, government shutdowns, welfare, and the Israel-Palestine conflict.
9. Joshua's a talented voice actor
He's voiced Bunga on The Lion Guard. Bunga is the honey badger and lion cub Kion's closest friend. Kion is the second son of the Lion King. Prince Kion leads the animal team protecting the Pride Lands. Together with Bunga and the other Lion Guard animal team, the Circle of Life is respected and defended. Bunga is full of energy and shouts "Zuka Zama!" (which is Swahili for "pop up, dive in") before battle.
Joshua has also voiced Soldier Kid on Gravity Falls. The animated series of 40 episodes was about a mysterious town called Gravity Falls. The main characters, twins Mable and Dipper, spend their summers there unraveling strange happenings along with a cast of recurring and guest star characters. Joshua Rush was a guest star, along with Mark Hamill, Larry King and "Weird Al" Yankovic, to name a few. Soldier Kid likes pulling pranks. He isn't scared easily because he watched many horror movies when he was younger. Soldier Kid appeared 13 times in the series.
10. Joshua had a speech coach to learn how to portray Turner Simmons' speech disorder
Joshua wanted to fine-tune the way he spoke, though he claimed that the speech pattern came quite naturally to him. Turner came with enough back story that it helped Joshua to know who the character was and how to portray him. It was also his first opportunity to work with Andy Fickman, the filmmaker, who happened to be from Joshua's hometown of Houston.