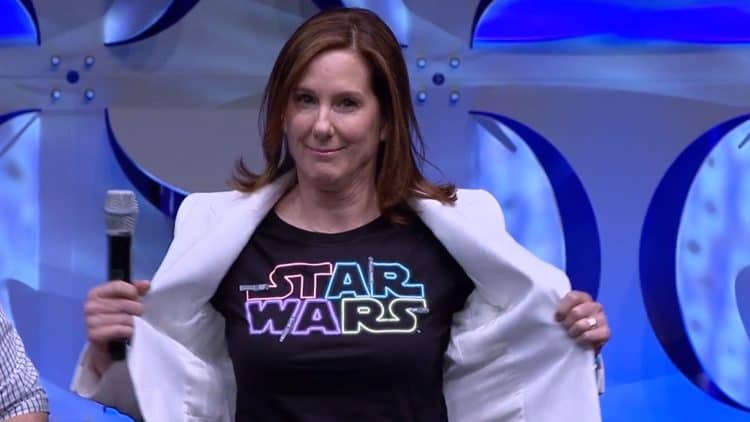 Even producers manage to get the attention sometimes when the projects they overlook tend to become something that people are really drawn to. Kathleen Kennedy is one of those that has been gaining a lot of attention in recent years since she has taken on what some would agree is a massive role when it comes to overlooking one of the biggest and most well-known companies in the world as far as entertainment is concerned. Her part in the Star Wars universe didn't begin on the highest of notes but she did manage to work her way up and earn the spot that she finally took, confirming that she was the best person for the job. Kathleen is all about equal opportunity for everyone and believes that anyone and everyone should have a shot at greatness, as it's a matter of reaching for those stars, not complaining about the roadblocks that lie in the way.
Here are a few things about Kathleen that people might not have known.
10. She's the co-chair of Lucasfilm.
Well, she was the co-chair. Once they sold the company to Disney she became the president since George Lucas sold it outright for a price that was instantly dwarfed when Disney increased production and went in their own direction.
9. Kathleen has produced 8 movies that were nominated for Academy awards.
This kind of proves that she knows what she's doing and is able to steer her interests in a manner that is able to not only satisfy fans but impress the critics as well.  Such a great track record pretty much speaks for itself.
8. She's a native of the west coast.
This doesn't mean a great deal save for the fact that being raised on the west coast she knows the overall culture and what it takes to move around in this society. Apart from that she's one of the few that can claim the west coast as her home from the start whereas a lot of people in show business move in this direction and then take up residence or keep a home somewhere in the west.
7. She was initially hired by Steven Spielberg as a secretary.
It turns out she wasn't that great of a typist but she was more than capable when it came to being an assistant. Therefore when she started showing her ability to keep up she managed to move up as well.
6. In 1993 she and her husband founded a company.
This seems to be the natural progression for a lot of people in various parts of show business. Once you peak at a certain level you move onward and upwards in order to keep testing yourself so that things don't get too stale.
5. She's been spearheading ever Star Wars project since it was sold to Disney.
From The Force Awakens to The Last Jedi and everything in between she's been there behind the project at all times doing her best to keep things on an even keel. So far things have gone pretty well and people, no matter their love or disgust of TLJ and/or Solo, are awaiting something great as the story continues.
4. Kathleen has a twin sister.
It's kind of doubtful that her twin has ever stood in for her during one event or another since there's a good chance that her twin has nothing to do with show business and wouldn't know which way to turn.
3. In 2007 she was named one of the smartest people in Hollywood.
This kind of goes without saying since to rise from being a secretary to being the president of Lucasfilm isn't exactly a short trip and the idea of anyone making that leap is something that takes a lot of imagination as well as a lot of intelligence to actually navigate a path upward. That she's considered to be intelligent and not overly-ambitious is also kind of inspiring since it means that women are just as capable of breaking into the film industry in various ways and aren't as hindered as some people might think.
2. She's the first woman to receive the Irving G. Thalberg Memorial Award.
This award is usually presented to producers that manage to present more than one picture that is considered to be highly innovative and shows a great deal of quality laid down by the producer and their team. Being the first woman to ever win one of these is an accomplishment no doubt, but winning the award at all is vindication for anyone.
1. She doesn't really understand why there aren't more women with prominent roles behind the screen when it comes to film.
There is ample opportunity for women in the film industry outside of acting as she fully recognizes, but there is also some quality to the business that seems to stop a lot of women from pushing forward. Like a lot of people she has yet to figure out what this is.
Thankfully nothing stopped her from pushing forward.