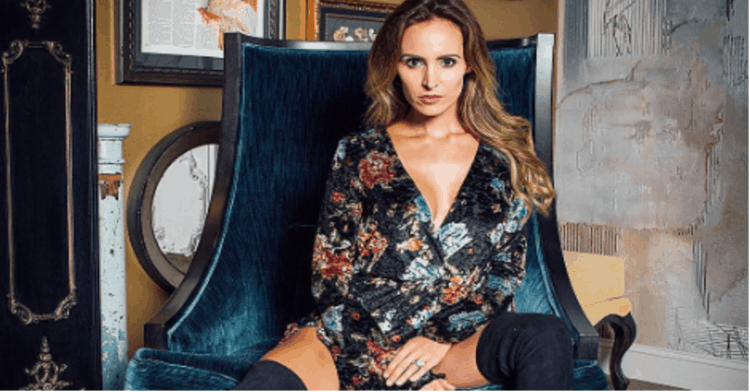 Samantha Busch was born in Indiana to Donell and Steve, and she grew up to cherish her close-knit Italian family. A fitness guru and a focused student, Mrs. Busch met her future husband, NASCAR driver Kyle Busch, about seven years ago. The couple chose to become engaged about two years later. Below are ten things you should know about Samantha Busch.
1. Kyle and Samantha Busch Got Married On December 31st, 2010
Kyle and Samantha Busch got married in Chicago on December 31st, 2010. Samantha, as you might suspect, was hands-on through the whole wedding planning process. According to her official website, she thoughtfully created and selected every bit of the ceremony herself in order to come up with a memorable experience. The event was also the main focus of a style TV Network reality show that premiered on March 2011
2. Kyle and Samantha met in 2008
Kyle and Samantha Busch met in 2008, but the two did not go out for their first date after about four months. She was still in college, but the relationship seemed to work well. After completing school, she moved to Charlotte and the pair chose to become engaged in 2010.
3. Samantha Busch has a Master's Degree
Samantha successfully graduated from Purdue University with honors and a Bachelor's degree in Psychology in 2008. After four years, she again graduated from school with a Master's degree in Organizational/Industrial Psychology.
4. She is a fitness guru
Samantha Busch worked in a reputable health club through college and high school. At Purdue University, she contributed her skills as a fitness instructor where she taught spinning and body sculpting classes. Additionally, she did some print work as a model and made appearances for companies such as Bailey's and Sprint.
5. Samantha Busch Works Closely with Kyle Motorsports
Samantha works rather closely with Kyle Motorsports. She is heavily involved with so many of the day to day activities of the company, including issues such as retail division. Samantha, additionally, is involved with the digital presence of Kyle Busch Motorsports. Lastly, she is an essential part of the Kyle Busch Foundation. The foundation seeks to support children homes in Charlotte as well as the United States as a whole.
6. She Can't Do Business with Amber Balcaen
According to the latest 'Racing Wives' episode, Amber Balcaen, Kyle Busch Motorsport's first female driver, is still struggling to learn how NASCAR operates. Amber finds herself on the wrong side of Samantha, KBM's manager. During the company's fan day, when official drivers are allowed to interact with fans and take pictures, Amber drew the wrath of Samantha when she opted to take a seat to greet the fans, despite the fact that she had not been named as a racer for the organization yet, at least not officially. Immediately Samantha realizes that Amber is comfortably seated at the driver's table, she asks another employee to take Amber away. Samantha follows Amber to a private room where she admits that working with her might not be possible in light of her mistakes in the past. Racing Wives seeks to put the spotlight on Ashley Busch, Samantha Busch, Mariel Swan, and Whitney Dillon as it highlights their daily activities as the wives of successful NASCAR drivers.
7. Kyle and Samantha had a Miscarriage
A few days after the NASCAR season ended, Kyle Busch's wife, Samantha, posted a video across her social media platforms that explained how she suffered a miscarriage. The couple, after that, tried to have another baby through IVF – Vitro fertilization – which is how they had their son Brexton, who is now three years old. The pair promised to shed more light about IVF and publicize the details behind the whole process as a way of comforting and helping other couples that might find themselves in a similar situation. That conversation meant that they had to talk about their experiences having lost a daughter soon after the NASCAR season came to an end. In an interview with PEOPLE , the two shared more information about their heartbreaking experience. The miscarriage occurred a few days before NASCAR Awards, and since the Awards were set to celebrate Kyle, they chose to keep the news a secret in what was surely a very painful night. Samantha said that while the two will still try to have another baby, she is not yet ready to start the process again. According to her, she still cries thinking about the ordeal and described it as feeling a sense of personal failure.
8. Community Service
Openly sharing their experiences with IVF is one of the ways through which they contribute to the community. In order to help other people who are going through similar issues, the couple founded the Kyle and Samantha Bundle of Joy Foundation, which seeks to raise money to help families across Charlotte and the United States to cover the high expenditures associated with infertility and miscarriages.
9. Samantha Believes Health Insurance Should Cover Infertility
For a few years, Samantha and Kyle struggled to conceive before undergoing IVF to help them get their baby Brexton. Behind all this pain and skepticism, there was about 24,000 worth of US dollars' spent in total. Their insurance company did not cover this bill. While the two while lucky enough to afford such figures, not everyone is as fortunate. For this reason, Samantha believes that fertility issues should also be covered by insurance.
10. Bundle of Joy Fund
So far, according to Samantha, about ten babies have been conceived and born to families that have benefited from their foundation in one way or another. Moreover, the fund will also be able to help about two other families this year after the foundation came in second in the Comcast Champion of the Year Award. The award, which is given to NASCAR drivers for their exemplary work in community assistance, extended about 30,000 US dollars in the form of donations to the fund.