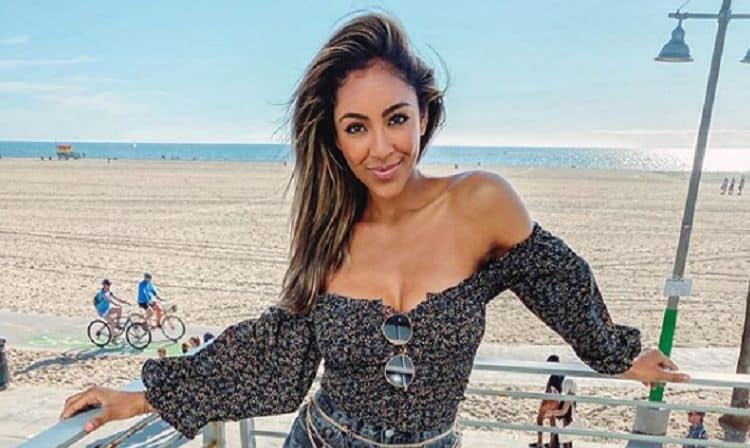 Tayshia Adams is an African American woman who even though she was not in the limelight in her early life, has made it in such a short time and stands out. She was born in the year 1990. She went to Concordia University where she graduated with a BS in Biology Medical Science in the year 2012. After graduating, she worked as a fitness instructor at Soul Cycle in Newport Beach. This tells many that she is all rounded in the activities she takes part in considering the diversity of activities. Later, she participated in the reality show, The Bachelor where she worked her way up to the top finalists. It is at this point that she became known to the world and for the right reasons too.
The world knows very little of this beautiful woman. She has a lot to offer and looking at her background, you will be able to appreciate her achievements as well as understand her better. The following are 10 things you probably did not know about Tayshia Adams.
10. Loves wine tasting
Tayshia is up for wine tasting any time. This hobby is not about getting tipsy but more about appreciating wine and wine culture. This will also tell you that she is a classy woman who is always looking out for something new and exquisite.
9. She volunteers in church
In her free time, Tayshia volunteers in her church. She does not look at specific tasks she thinks she can address but she tries to take on any task assigned to her whether large or small.
8. Completed a mission trip to Africa
Tayshia completed a mission trip to Africa and considering that she has an African background, this was a breakthrough for her.
7. Her beauty is appreciated by Chris Harrison
Chris Harrison has shown some positive interest in Tayshia considering the compliments he provides. In one episode, he clearly indicates that she is drop-dead gorgeous adding that she offers a balance between beauty and brains. He clearly indicates that she is turning into the life of the party in the reality show and that people should watch out for her. It is evident that Chris appreciates her effort in the show and her beauty.
6. Tayshia is divorced
Tayshia was married but it did not last long as the husband, Josh Bourelle, filed for divorce on October 11, 2017. Their marriage lasted about one and half years.
5. She was a girl scout for 12 years
For 12 years, she was a girl scout, which translates to having acquired several life skills.
4. She worked as a fitness instructor
While she is smart and beautiful, she also looks into physical fitness. Not that she goes to the gym to workout but that she went a notch higher and became an instructor.
3. Participated in the reality television show The Bachelor
She ventured into reality show after her job as a fitness instructor. Taking part in the reality show opened doors to her fame. She not only got herself a position in the reality show but she also made it to the top finalist.
2. Debt settlement
Tayshia found herself in debt after her divorce. The Superior Court of Orange County announced that Tayshia owes the county cash from her previous student loan and other bills from using her credit card. Whether she has cleared, the debt is still unknown.
1. No kids yet
Tayshia has no kids yet even after her divorce. As of 2019, she is also single and yet to disclose any serious relationships.
Tayshia was not always in the limelight but she is doing a good job acting responsibly. Despite a few hurdles and challenges in her life, she is doing well. She has proven to be smart, beautiful, as well as warm-hearted. She is outgoing and she does not limit herself which makes her someone to look out for in the entertainment industry. Looking at her Instagram profile, she has a lot to offer. As for the reality television show, the Bachelor, she is quite something to keep watching. Overall, Tayshia Adams is a phenomenon and motivational person in the life of those who have come to know her.