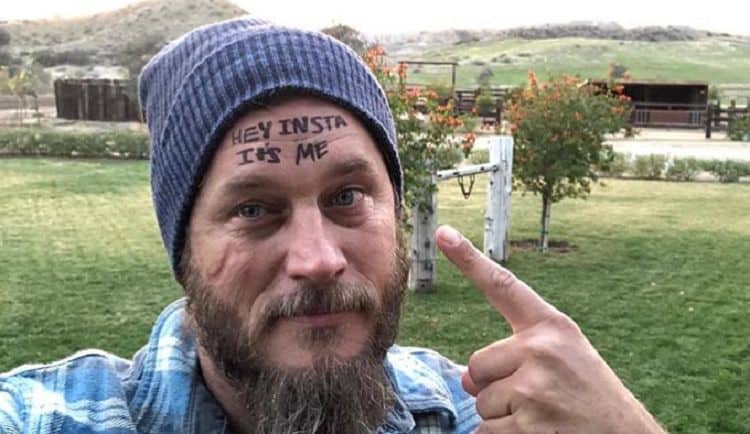 Travis Fimmel is an actor who is best known for his role in the History Channel's television series "Vikings." He played the part of Ragnar, an ancient Viking leader, who is also a historical figure in Norse lore. Since leaving the show when his character was killed, many are wondering whatever happened to Fimmel. We looked into his career and history and learned some interesting things. Here are 10 things that you probably didn't know about Travis Fimmel.
1. He isn't from Scandinavia
Fimmel is an Australian actor who did an amazing job with his Scandinavian accent. He was born on July 15, 1979, which makes him 40 years old as of the summer of 2019. His home town is Echuca, Victoria in the Land Down Under. His nickname is Rangi.
2. He was raised on a farm
Travis grew up on a farm near Echuca. His father was a cattle farmer who owned a 5500-acre piece of land that was situated between Sydney and Melbourne. Travis worked on the family farm and went to school until he reached the age of 17. His mom was a nurse who worked with disabled people as a recreation officer. Her name is Jennie and his dad is Chris.
3. He went to college
Travis graduated from his local high school then enrolled in college classes. He went to school at Melbourne University, but he didn't stay very long at the university. He had a bit of wanderlust and his natural curiosity led him away from the country of his birth.
4. He tended bar in London
Craving adventure and something different, Travis relocated to the United Kingdom. He was hired as a bartender at a pub in London, England. He had to do something to support himself when he was off on his own and away from home. Travis knows what it is to work for a living, but he was a bit too generous and he gave away as much beer as he sold at the pub and it became obvious that this would not be the best option for him career-wise.
5. He met his manager in London
It was while tending bar that Travis was discovered by the man that would become his manager as an actor. David Seltzer saw something in Fimmel that made him believe that he had what it takes to become successful in the acting world. He made the suggestion to Travis and recommended a move to the United States to pursue a career in acting. Travis took his advice and moved to Los Angeles where he was mentored by Ivana Chubbuck.
6. He planned to be a pro footballer
After high school, Travis moved to Melbourne and he had the intention of becoming a professional Australian footballer. Still in his teens, he arranged to play with the St. Kilda Football Club in the Australian Football League. His plans were derailed when he sustained a broken leg that prevented him from playing at the start of the season. Fate has a way of determining the outcome of a person's life. Although it seemed tragic at the time, it closed a door so another could be opened.
7. He was going to become an engineer
When Fimmel was in Melbourne, he was accepted at Melbourne University, prior to becoming an actor, he had plans to study engineering and commercial architecture at the school. These plans didn't materialize because the opportunity to travel abroad was presented and he took it, deferring his educational plans. This was before he had the idea to move to the United States and become a serious career actor and model.
8. Travis Fimmel was a model
Fimmel was in the right place at the right time. He was working out at a gym in Hawthorn, Australia when he was spied by someone of importance. A talent scout named Matthew Anderson, scouting for the Chadwick Models Agency saw him working out and made him an offer. Fimmel was signed on the spot with a contract to work for LA Models in 2002. He was flat broke and walked into the agency barefoot and he went from not having a cent to making six figures modeling exclusively for the designer Calvin Klein.
9. He became known as one of the sexiest men in the world
Fimmel's modeling career earned him a great deal of attention. He modeled underwear and represented Crave fragrance for CK. He became one of the most highly in-demand models on the planet in 2002. he was named as People Magazine as one of the world's sexiest bachelors in 2002. Travis has been featured on numerous magazine covers and it was even rumored that a billboard featuring his modeling had to be taken down because it was causing traffic accidents, but he said it was just an unfounded rumor. He's a humble guy who remains unassuming and he doesn't draw a lot of attention to himself. He lets his work stand on its own and it draws in fans like a powerful magnet.
10. He has appeared in a lot of films and shows
Travis Fimmel has a long line of credits in his acting portfolio. In addition to his role as Ragnar in "Vikings," he also appeared in the television series "Tarzan," in 2003, in "Southern Comfort," in 2005, "The Big Valley," in 2011, in "Restraint," in 2008, "Surfer Dude," "Pure Country 2: The Gift," "Needle," "Ivory," and more. He has co-starred with a variety of big names in the business including Peter Fonda, Richard Dreyfuss, Charlie Plummer, Ethan Hawke, Julianne Moore, Steve Buscemi, and many more. He has played several lead roles as well as supporting and minor roles in the business. He was also named as Australia's Men of the Year Awards," Actor of the Year," in 2017. Fimmel has gained a ton of respect for his acting talents and he is well known in both the modeling and acting industries.