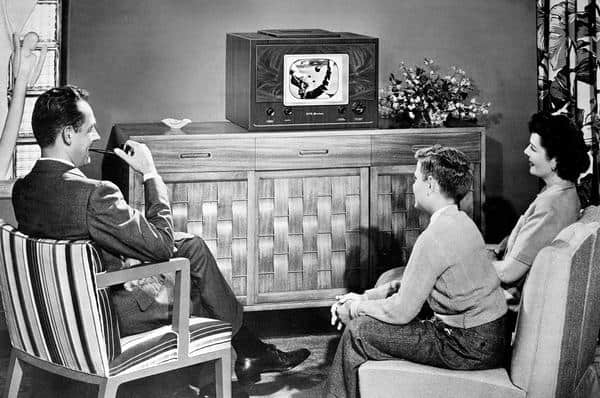 Television has been around for decades and has provided us with an endless amount of iconic series and characters that we love and cherish. However, there may be some facts that we all might not know about our favorite TV shows or actors. Here are 15 amazing facts about TV you didn't know.
1. The Late Late Show of Ireland which started in 1962 and The Tonight Show which started in 1954 are the longest running TV talk shows in the world.
2. The first television advertisement ever was broadcasted on July 1, 1941 in New York. The advertisement was for Bulova Watch and lasted a total of 20 seconds. It aired before baseball game between the Philadelphia Phillies and the Brooklyn Dodgers. TV advertisements during that time only costed $9.
3. At this moment, the largest television in the world is the new curved UHD, 105 inch TV from Samsung. This new TV does not yet have an official price, but Samsung promises that it will cost under $150,000, so good thing it's affordable, right?
4. By the time the average American child reaches the age of 14, they have seen around 11,000 murders on TV. That's a heck of a lot of CSI, Criminal Minds, and Law and Order watching for your kids.
5. In 1926, J.L. Baird unveiled the first television, which had only 30 lines and gave coarse image. Currently the digital signal of the TVs sends pictures with 1080 lines. (Hence why it's 1080p for HD.)
6. The original, unaired pilot for It's Always Sunny in Philadelphia cost only $200 to make. Some of the footage did make it into the series opening credits, however – all of which was shot by a digital camera through a car window.
7. Reportedly, producers for That 70's Show initially wanted Chuck Norris to play the part of Red. Thankfully, however, it ended up going to Kurtwood Smith. That guy totally owns that role, and I couldn't imagine anyone else in it – even someone as awesome as Chuck Norris.
8. Did you ever watch a little TV show called Breaking Bad? Oh, you've heard of it? Okay, good. Wasn't sure, because, you know, it's not that popular or anything. Anyway, all of the meth seen on Breaking Bad is actually blue rock candy. Stars Bryan Cranston, Aaron Paul, and others would eat it regularly during their breaks on set.
9. Lous C.K. is a true TV artist. He not only writes and acts in every episode of his TV show, Louie, but he also shoots each episode on his own camera, edits on his own, and keeps each episode of Louie on a budget of $250,000 in order to have complete and total creative freedom from FX.
10.The role of Jack on the hit TV show, Lost was not originally written for Matthew Fox. The show's creators actually wanted Michael Keaton to play Jack and they planned to kill of the main character during Lost's pilot as a surprise twist. The series was going to be more focused on Kate and the other survivors instead.
11. Before Miley Cyrus was famous for twerking with Robin Thicke, she got her start on the Disney channel TV show, Hannah Montana. On that TV series, actor Jason Earles played the character of Jackson, Miley/Hannah's older brother. What's interesting about this, however, is how old Earles was. When Hannah Montana began, Earles as 30, and at the time the TV series ended back in 2011, he was 35 years old, over 15 years old than Jackson was supposed to be in the show.
12. Did you ever watch either Buffy the Vampire Slayer or Beverly Hills 90210? (I've seen an episode or two of each, but I was too young when both TV shows were airing to really enjoy them . Buffy's on my Netflix Must Listm though.) Well, anyway, for anyone who watched either of these TV series (or both of them), here's something crazy: the high school sets used in both shows were the same. That means while the characters was dealing with all the soapy drama on 90210, Buffy and company were taking care of all the supernatural business at the same time at the same place.
13. Throughout his entire time on the hit TV series, Friends, playing the character of Joey Tribbiani, actor Matt LeBlanc actually dyed his hair. He had been going gray since the show's first season.
14. There's no denying that Game of Thrones is absolute TV phenomenon. It has millions of viewers tuning in each week for every episode, waiting to be amazed by the next twist or surprise death of a fan favorite character. Even during its hiatuses, Game of Thrones fans anxiously await new casting news, set photos, or teaser trailers for the new season, just so they can a little bit of Westeros in their lives. At no point was that more apparent than in 2012, the year after Thrones first premiered, when reportedly, over 160 baby girls that were born that year were named "Khaleesi" after the character of Daenerys Targaryen from Game of Thrones. I'm a die hard Game of Thrones fan (it's my favorite show on TV right now, possibly of all time), but even as dedicated a fan as I am, I don't think I'd ever name one of my kids after the show's characters. Their names are just a little too "out there" for me. (Also, full disclosure: I mainly put this fact on this list because it gave an excuse to post a picture of Emilia Clarke, who, if you didn't realize this already, is insanely gorgeous.)
15. The Sopranos is one of the most well-known and critically acclaimed TV series of all time. It's the show that put HBO on the map and was the first sign to viewers that HBO, as a network, was going to push boundaries with its TV series. However, HBO executives decided to add a gun as the "r" in The Sopranos logo to ensure that viewers understood that this was a TV show about mobsters. They initially feared that if they did not make it clear that people would see advertisements for The Sopranos and think it was a musical series.