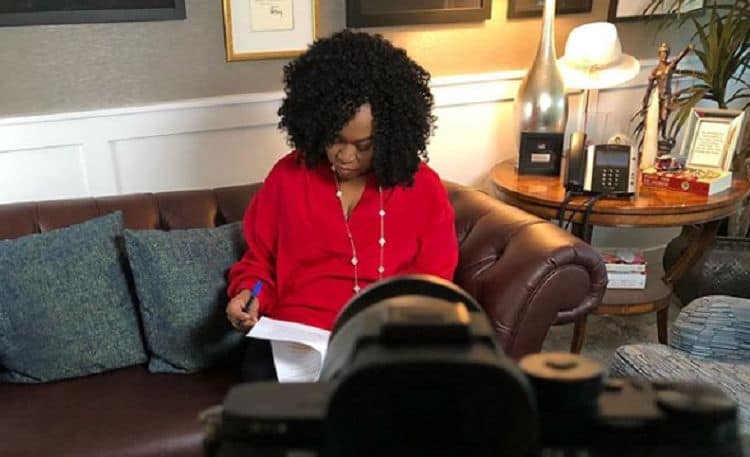 There is an army of creative, talented and often wealthy professionals involved in the development and production of a television series. It takes creators, writers, producers and of course the actors to bring a series to life and these are just a few of the positions that must be filled for your favorite television shows. The showrunner is the individual who has the top management responsibility and creative authority for the program. This is the leader who has the vision for the show and bears the heaviest weight of responsibility for making it a success. We're paying homage to these incredible and hard working people by highlighting the 20 richest showrunners in Hollywood today. They've earned every penny of the fortunes that they've amassed.
20. Issa Rae – Net Worth: $3 million
Issa Rae, along with Prentice Penny is the showrunner for the hit HBO series "Insecure." She's been kept very busy this past year. The Stanford University graduate is just 32 years old and thanks to her contributions, the "Insecure" audience has risen by 34 percent. She takes her job seriously and by the looks of higher ratings and viewership, she is doing it very well. She brings her experience as an actress, writer, director and producer to the series and we can tell that this isn't Rae's first rodeo. There are a lot of casual hookups and euphamisms on the show, not to mention the diversity. She feels an internal push to keep the momentum going by striving to be better with each episode. Rae shared her favorite show for this year and the best thing that she saw was "Bojack Horseman.
19. Mark Duplass – Net worth: $3 million
Mark Duplass is a part of the team that consists of himself and his brother Jay Duplass. Together, they serve as showrunners for the HBO series "Room 104." Both are actors. Mark, 40 played the role of Ted Kaczynsi's brother in a Discovery channel miniseries that focused on the life of the infamous Unabomber. Jay, age 44, is still appearing regularly on the Amazon series "Transparent. The brothers remain busy with their commitments to "Room 104" as well as pursuing other interests in the entertainment business.
18. Matt Duffer – Net worth: 3.5 million
Another famous brother team lands in the 18th spot in our top 20 list. Matt Duffer, along with his twin brother Ross, is showrunner for the Netflix show "Stranger Things." The pair are natives of Durham, North Carolina. They created the show which is in the science fiction horror series genre and are writers, directors and producers. The two also teamed up on another horror film in 2015 titled "Hidden," for which they were the writers and directors. From an early age, the Duffers took an interest in filmmaking, studying their craft at Chapman University in California and making their official professional debut in 2005 with Matt's "We All Fall Down."
17. Michael Schur – Net worth: $5 million
Michael Schur is showrunner for Fox's "Brooklyn Nine-Nine;" "The Good Place" of NBC and Netflix "Master of None." He's an alum writer for the famous "Saturday Night Live" and made some huge contributions to the show. He was the idea man behind the series "Parks and Recreation," but his attention is spread among his three current projects, "The Good Place," Brooklyn" Nine-Nine" and "Master of None." He's one busy guy, but he wouldn't have it any other way because he loves his work and it shows in the results. He enjoyed watching "The Leftovers" Throughout his career, he wrote for "SNL" from 1997 through 2004, and served as producer from 2002 to 2004. He was also producer for "The Office" from 2005 for three years and also wrote for the show between 2005 and 2007. You may have recognized him in the role of Mose on the series between 2006 and 2013. He is the creator of "Parks and Recreation" and has served as executive producer and writer for the show. Schur is married to Jennifer Philbin, who is also a writer, and also the daughter of Regis Philbin.
16. Danny Strong – Net worth: $5 million
Danny Strong is best known as an American actor and writer who also served as the showrunner for the Fox network series "Empire." The series held a number one status on broadcast, and although it has been replaced in the position, it is still a powerful drama that hasn't lost any points with the viewing audience. Strong is originally from Manhattan Beach, California, where he was born in June of 1974. He studied at the University of Southern California the subjects of film and theater. His first recurring role was in the hit series "Saved by the Bell: the New Class in 1994. He went on to appear in the role of Marshall Glasner in the television series "Clueless from 1997 to 1999. He also played the part of Danny Siegel in "Mad Men" from 2010 to 2013, along with other recurring roles in television series. He is the creator of the television series "Empire and serves as writer as well as showrunner for the show. He also wrote for the film "The Hunger Games: Mockingjay Part 1" in 2014.
15. Jennie Snyder Urman – Net worth: $5 million
Jennie is the showrunner for the CW show "Jane the Virgin." She is the creator, writer and producer, and she also oversees the host of writers that have been brought on board for the show. Snyder-Urman is known for her aggressive approach to overseeing the writers and she gets the job done with kudos from the pros that she assists. She gives credit for her ability to the mentorship of Joanna Johnson who was her first boss. She came into the business with no knowledge of how things worked, but learned quickly under Johnson's tutelage.
14. Adam F. Goldberg – Net worth: $10 million
Adam F. Goldberg is the creative genius responsible for the rare two season renewal for the series that he is showrunner for, titled "The Goldbergs." He's a prolific comedy writer who struck a deal with the ABC network to air his autobiographical sitcom which is a smashing success. The show is owned by Hulu so don't expect to see is streamed on Netflix. Goldberg has plans for a long and successful run for the series and has been making plans to continue leading the forward march.
13. Dan Fogelman – Net worth: $12 million
Dan Fogelman is known in Hollywood for his contributions as screenwriter and producer for many successful movies including "Cars" (2006) and "Cars 2" (2011). Other films that he has to his credit are "Fred Claus," "Bolt," "Tangled," Crazy Stupid Love," "Me and Earl and the Dying Girl" and "Danny Collins" to name a few. He is the showrunner for the NBC television series "This Is Us." He's well known for writing, producing and directing across animated and non-animated genres.
12. D.B. Weiss – Net worth: $12 million
D.B. Wiess is a showrunner for the explosively popular HBO television series "Game of Thrones. He serves as both executive producer and screenwriter for the George R.R. Martin adaptation. He's also served as writer for "It's Always Sunny in Philadelphia," the television comedy series starring Danny DeVito. Weiss' first name is Daniel and he was born in Chicago, Illinois on April 23 of 1971. He attended Wesleyan University and Trinity College in Dublin, Ireland where he earn his Master's in Philosophy and Irish Literature. He's best known for his work writing screen adaptations for multiple science fiction books which have been turned into movies.
11. Marti Noxon – Net worth: $18 million
Marti Noxon is showrunner for the Bravo network's "Girlfriends' Guide to Divorce" as well as the Lifetime series "UnREAL" and HBO's "Sharp Objects." Noxon is one of those pros who is constantly in demand. "Sharp Objects" is her latest project that will star Amy Adams and it is expected to hit the air in 2018. Noxon is 53 years of age and has a family at home. She and her husband are both busy with their careers but are thankful that they have an amazing Lidia Acevedo who has been with the family for the past 13 years, making sure that the kids are well-cared for while she and her husband are busy with their work. She's managed to juggle both family and her amazing professional career with just a little help from the right person.
10. David Benioff – Net worth: $18 million
David Benioff is a native New Yorker who earned his degree from Dartmouth College, with a Masters in Creative Writing at the U of California-Irvine, and as his fellow showrunner for "Game of Thrones," D.B. Weiss, at Trinity College in Dublin, Ireland. He wrote and published "The 25th Hour," which was his first novel, which later was adapted for film. He served as the screenplay writer, then went on to lend his writing talents for the movies "The Kite Runner," "Troy" and "Stay," among several others. He is married to American actress Amaada Peet and the couple has two daughters they are raising in his home town of New York City.
9. Lee Daniels  -Net worth: $20 million
Lee Daniels is one of three showrunners for the Fox network "Empire." Daniels is best known for his acting, directing and as a producer in Hollywood. He is a native of Philly in Pennsylvania who attended Lindonwood University before moving to California. He started out as a worker at a nurse staffing agency before developing his own company in the field. Afterwards, he turned his focus towards a the film industry where he worked as a manager and casting director for films. From this line of work, he moved into directing and producing films and is known for the movies, "Shadowboer," The Woodsman" and "Monster's Ball," among others. Daniels received a nomination for Best Director at the Oscars. He is the co=creator of the television show "Empire," for which is is director as well as executive producer.
8. Brad Falchuck  -Net worth: $20 million
Brad Falchuk is a showruner for the television series "American Horror Story," "Feud," and "American Crime Story" all on the FX network as well as Fox network's "911." He's a television writer and director who also produces several shows. He's best known for being a co-writer for "American Horror Story," but has also been involved with other popular television series including "Glee," and "Nip/Tuck." He has a diverse portfolio and is in high demand. Falchuck considers Ryan Murphy, co-showrunner on "American Horror Story" to be one of the most important persons in his career.
7. Ryan Murphy – Net worth: $20 million
Ryan Murphy is running neck and neck with co-showrunner for "American Horror Story" Brad Falchuck. Each have an estimated net worth of around $20 million and they are both responsible for the tremendous success of the terrifying and often disturbing television series. He's also a television writer and producer who has done a lot of work with Falchuck including "American Crime Story," "Feud" and "911." Let's not forget "Glee and "Nip/Tuck." Murphy began his career as a newspaper and magazine journalist. He wrote for The Los Angeles times, Entertainment Weekly" and "The Miami Herald."
6. Tina Fey – Net worth: $65 million
Tina Fey has served as co-showrunner for the hit Netflix series "Unbreakable Kimmy Schmidt" and NBC's "Great News," along with Robert Carlock. The first series has just been renewed for the fourth season and this shows us all that she's doing a great job in keeping it interesting. As for "Great News," Fey has consented to appear as a recurring visitor on the series because it will give the show an additional boost to grab more potential viewers' attention. She is best known for her more than significant contributions to "Saturday Night Live" which will always be a part of her, and she of it. Throughout her successful career ,Tina Fey has amassed a fortune that is worth $65 million currently. She brings in a whopping $500,000 per episode, but having her as a part of anything that is in the comedy genre is a definite boon that is well worth the expenditure. She's best known for her work in the sketch comedy genre as a performer but what not all her fans know about her is that she is also a talented writer. If you recall the NBC comedy series "30 Rock" that aired from 2006 through 2013, she had her hands all over it as well as "Mean Girls," "Date Night," "Baby Mama," "Muppets Most Wanted," and the 2013 film "Admission." She's won multiple awards for her contributions to comedy and was the host of the 70th Golden Globe Awards alongside her comedic colleague Amy Poehler. Tina Fey is also a column writer, but she did so anonymously in college. She earned a Bachelor of Arts in drama from the University of Virginia and also studied playwriting. She's also written a book which has added to the large estate that she has built.
5. Darren Star – Net worth: $120 million
Darren Star is best known for TV Land's "Younger." The 56 year old is responsible for the creation of "Sex and the City" along with "Beverly Hills, 90120" and others. His hit "Younger" in its fourth season averaged 1.3 million viewers and he's riding high on the tremendous success he's achieved through his career. He believes that Netflix is setting a good examples for other networks to follow. He's very much entrenched at Viacom and is planning his next project already, but we're not yet privy to the details.
4. Shonda Rhimes – Net worth: $120 million
Shonda Rhimes is the fourth richest showrunner to make our top 20 list. She's best known for ABC networks big hits which include "Scandal," "Grey's Anatomy" and "How to Get Away with Murder." She's one of the biggest producers around at the age of just 47 years. She's just recently made the announcement that she plans to leave the ABC network to pursue an offer that has been made by Netflix, which is rumored to be "the richest (deal) in TV history." She's a writer, director and producer who has worked with the top series in television today. She started out as a college student at the prestigious Dartmouth College, located in Hanover, New Hampshire. After graduation, she went on to study at USC in San Francisco, California, where she graduated with honors in screenwriting studies. She began this new profession with a Britney Spears drama titled "Crossroads," then went on to write for Disney productions. It was after this that she landed a contract agreement to write for the ABC network in some of the biggest hits of the past decade.
3. Dick Wolf – Net worth: $350 million
Dick Wolf is the brilliant mind and showrunner behind several of the most popular television series on the NBC network. These include, "Law & Order True Crime;" Law & Order: SVU;" "Chicago Med," "Chicago P.D" and "Chicago Fire." It was his work in the "Law & Order" franchise that earned him the first and most significant recognition as a writer and producer. He is among the most famous television show creators in the business today. Wolf was born in December of 1946. He attended with former president George W. Bush at Phillips Academy and went on to earn a degree from the University of Pennsyvania. In his early career, he worked as a copywriter and in advertising for Benton & Bowles. While engaged in this work he continued to write screenplays because his ultimate career goal was to break into the film industry. He relocate to Los Angeles where he would have a better chance of reaching his professional goals. At the time he met Oliver Stone, who was at about the same level of struggle as he. It was after relocating that he was successful in having three of his screenplays produced. "Masquerade" was the first one of note and starred actor Rob Lowe. Wolf also served as a part of the writing staff for the television series "Hill Street Blues," for which he received an Emmy nomination for his efforts. He was supervising producer for the hit series "Miami Vice" which was only a precursor to the success and acclaim he would earn through his work on "Law & Order." Wolf has received multiple nominations and awards from a variety of organizations and agencies. Some of these include" the Anti-Defamation League, New York Chapter of the National Academy of Television Arts & Sciences, the Banff Television Festival, Entertainment Industries Council, Publicist's Guild of America, NATPE, and the Edgar Award from the Mystery Writers of America. In the early spring of 2009, Wolf was honored with the receipt of a star on Hollywood's Walk of Fame.
2. Tyler Perry – Net worth: $600 million
Tyler Perry is the second richest showrunner in the world today. He is best known for his work with the OWN network's "The Haves and the Have Nots," "If Loving U is Wrong" and The Learning Channel's "Too Close to Home." The 48 year old holds Oprah Winfrey as a person who has brought him a tremendous amount of inspiration in his life and career. He's made OWN a profitable network with soap opera genre series that have attracted a large number of viewers. He's looking at the possibility of assisting Viacom, another big network in the cable industry. He's also working on the development of 90 hours of entertainment for the BET network.
1. Chuck Lorre – Net worth: $800 million
Chuck Lorre is the richest showrunner in the entertainment industry today. He has amassed a fortune of $800 million and has made significant contributions through is writing, composing, direction and production of some of the more popular television series. He's the guy that is responsible in part ofr bringing us "Two and a Half Men," "Grace Under Fire," "Mike and Molly" and "The Big Bang Theory." Prior to his work as a television series showrunner, Chuck spent his time as a musician out on the road on tour. He was born in Bethpage, Long Island, New York with his given name as Charles Michael Levine. He attended college at State University of New York, but didn't graduate. He left in his sophomore year because he wanted to pursue his career in songwriting. After he ended his touring days, he because the writer for the television series "Roseanne." It was after this that he began writing for "Grace Under Fire and the others. He's currently planning another series that will be titled "Mom."