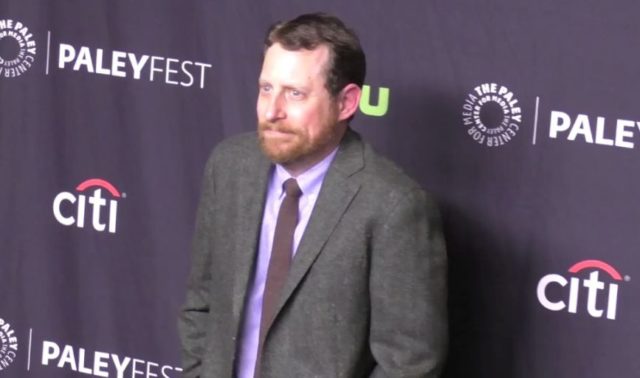 When Scott Gimple took on the position of showrunner beginning with Season Four of The Walking Dead, there was a lot of speculation about the reasons why previous showrunner Glen Mazzara was done. But, aside from the rumors flying about his firing or being let go, even more talk hit the media asking questions about Scott Gimple. He was unknown, and fans of the show wanted to know more about him and his work.
The truth was that he began writing for the show in Season Two and took on supervising producer duties in Season Three. He wrote the 2nd, 7th, and 10th episodes, and those were some stellar fan favorites. Apparently, his writing was looked upon as awesome stuff, and fans started to realize that his work may very well have propelled the show into its best collection of character arcs.
Scott Milhouse Gimple, born in 1971 in Berkeley Heights, New Jersey, is a man who lives a full life over and above his work with the top cable show he produces. Here's a few bits of trivia about this intelligent, complex man:
He started working for Bongo Comics as an intern.
He wanted to work for a comic company in Los Angeles. He was a graduate of the University of Southern California School of Cinema, and the only comic company based in Los Angeles was Bongo Company, which happened to make The Simpsons. He jokes that they didn't have money to pay him, so he took a job to support his internship with the company. He wrote on the side in his spare time, and that led to more options.
He says fans always expect someone to die when The Walking Dead season finales are aired
He knows that dying on shows is a commonplace thing now. But, he believes that the pressure is on to make sure that "every character" is "worthy of mourning" by The Walking Dead fans. He says that the story line is worked out far in advance of the finale, and during one season finale, nobody died. He was thrilled with it. He believes that dying must elicit an emotional reaction, and it must be the right thing for the story.
He doesn't think there are un-killable characters.
During a Smithsonian Spotlight interview with Eric Deggans, NPR television critic, Gimple spoke about The Walking Dead with executive producer Greg Nicotero, Andrew Lincoln who plays Rick, and John Sanders, the prop master. When asked about how he feels about killing off characters, he said that he believes one of the current challenges for shows is to evolve and change. He said that audiences are often "indelibly changed" when certain characters are killed, but noted that shows must take risks. He knows that The Walking Dead has lost incredibly talented actors to keep the show fresh and at its highest quality. Taking risks is what Gimple and the interview panel mentioned as one thing which gives the show its momentum, and keeps it on the air.
He wrote the popular story of The Grove episode mostly while sick in bed.
He had "known what it was" to be for a considerable length of time before he started to write. He had been looking forward to it. Once he started, he discovered how very difficult it was. He said that he looks at some of his writing experiences through "rose-colored glasses". His production associate Alex Brown, who is also his assistant, reminded him of how bad his memory of the writing time was. The show's focus puller, David Galbraith insisted that Gimple include a pecan grove as an episode location. Galbraith sent videos which inspired his writing. Gimple said that the time was very intense, and staying in bed gave him the perfect place to write it.
Gimple regularly makes appearances on the sketch comedy game show The Friday Forty.
The show is in Los Angeles, where Gimple lives. He hosts the show, which also features his wife Julia Wackenheim-Gimple. The show includes questions about the previous week's current events. Three members of the audience compete to see who will win $40, while the audience drinks beer. The cast includes performers from all walks of comedy. The admission is free, the event is held at the Westside Comedy Theater, and it's an event for Adults 21 and over.
Gimple is a connoisseur of pickles.
So, says his wife, Julia. He also obsesses with her over coffee, pizza, and Hallmark Movies for the Holidays. She spilled this info during an interview for Boshemia, where she described herself as Gimple's wife, mother of their toddler Gus, and an actor, producer and Jewish activist. In other interviews, she noted that she converted to Judaism in 2009, the same year she married Gimple. She credits Scott for being her top role model, after Beyonce, and describes him as talented, dedicated, and hard-working. She views him as successful, creative, and confident; pointing to him as a role model for success in the entertainment industry.
Gimple enjoys walking to the coffee shop for breakfast with his family.
Gimple had much to say when interviewed by Mary Ladd for Extra Crispy about his breakfast habits. He says that breakfast in California is often a family affair, because breakfast in Georgia, where The Walking Dead films, is not. Breakfast there, is catered on the set. He is a man of habit concerning what he eats for breakfast.
He noted that he had the same breakfast every day for a year and a half. What was it? Two Wasa multigrain crispbreads, with a spreading of almond butter. He doesn't eat meat due to a goat on The Walking Dead. Her name was Ruby, and she prompted him to opt for fake sausage and bacon. He once smuggled three dozen bagels from New York onto his plane. He also developed an obsession for sorghum pancakes due to the show. When asked who with and where he would eat his breakfast of choice, he replied that it would eaten at Vivian's back patio, with George Lucas, and that it would be pancakes. He also mentioned first that he fears these types of questions "more than walkers".