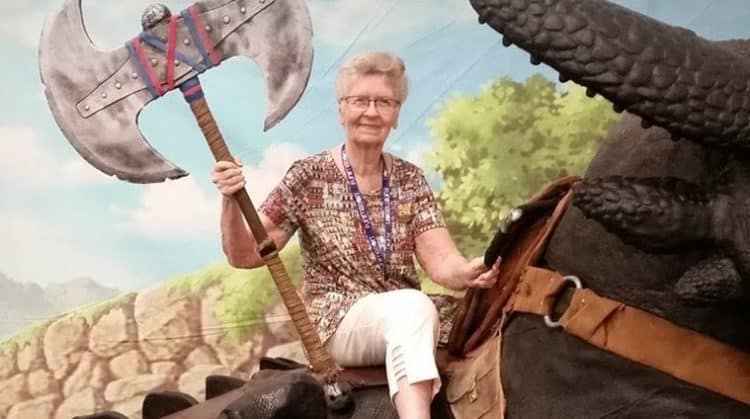 If you've heard of eighty-two-year-old Shirley Curry, AKA "Skyrim Grandma", then you already know all about her. For those of you who don't, she proves that you are never too old to not only learn something new but to excel at it as well. When she was given the chance to learn how to play a video game, she took. She didn't stop at tackling video games, her favorite being "Skyrim", but went on to have a Youtube channel which now has over a half-million subscribers. In addition, Skyrim Grandma is very popular across several social media platforms as well, including Twitch from which she live-streams. She even has three blogs of her own, all devoted to different aspects of the video game she has grown to love and share with her many fans and subscribers.
Shirley Curry posted her first Skyrim lets play back in 2015. The very next day she says she woke up to over ten thousand emails in response. Curry literally became an overnight sensation. She said it might be some people's dream, but that it "scared the puddin' out of her." However, she deciding to see what they had to say and she began answering the emails one by one. She soon realized most of them had very nice things to say and some even made her cry they were so sweet. This was how her relationship initially began with her Skyrim "grandkids", which is how she now refers to her many subscribers.
Skyrim Grandma said she thought in the beginning, the interest in her was mostly because of her age and the fact that she didn't hide behind some "cartoonish character". Instead, she let people know who she really was. She said that she believes her not hiding that she was an older woman, in her opinion, is what caught people's attention. Skyrim Grandma continued posting her videos and live-streaming and all the while, more and more fans began subscribing to her channel. It didn't take long for the number to soar past a hundred thousand. Now it sits over half a million!
Although she never wanted the popularity that she has achieved, that's exactly what she got. She claimed she just wanted to join Youtube as her fellow gamers had to be a part of the gaming community. Before going any further, let us take you back in time to the beginning. Curry first started playing video games when her grandson gave her his old computer along with a single game, Sid Meier's Civilization 2. She claimed she was instantly addicted after idle curiosity pushed to check the game out. She said she would literally stay up day and night to build cities, becoming a zombie herself.
However, there was more to it than that, she was good. She played so much that she ended up with an entire continent with a full navy of ships guarding all access; nobody could get in. Then, in 2014, she came across Skyrim. She says it was more like being in a movie. She loved that she could go anywhere, do anything. When her few subscribers she had at that time found out she was playing Skyrim, they begged her to record herself playing. Apparently, because she wanted to please them, she decided to do one for them. It's amazing how that one episode completely changed Skyrim Grandma's life.
It really comes down to the amazing relationship Skyrim Grandma has with her subscribers – she takes the time to reply to every comment – as to the reason why some of her fans decided to do something special for her. They campaigned to have Skyrim Grandma to be featured in The Elder Scrolls 6, in some way or another, by organizing a petition for fans to sign. Garnering almost fifty thousand signatures, the petition got the attention of Bethesda. As a result, they have announced that they are going to include Grandma Skyrim in the next game as a non-playable character in the game.
Curry couldn't believe what her fans had accomplished – Grandma Skyrim will be immortalized in video game style. That's a pretty high endorsement. Curry just kept saying it was so cool to think of herself as being represented in the game and others being influenced by that. It is most certainly an achievement of a lifetime and a vital lesson to us all. It is never to late to learn something new. It is also not too late to find a new passion. It is never too late to win! Congratulations, Grandma Skyrim on a well-deserved accolade.