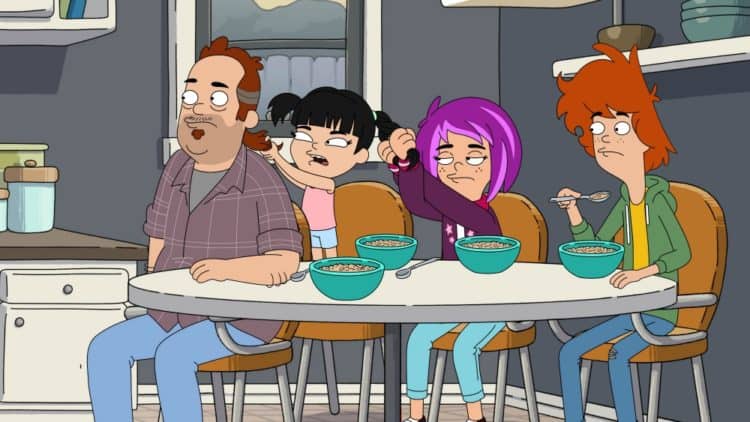 Earlier this year, Amy Poehler's animated series, Duncanville became Fox's most-streamed new comedy. So it was no surprise when Fox renewed the series for a second season back in April. While fans are anxiously awaiting season 2, we spoke with the series' editor, Nina Helene Hirten about the show's unique style along with her other upcoming projects.
-When did you first realize you wanted to be an editor for animation?
When I was a kid, I actually wanted to be an animator – I've always loved animation and drawing, and making drawings move was such an exciting concept to me. I would look at any educational resources that I could find at the library – how to draw books, how to animate books, animation history…. Then in high school I got myself a copy of photoshop, and would draw/manipulate frames that I would put together as an image sequence in Quicktime Pro, and then add music as needed.
I started moving away from wanting to be an animator when drawn animation started going away in popular media, in favour of the 3D CGI look. While I still loved that style of animation and the fascinating tech behind it, I was more interested in drawing and those kinds of techniques.
Anyway, I was lucky enough to go to a high school which was very media forward, so I joined a program called AIM which squished English, history, and media into one big mega class for two full days a week. In that, we made video documentaries which reflected on the topics we were learning in English and Social Studies, and that's really where I got into editing.
…and I still peppered animations into every project I could!
-There is a series director for Duncanville and then individual show directors. When it comes time to edit the show, what kinds of things do the individual show directors get to weigh in on or decide?
From what I understand, the episode directors on Duncanville get to take ownership over their episodes from the get-go. So, they'll take the script and guide their board artist team towards their vision for the episode and potential gags, and usually will also take a few sequences themselves to board! The ones that like to do their own timing will even do a pass at that before sending it to me to finesse and look over it objectively.
Once they do their pass, the series director will make notes on it, ensuring that it's consistent with the overall show style and what the showrunners will likely want to see. That's when it gets sent to me for the ultimate director's cut, where both the episode and series director will sit with me and collaborate on the edit until it's ready to be sent to the showrunners and network for another round of notes.
So really, the individual episode director weighs in quite a bit, for animatics at least!
-Since there is a series director, is there a general series framework for the show that he makes sure everyone sticks to? If so, what is that?
I don't know if I'm the right person to answer this question – you should ask Frank! I suppose that in edit sessions at least we're always keeping an eye out for consistency in style, composition, pacing and acting. Duncanville is a pretty snappy show, so we have to find ways to keep it moving without losing the audience or the joke!
-In a previous interview you said "Sister, Wife" and "Judge Annie" are two of your favorite Duncanville episodes. What about those two stand out?
"Sister, Wife" is in my opinion one of the sweeter episodes – focusing on relationships in ways that I think can be relatable to all walks of life. Not to mention that it features a lot of my favourite character, Jing! Her timing is really fun to play with, and in a lot of ways she reminds me of my daughters with her exuberant and upbeat energy.
The way that "Judge Annie" is written is so very tidy, with all the loose ends covered and storylines resolved, that it's just a fulfilling episode as a storyteller! Plus, who doesn't love Judge Judy?
-You are the owner and director of Oh Just Peachy Studios Productions. How did this come about? In 5 years what sort of material do you think will come out of Oh Just Peachy Studios Productions?
As I mentioned previously, when I was a preteen, I was making a lot of animations and movies – as well as comics, short stories, songs, and illustrations. I thought it would be fun to make a website to showcase some of this stuff, and also to create a "company". So, I used Netscape Navigator to learn HTML and built a website, and came up with what I thought was a fun name to represent my personality.
As time went on, it evolved from showcasing the stuff I was doing for fun (and school, once I entered high school) to also advertising myself and showcasing all the things that I was doing as a for-hire freelancer; animations, motion graphics, illustration, and web/graphic design mostly throughout my teenage years. It wasn't until I graduated from Ryerson University in Canada I made it totally official and registered it as a one-woman-media-production business in Vancouver, BC. I took out a loan, bought a camera and other gear, and that's how I made my living for many years after that.
These days it's not my sole source of income, but it's still active as the vehicle for my music, concert videography, and music video work. For example, I'm all set to shoot another music video for Model M (it's had to be postponed due to Covid of course), and I'm about 4 songs in on a new music release for myself, for which I'll also make an accompanying video. In addition, I do have big plans for the future: Goals for the next 5 years include seeking out a writing partner and creating at least two short films as well as pitch or two for a feature!
-Aside from your editing work, you are also a multimedia artist and musician, under the name DEROSNEC. Does that side of yourself ever spill out into your editing work? Or does that side ever inspire you to edit something a certain way?
Absolutely! Editing is very much like music to me – it's where the rhythm and pace is found, where the visuals and audio come together, and it's where the structure of the story is realized. So as far as the approach to editing someone else's project or creating my own audio/video/animation works goes, it's very much the same.
I'd say stylistically I'm certainly inclined to edit in a certain way, which is probably pretty clear from watching any of the video work I've directed up until now. But that said, as an editor on other people's work, you have to be a chameleon and be able to see/execute what the director's (or in some cases, studio's) vision is. If it's not my film, I think I am pretty good at taking off my "artist" hat and putting on my "for hire" hat, in order to get the project in the right place.
-On IMDB it lists you as a producer of the upcoming project, The Second Age of Aquarius. Can you talk about this?
Last year I had the privilege of being the editor and animator for director Staci Layne Wilson's authorized official doc about the #1 selling instrumental rock band of all time, "The Ventures: Stars on Guitars". She really gave me a lot of creative freedom with the project, and she was very easy to work with on top of being a generally cool person.
Staci initially had another editor on board for her next project, "The Second Age of Aquarius", but he had to bow out so she asked if I could jump on board – so of course I said yes!
It's a cleverly written feature film about an agoraphobic programmer who accidentally brings an avatar she created of her favourite 70s rock star – who died in a horrible stage accident – to life. Once again, she's given me quite a bit of free reign to make it as fun as possible within our limited budget, and I think it's going to be a really fun and unique film. The movie and its accompanying original soundtrack will be available digitally in 2021, but you can check out the Instagram to keep up with news with it in the meantime!
-Are there other areas of the entertainment industry you would like to explore that you haven't gotten a chance to yet?
You know, I feel that I am fortunate to have been able to stick my fingers in a lot of entertainment pies in my relatively short life and have managed to not get pigeonholed. I've worked in movies and television as a 2nd AD, many types of PAs, coordinators, PMs, and of course in editorial, vfx, and animation. I've self-produced many video projects, sung in concerts big and small, published music, sold art, and vlogged.  I don't think there's anything that I haven't really had a chance to do yet – I just know that I want to do more of it!
-What have you been binge-watching during this time of quarantine?
When I have time to watch TV (which is few and far between at the moment with two kids, the work from home situation, and a long list of projects I want to start/finish), I usually spend most of it watching tutorials on drawing/painting, animation, sound mixing, and storytelling/film craft. Though I've been known to watch a lot of Youtube cooking shows as well – not because I like to cook, but because I love to eat!
But in terms of more narrative style stuff, my husband and I have recently been watching a lot of documentaries on the History Channel Vault. I also finished the Umbrella Academy Season 2 which I found to be super fun and beautifully well thought out in terms of craft.