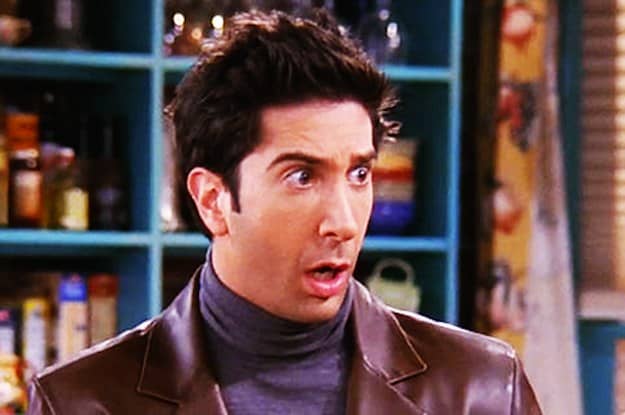 So today I was reading about the fact that David Schwimmer is separating from his wife.  I couldn't help but to feel nothing.  I mean the guy is a human being.  He has a life just like any of us.  He has a marriage that ran its course just like any marriage with problems do.  I'm sure it's a difficult time for Schwimmer and his wife and honestly I hope that they can have an amicable split.  But there's one reason why I didn't feel too badly, and it's the dumbest reason on earth.  That reason is Ross Geller.  Because David Schwimmer played Ross Geller, a fictional character on a TV show, I just couldn't stand him in real life.
Ever notice how that happens?  It's completely absurd and shouldn't make any sense but it does.  This is who we are as humans.  We associate characters in movies and television with their real life counterparts.  I couldn't stand Ross on Friends.  I mean I seriously couldn't stand him so I just assumed David Schwimmer was just like him.  That's just a stupid point of view but it's happened numerous times with numerous actors.
James Woods?  How can you possibly think James Woods is a good guy considering all the scum he's played in movies?  For all I know James Woods is the nicest guy on the planet (actually I know he's not) but it doesn't matter because of the roles he's played.   I guess this means these guys are great actors?
Sometimes celebrities do in fact mirror their characters in real life.  Everyone knows Johnny Depp is a little weird and he often plays strange and unusual characters.   Christopher Walken is known to play characters he's similar to in real life.
But I just wanted to draw attention to some of the actors I've truly hated in real life just because of characters they've played.  In fact let's make a running list here.  Here are some actors I've hated in real life because of people I've seen them play on TV or movies.  I'll keep this list open so whenever someone comments we can add to it here:
David Schwimmer – Ross Geller
Sandra Oh – I couldn't stand her character in Sideways
Sarita Choudhury in Homeland
James Woods in anything
Josh Radnor in How I Met Your Mother
Jason Hervey in The Wonder Years