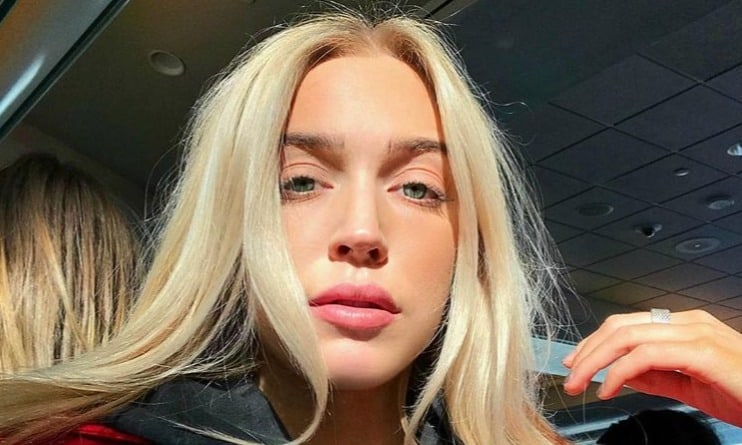 Remember the days when the word 'podcast' was nothing more than the name under an icon on your iPhone? Those days have officially been replaced with podcasts being the hot new thing that everyone can't get enough of. People everywhere enjoy listening to podcasts which has resulted in podcasters becoming the newest type of Internet celebrities. Among them is Alexandra Cooper of the popular Barstool Sports podcast, Call Her Daddy. The show features Cooper and her co-host, Sofia Franklyn, as they discuss their lives as 20-somethings living in New York City. But while Alexandra has shared some of the most intimate details of her life on the podcast, there are still lots of things listeners are wondering. Keep reading for 10 things you didn't know about Alexandra Cooper.
1. Not From New York
Alexandra Cooper may seem like a native New Yorker, but that's actually not the case. Cooper is from Newtown, Pennsylvania where she lived until going off to college at Boston University. Unlike NYC, Newtown is a very small town that doesn't have much excitement. Like lots of other young people looking to make their dreams come true, Cooper eventually moved to New York to pursue her career after graduating college.
2. Dated Noah Syndergaard
In 2017, Cooper's face started appearing all over the Internet when she was linked to professional baseball player, Noah Syndergaard. People wanted to know everything about the beautiful young woman who has been seen hanging with Syndergaard. The two quickly became a fixture at events, but after about a year of on/off again dating, they decided to go their separate ways. Despite her ex's high profile, Cooper never refers to him by name.
3. Was A Division 1 Athlete
You probably know Alexandra Cooper as the girl with no filter, but before becoming a podcaster she was known by many as a very competitive athlete. She received a scholarship to Boston University for her skills on the soccer field. During her time at the school, Cooper was a part of their division 1 women's soccer team. Her profile on the Boston University website shows that she was a member of the team until her junior year.
4. Majored In Film And TV
Becoming a podcaster may seem like a strange career choice, but it wasn't a sporadic one for Alexandra Cooper. She has always been interested in the media/entertainment world and majored in film and TV during her time at Boston University. Her passion for creating content and connecting with audience has clearly followed her beyond her college coursework. These days, it's becoming less and less common for college grads to land a job in the field they studied, so I'd say Alexandra Cooper is pretty lucky.
5. Call Her Daddy Wasn't Her First Media Job
It may be easy to see Alexandra Cooper's success and think it happened overnight, but that isn't the case. Before landing a job at Barstool Sports, Cooper worked at Dirty Water Media. According to the company's website, "Dirty Water Media is Greater Boston's most in-depth source for what's happening, trending, and being talked about in the New England nightlife, dining, music, fashion, entertainment, and sports scene with reviews, commentary, and breaking news updates from a dynamic team of writers and reporters." She also briefly worked for a magazine in New York
6. Her And Sofia Franklyn Came Up With The Idea For Call Her Daddy While On Vacation
Alexandra Cooper and her Call Her Daddy co-host, Sofia Franklyn, met through a mutual friend. While the two were on vacation in Texas, they began having an open conversation about sex. The conversation ended up drawing a crowd and several people suggested the pair start a podcast. They decided to follow through on the suggestion and they recorded an episode when they got back to New York.
7. Also A YouTuber
Call Her Daddy isn't the only platform Alexandra Cooper uses to share her content. She also has a YouTube channel with nearly 60,000 subscribers. Her channel consists of lots of vlog style videos, but it looks like things have been pretty quiet for her on the YouTube front since the podcast really started taking off.
8. Quit Her Job To Become A Content Creator
Alexandra Cooper definitely isn't afraid to take risks. Although she moved to New York after college for a job, she quickly decided that the more traditional path wasn't for her. She ultimately decided to leave her job so that she could become a full-time content creator. Originally, she planned on making a name for herself with her YouTube channel, but the podcast ended up being what thrust her into the spotlight.
9. She's An Instagram Model
Alexandra currently has 814,000 followers on Instagram, and there's a good chance all of them aren't there just because of her podcast. Cooper's good looks have also gotten her a lot of attention, and she definitely isn't scared to show of her beach body. Her IG profile is full of model-style shots taken on beaches all over the country.
10. Her Net Worth
Hosting a podcast is more than just a hobby, there's actually lots of money to be made in this industry. According to a source, Cooper's net worth is approximately $800,000. That's pretty impressive for someone who has been in the entertainment industry for less than five years. If the buzz around Call Her Daddy continues to grow, there's a good chance Cooper will be in the million dollar range in the next couple of years.