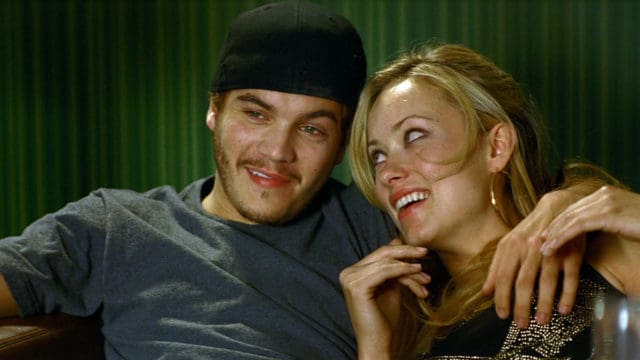 Alpha Dog wasn't a movie that a lot of people knew about largely because it felt like a throwaway movie that didn't mean much. In truth it wasn't all that bad and it featured a pretty jam-packed roster of stars that were either well-established or were on their way up it seemed. A few of them went on to do great thing afterwards but several of them just didn't do much. The whole story revolves around a drug deal gone awry and some very bad ideas on how to get payback for something that could have been worked out in a different way. Each and every person in this story knows each other, grew up around each other, and yet as they grew older several of them went their separate ways. Johnny and Jake are the two main characters that are odds with one another over a deal gone bad. Jake owes Johnny money and as a means of getting Jake to pay up Johnny kidnaps Jake's younger brother Zack. The problem with this is that the kidnapping was a spur of the moment thing, and Jake is not the kind of guy to mess around with since he's highly proficient in martial arts and is anything but balanced.
Meanwhile, Zack is living the good life as a 'captive', not knowing that Johnny and his buddy Frankie are talking behind the scenes trying to figure out just what they'll do with the kid to avoid jail time and possible retribution from Jake. In the end it's decided that they have to kill Zack, which brings a whole new heap of trouble down on their heads as Johnny makes a run for it and the others eventually get caught and sent to prison. It's a high price to pay for trying to get a little payback.
But the movie was fairly well done.
Harry Dean Stanton – Cosmo Gadabeeti
Cosmo was Johnny's godfather and was kind of a nut even when he tried to sound wise. Harry Dean Stanton had a long and fruitful career before this movie with many credits to his name. If you'll recall he had role in the original Alien. Unfortunately he only had four more movie appearances after this one as he passed away in 2017.
Shawn Hatosy – Elvis Schmidt
Shawn manged to secure a very well-rounded career before this film. In fact it seems that a lot of the time he seems to play a character that isn't the strongest when it comes to his social skills, but is strong in other ways. He's more or less the oft-ridiculed henchman that is there to get the job done when someone needs to do it and no one else wants to bother. One of his most prominent roles as of late has been on the show Animal Kingdom as Pope Cody. He plays a true psychopath in that role.
Amber Heard – Alma
Amber's role in this movie was fairly small but it was enough to note that she was there. Since this movie she's been up to quite a bit, not the least of which was marrying Johnny Depp before their fallout in 2016. After Alpha Dog though she did a lot, including Drive Angry, Machete Kills, the Justice League movie, and many more. At one point she was a media darling, but even though she's still in a good spot as far as her career goes there's a bit of speculation about her now.
Dominique Swain – Susan Hartunian
Domonique has been plenty busy after Alpha Dog but has been seen in more low-budget movies that are typically straight to DVD or on streaming networks. She hasn't been idle though as she's been kept pretty busy.
Sharon Stone – Olivia Mazursky
Sharon Stone used to be everywhere at one point. Her name would mean that a movie was definitely going to have sex appeal. In this one however she's the mother of Zack and the stepmother of Jake and is struggling to deal with both of them. She had a long and illustrious career before this movie but hasn't done a whole lot since. In fact it's safe to say that she's had more TV appearances than anything.
Bruce Willis – Sonny Truelove
The father of Johnny and almost a non-presence in this movie, Bruce Willis is the kind of guy you usually see a lot of, but in this case it's almost as though he phoned it in. Obviously he's stayed busy ever since considering that the Die Hard movies have kept him around and one of the most recent, the remake of Death Wish, has seen him grabbing at a prized role once again.
Ben Foster – Jake Mazursky
Ben Foster is one of those actors that just seemed to get hot suddenly and was everywhere you looked. In this film he's kind of a freak since he's almost always hopped up on something and acts so erratic. But in his other films he's a great actor, and he's definitely been busy since with films like 30 Days of Night and many others.
Olivia Wilde – Angela Holden
It was hard to remember that Olivia Wilde was in this film since it seems as though she's matured a lot since. She's had plenty of roles such as The Lazarus Effect and many others, and at this point she's still a very sought after actress.
Emile Hirsch – Johnny Truelove
He'd had a little practice playing a tougher, less balanced character just before this film when he starred in Lords of Dogtown, but ever since Emile has kind of taken a back seat and been in a lot of movies that didn't use his talents quite as much or put him on top like he seemed to be primed for back in the day.
Amanda Seyfried – Julie Beckley
Her part wasn't all that big but it did manage to get her noticed a little more and since this movie she's managed to hold onto a very successful career. Lately it seems like she might have slowed down but she's still a big name in Hollywood.
Anton Yelchin – Zack Mazursky
This poor guy had no chance when he was in the movie. The moment that he was kidnapped you kind of knew that he was done for. But after this movie the biggest claim to fame that Anton has had has to have been the Star Trek movies in which he plays the character Chekov.
Justin Timberlake – Frankie Ballenbacher
It used to seem as though Timberlake's characters in films were always tough guys that would crumble at the first sign of trouble, but he's developed into a very good actor following this and several other movies. One of his best lately has been Trouble With the Curve,  Clint Eastwood movie that also stars Amy Adams.
So some of them went on to do great things afterwards and some of them just kind of settled for a decent career.