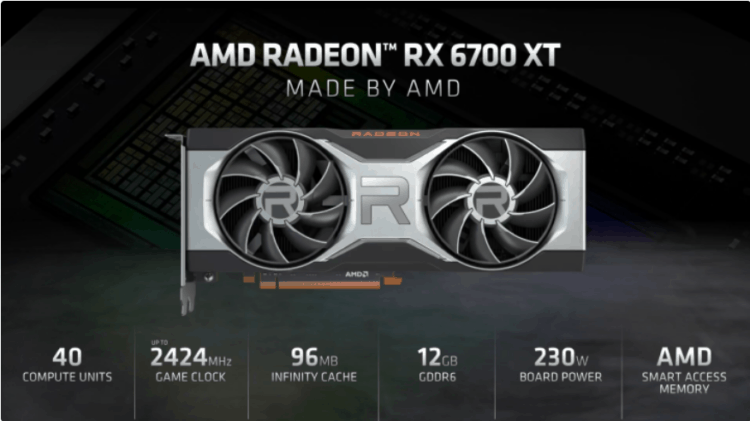 AMD has officially revealed the price and the release date for its new gaming GPU, the AMD Radeon RX 6700 XT. We also got a look at the specs of the graphics card and, boy, does it compete with some of the most popular Nvidia cards out there. With the recent exponential increase in GPU prices from crypto mining seemingly finally coming back down and slowly making their way back to normal levels, the AMD Radeon RX 6700 XT comes in at a very affordable price for PC enthusiasts, gamers, and crypto miners alike. The cost to performance ratio is also very reasonable, and it looks like you'll be able to get your hands on one of these Radeon RX 6700 XT graphics cards soon enough. So let's talk about the price, release date, and performance of AMD's latest gaming graphics card!
AMD Radeon RX 6700 XT Price
AMD's latest graphics card, the Radeon RX 6700 XT, will run PC enthusiasts, gamers, and crypto miners a fairly reasonable $479. For comparison, the Nvidia RTX 3060 will run you $329 and the Nvidia RTX 3070 will run you $499. While it's still a pretty hefty purchase that you'll more than likely need to save up a chunk of money to justify purchasing, it's definitely more reasonable than other graphics cards that are currently on the market.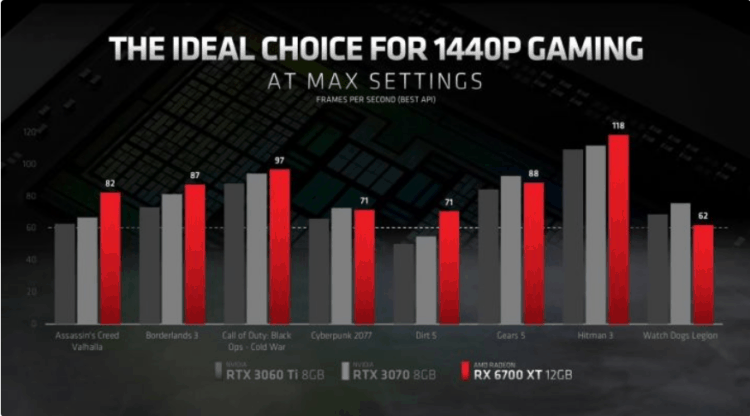 AMD Radeon RX 6700 XT Performance
Now let's talk about performance. AMD claims that the Radeon RX 6700 XT is engineered for gamers with a 4K 120Hz/8K 60Hz VRR as specified in HDMI 2.1 port, a DisplayPort 1.4, 267 mm Length (2 Slot Size) chassis, 10-layer PCB with 2 layers of 2oz copper made with premium IT-170 material, high efficiency power phases, PCIe 4.0, 12GB GDDR6 VRAM, AMD RDNA 2 Architecture, Phase-change thermal interface material, standard power connector type and location, die-cast aluminum frame for structural rigidity, optimized heatpipe and fins, zero RPM fan mode, and custom designed dual axial fans for outstanding cooling and quiet performance. Now, I'm not going to pretend that I know what "phase-change thermal interface material" or "high efficiency power phases" means, but since I took CSCI211 (Computer Infrastructure) in college and, because I'm a bit of a PC nerd myself, I do know that most of this is very good. Unlike my previous Nvidia GTX 1050ti, the Radeon RX 6700 XT will need an additional power source in the form of an 8 pin + 6 pin PCI connector. Looking at the actual in-game performance now, based on the figure above, here are the Frames Per Second that the Radeon RX 6700 XT was able to output at max settings:
Assassin's Creed Valhalla: 82 FPS
Borderlands 3: 87 FPS
Cyberpunk 200077: 71 FPS
Dirt 5: 71 FPS
Gears 5: 88 FPS
Hitman 3: 118 FPS
Watch Dogs Legion: 62 FPS
As you can see, at max settings, the card performs fairly well. Though it doesn't specify if these numbers are the average FPS or the peak. If these numbers are average, I would say that this is a good thing, but if it's hitting a max 62 FPS on Watch Dogs Legion, that's a bit of a problem. As far as AAA gaming goes, AMD claims the card is compatible with DirectX12 Ultimate for a truly immersive gaming experience, AMD FidelityFX to enable a robust visual feature set, and Radeon Image Sharpening in order to draw out more detail. In terms of esports gaming, here's what AMD has on their website for the card "No tearing, no stuttering, just gaming on over 1300 monitors with AMD FreeSync Technology. Get the competitive edge with lower input latency with Radeon Anti-lag. Extra performance when needed with Radeon Boost VRS." Here's some more tech-heavy specs of the card if you're interested:
Compute Units: 40
Base Frequency: 2321 MHz
Boost Frequency: Up to 2581 MHz
Game Frequency: Up to 2424 MHz
Ray Accelerators: 40
Peak Pixel Fill-Rate: Up to 165.2 GP/s
Peak Texture Fill-Rate: Up to 413 GT/s
Peak Half Precision Compute Performance: 26.43 TFLOPs
Peak Single Precision Compute Performance: 13.21 TFLOPs
ROPs: 64
Stream Processors: 2560
Texture Units: 160
Typical Board Power (Desktop): 230 W
Minimum PSU Recommendation: 650 W
Infinity Cache: 96 MB
Max Memory Size: 12 GB
Memory Type: GDDR6
Memory Interface: 192-bit
Memory Bandwidth: Up to 384 GB/s
HDMI 4K Support: Yes
4K H264 Decode: Yes
4K H264 Encode: Yes
H265/HEVC Encode: Yes
AV1 Decode: Yes
DisplayPort: 1.4 with DSC
HDMI: 4K 120Hz / 8K 60Hz VRR as specified in HDMI 2.1
Length: 267 mm
Slot Size: 2 slots
AMD Radeon RX 6700 XT Release Date
So when does the Radeon RX 6700 XT release? As of now, the card will be available on March 18, 2021. However, this is always bound to change due to any last minute changes or issues that is either found with the GPU or any other problems with the launch.