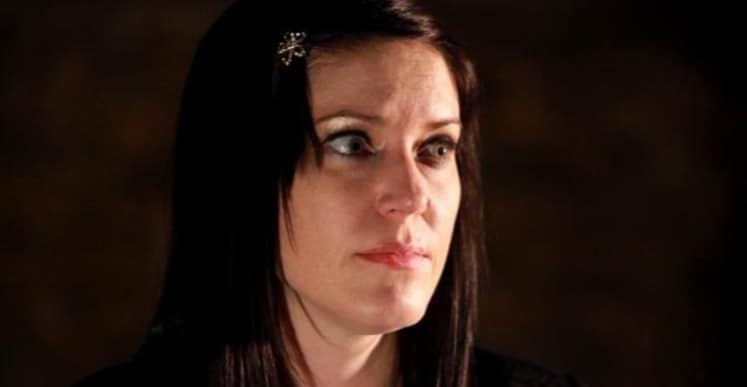 Amy Allan is a reality television personality who is best known for her role on the television series "The Dead Files." She is a psychic medium who works as a part of a team with retired New York police detective Steve DiSchiavi. If you're a fan of the show or of Allan, there is a lot about her that has not been shared on the series. We looked into her history and career to learn more about her and made some interesting discoveries. Here are 10 things that you didn't know about Amy Allan.
1. Her abilities developed at an early age
Amy was just four years old when she began having her first paranormal experiences. She shared that there were shadow people who would appear to her and cause a fair amount of torment. Since being just a tiny little girl she has been able to see and hear spirits from another plane and these experiences created a desire and a need to know more about what was happening to her. She began her journey to understand more about these mysteries from a very young age and as an adult, she has a much better working knowledge of the paranormal.
2. She was mentored by a world-class parapsychologist
Amy sought out direction and guidance from a trusted figure in the community of parapsychologists. She attended the University of Arizona and she was mentored by Dr. William Roll, who is one of the most well-known and respected parapsychologists in the world. Amy has also subjected herself to examination and testing of her abilities by some of the leading parapsychologists in the industry.
3. She has an impressive resume
Amy has worked with a variety of different people throughout her career. She has conducted over 500 investigations in both businesses and in private homes. She has also worked with police agencies and with private investigators. She helps out wherever her assistance is needed and requested and she has built up a very impressive resume throughout her career as a psychic medium.
4. She is a top-notch professional
There will always be skeptics who will doubt the existence of the paranormal along with any human being's ability to discern when there is such activity taking place, but this doesn't matter to her. Amy Allan takes her work very seriously. She understands that the clients who experience frightening experiences in their homes are in need of her help. She conducts her investigations and then reports back on her experiences. There are times when the people who are in the homes that she is investigating are at risk for injury or death from the entities that inhabit their homes. In some cases, the spirits are not malevolent but in others, there is little choice but the families to move away.
5. She can communicate with the dead
There are many times when Amy comes into contact with the spirits of dead humans who are haunting locations. She has the ability to see them and to hear what they are saying. Her abilities also allow her to discern whether or not they are evil. She can communicate with them to better understand why they are occupying a certain location to determine if there is a risk to the occupants.
6. She is an Open Minded Skeptic
We also learned that although Allan is a paranormal investigator and a psychic, she is also an open-minded skeptic. What this means is that she doesn't necessarily believe that all reports of paranormal activity mean that there are human spirits in a home. Until she has actually gathered proof of the existence of spirits in a location, she doesn't necessarily think that every inkling or unexplained incident has to do with the paranormal.
7. She relies on spiritual and scientific information
When Amy conducts her investigations, she takes a scientific approach. Every item that could possibly give her clues about the inhabitants or history of the home is first removed. She is not given any information that could influence her experience. Her training in psychology has made her keenly aware that as humans we can be influenced to form assumptions and beliefs based on things that we see. She doesn't want her investigation to be tainted as she seeks to deliver a pure and unsullied study. She conducts her investigations in-depth and in a controlled environment to procure the most accurate results.
8. Amy has worked for several media companies
Ms. Allen is best known for her appearance on "The Dead Files" on the Travel Channel. She has also served as a consultant as well as a reality personality for other networks as well. She has worked behind the scenes for CBS, TLC, the Discovery Channel and many more. Her advice is sought out by a variety of agencies who produce shows that deal with the paranormal because of her years of experience and proven track record in the field.
9. She is also a healer
The work that Amy does can help families to know what to do about their current situations including whether to stay in a home or to go. She helps them to understand more about their experiences, and while this can be comforting and helpful, there is more that is needed. Some people are in need of spiritual and physical healing. Allan has studied alternative medicine and she has the ability to use her psychic (psychometric) gifts to help heal the living. She has also studied Thai Yoga Massage, Western Massage, Zen Shiatsu, Asian Medicine and Acupuncture.
10 She inherited her gifts from her parents
Both of Amy Allan's parents are gifted psychics. Her father, like Amy, is a physical medium. Her mother is more of a telepathic medium. The difference is that a physical medium gains information from being in a location where the activity is or has taken place. A telepathic does not need to be close to a person or thing to receive information.