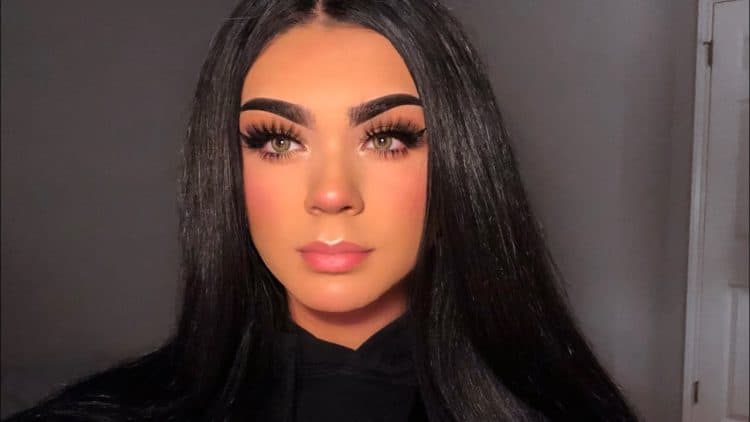 Winged eyeliner is not something that every woman can pull off. However, Antonio Garza has managed to do it and make money by filming it. She is only 16, but the young girl is earning an impressive amount of money from being a beauty guru. Antonio rarely talks about her family, so her background is yet to be uncovered. However, she is proud to be Latina, and if you want to know more about her, here is your chance.
1. She is a transgender woman
Looking at how well Antonio does her makeup, it would not cross your mind that she was born a man. However, Antonio only identifies herself as female, but she is male. It is this sense of personal identity that probably makes her chosen career a success.
2. She is enterprising
They say make hay when the sun shines, and most celebrities have put to practice this expression by taking advantage of their moment in the spotlight. Kanye West came up with the Yeezy brand, and Adidas could not stop themselves from collaborating with the musician. Beyoncé also launched Ivy Park, and Antonio Garza is not being left behind. She went to her social media to let her fans know where they could get her merchandise. Unfortunately, most complained that as much as they would like to support Antonio's venture, the products are too expensive. Still, her diehard fans are ready to part with as much as $54.99 for a cowboy emoji hoodie since it is sold out according to Antonio Garza Store website.
3. She makes at least $500,000 per year from her YouTube channel
Antonio mainly markets her makeup skills on YouTube, and it has been a lucrative move, considering the amount she makes per day. The channel has accumulated millions of subscribers, and every day her videos get at least 450,000 views. Usually, YouTubers make at least 40% of the total views at a rate of $2-$5 per 1000 views. Besides, being such a famous face, her channel is the ideal platform for advertisers, and she makes at least $1,800 from the ads appearing in her videos.
4. Why she unfollowed James Charles
Antonio may have thought that she had found a new friend and partner in James after collaborating with him in her videos. However, James revealed his true colors when he and Tana made fun of Antonio's Coachella outfit. Her fans took the bullying to heart, supporting Antonio by saying that she dressed appropriately for her age. Antonio's fans added that it was wrong for James and Tana, who are older than her, to make fun of her. Antonio was upset, too, and she reacted by unfollowing James on Instagram and Twitter.
5. She lost nearly 50,000 subscribers after collaborating with James Charles
According to We The Unicorns, Antonio had never worked with anyone to make any videos. However, that changed when she flew out to Los Angeles to make one with James Charles, a fellow YouTuber who shares her passion for beauty tips. Unfortunately, that proved to be a misinformed decision because it cost her almost 50,000 subscribers. Allegedly, the subscribers do not like how James Charles reacted after Ariana Grande unsubscribed from his channel. James also came out as being racist by talking about getting Ebola from Africa, which to him, is a country, not a continent.
6. She was surprised that Jeffree Star unfollowed her on Twitter
In 2018, Antonio tweeted that she was not Jeffree Star approved and wondered what tweet she posted that made Jeffree decide to unfollow her. Antonio should not have bothered much since she is not the first YouTuber that Jeffree had unfollowed. Jeffree had also unfollowed James Charles after the Tati Westbrook feud, and he claimed that James is a danger to society. Consequently, he unfollowed James on both Twitter and Instagram. Antonio's loyal fans supported their favorite beauty guru, saying she does not need Jeffree since she has them.
7. She dropped out of high school to concentrate on her YouTube channel
Most people who want to drop out of school will cite billionaires like Bill Gates and Mark Zuckerberg. Usually, what they fail to understand is that these entrepreneurs had already made it to Harvard, and their creative ideas could not be confined anymore. Antonio disclosed she has never liked school, and since her YouTube channel is raking in money, it was the best excuse to drop out of high school at 16. The pressure to remain relevant pushed her to make that decision since while in school, she did not post regularly hence feared her subscribers would lose interest in her.
8. Some Say She lacks creativity
For someone ready to drop out of school to focus on her budding career on social media, it beats logic that she lacks content. You would think that without the pressure of high school, she would make her content very entertaining, but that is not the case. Instead, fans have accused her of being repetitive, and Antonio defended herself, saying she struggles to come up with fresh ideas.
9. She only films when happy
Antonio wanted to remain relevant by posting videos regularly, but her plan is not working out as she hoped. In July 2019, she said she had been feeling sad hence was not able to film since she only shoots when happy. She thought that by having online classes instead of regular school, she would have more time to film. Instead, the pressure kept piling up, and it took a toll on her. She confessed to feeling demotivated and hoped fans would comment with solutions.
10. Her debut video
Antonio launched her YouTube channel in 2014, but it took her another four years to make her debut video in February 2018. The first video garnered a million views in 8 months, but it is her "9th Grade Makeup Transformation" video that made her a sensation. She now has more than 3.6 million subscribers on her channel, a figure that grows by the minute.