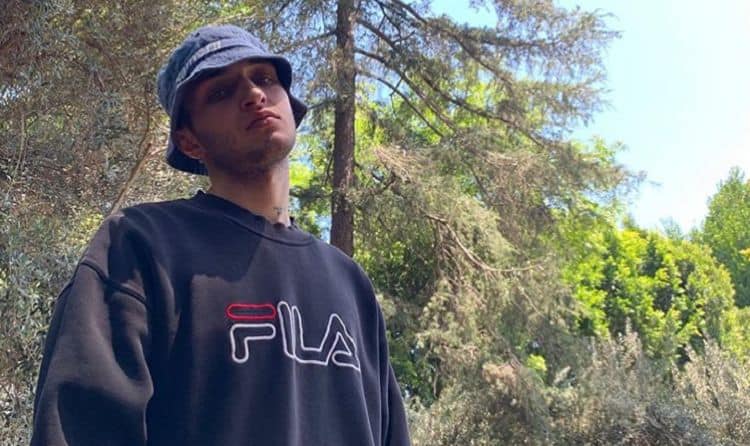 The name Anwar Hadid might sound familiar to you, especially if you are passionate fashion or a reader of fashion magazines. He is a model, a television personality, a pop singer who takes pride in being a star featured in many youths fashion magazine. He was born on June 22, 1999, in Los Angeles. He started schooling in Malibu high school where he was a football player. He is an ambitious youth who is always working to ensure that he achieves what he wants in life. Get to know more about the model by checking out these facts about him.
1. He has a chronic Lyme disease
Anwar is battling a chronic Lyme disease alongside his sister and mother. Although thee family members have the disease, it is not hereditary but is transmitted to humans by a bite from an infected black-legged tick. Bella and Anwar were diagnosed with the disease in 2013 while their mother started battling it earlier. According to Bustle, they contracted the condition due to the environment. Their mother is working hard to ensure that her children get the best treatment for the disease. She hates seeing them suffering as it made Bella unable to ride a horse, and she was heartbroken.
2. He is comfortable with girls around him
The people around us have a way of influencing our interests. Since he spends a lot of time with his mum and two sisters, Anwar enjoys having girls around him. His mother and sisters are his best friends. He finds Gigi to have brains while Bella is a free spirit and does not allow anyone to set limits for her. The sisters are protective but still advice Anwar to be himself and have fun.
3. He loves the smell of eucalyptus in the morning
Anwar has a unique preference for scent; he loves the smell of eucalyptus or lavender in the morning. The scent of these flowers reminds him of Los Angeles, where he grew up. Anwar said this in a hotel in New York after catching the scent of these flowers from outside. He loves the smell so much that Anwar had a bouquet of the flowers while in high school.
4. His grandfather was a designer of men's shirts
Some of the attributes we have are passed on to us by our forefathers. In the case of the Hadid family, their love for fashion existed long before Anwar was born. Anwar said that modeling must be in his genes because his grandfather was a designer of men's shirts in Holland. He is on track to make his grandfather proud as he strives to gain financial independence.
5. He developed an interest in fashion after his sisters started modeling
Anwar was not previously interested in fashion trends until his sisters, Gigi and Bella began modeling. He did not grow up wearing designer clothes, but he later changed and now goes with the trends in the fashion industry. Anwar even developed plans for studying fashion once he was done with high school and eventually have his label. He is set on making this dream come true and has started working with modeling agencies.
6. His net worth
According to Glamour Path, Anwar is worth $10 million which he earned mainly from modeling. The start of his career in modeling was in 2015 as he was trying to emulate his sisters. He started with Nylon magazine where he gained popularity as a fashion star and later worked with many other magazines. Apart from modeling, he is also a television personality and a singer. He had the dream of gaining financial stability since he was young since he was not from a well to do family. That need for financial freedom became one of the driving force for him to work harder.
7. He loves tattoos
Anwar loves tattoos as seen from the many he has. His mum has always been in support for him to have the tattoos since he is a model, but his dad has told him to be wary of them. He says that since he does not tell people what to do with their bodies, he will not listen to any pieces of advice pertaining the tattoos. Tattoos are an art that makes him happy, and his friends Shon Lindauer and Doctor Woo did most of them. He is spontaneous and does not plan of the symbol that he will get until he is at the tattoo shop. He even travels to get some of them as he has been to France and Italy for the same. Since Anwar does not like it when the tattoos fade, he wears sunscreen.
8. He is in a relationship with Dua Lipa
Anwar had previously been dating Nicola Peltz back in 2016. Nicola is a daughter to Nelson Peltz, a billionaire businessman. The two later broke up in May 2018, and a month later Anwar was caught making out with Kendall Jenner, who is best friends with his sister Gigi. A magazine posted a photo of Anwar and Jenner kissing during a function of fashion designers. The picture led to many people thinking that the two were in a relationship, but they are not and Anwar is dating Dua Lipa, a songwriter.
9. He rejected Islam and joined Christianity
Anwar was initially a Muslim since his father, Mohammed Anwar, introduced the Islamic faith to the entire family. According to TR News, he rejected Islam and became a Christian. The decision to change his faith led to many threats from people around him, but he remains rooted in his faith.
10. He enjoys a private life
Since childhood, Anwar was private but could not maintain the private nature after the mother got to the limelight of popularity. It is too late for him to keep secrets since his sisters are also there to expose them. Although he is now famous, unlike his fellow siblings, he does not frequently post on social media. The few pictures that he posts are usually due to the love for his fans as he never wants to leave them in the dark.