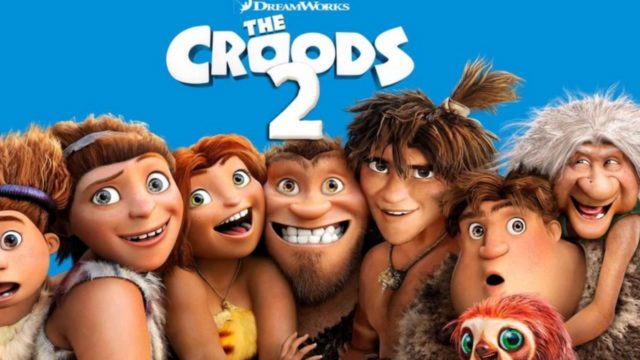 If you're not quite up on who the Croods are you might need to take a peek and get to know one of the most endearing caveman families that's come out since the Flintstones. In fact it might one of the ONLY caveman families that's really been worth noticing since the Flintstones. Unfortunately for the Croods, Dreamworks decided to go ahead and keep to a much simpler and less technologically advanced world in which the Croods were forced to struggle to survive on a daily basis. Their father, Grug, initially made it known that the outside world was bad and that their safety lay in the sanctity of their cave where they were safe. When the eldest child Eep ventures out and meets the wandering nomad Guy, and his furry friend Belt, things begin to change in ways that Grug and his family have to deal with. When their cave is destroyed they find the need to venture out into the world, where they meet up with Guy again, and embark on an adventure that eventually takes them to safety and to the realization that new things aren't always so bad. This movie was something kind of special as it obviously parodied what cavemen were like but did so in a way that made it fun for the whole family and brought people together to make them realize that moving forward really is the way to go.
A sequel has been some time in coming, but it seems as though the studio is finally ready to bring something out.
It's scheduled for a 2020 release date.
That seems like a long ways away doesn't it? But given that it's almost 2019 the work that's needed and then the promotions that will have to go out will need a lot of work as the animated movie will need to be just as good if not better than the first to give people the kind of laughs that were provided from the start. The voice actors are well-established individuals that absolutely made the movie since once people recognize them it becomes a little more special and a lot more engaging. Whether or not it will actually hit the release date that's been mentioned or if it will need to adjust it once the time starts getting close is up in the air, but for the moment we think that it might be a couple of years before we get to see this family on screen once again.
The film will feature the whole family again.
So far it sounds like all the actors will be coming back, which is fortunate. Those that have watched the movie once or twice will no doubt be elated to know that their favorite characters won't be sounding any different upon their return. The question however is how far into the future of the family the film will go since when the first movie ended the entire family was together, including Guy and Belt, and they were readily looking forward to each new day. Hopefully there won't be a regression in which any of them decides to take to a cave for safety, and hopefully the family won't feel the need to split for any reason. There will have to be some form of conflict but the idea of keeping the family unit together after all they've been through seems like a nice idea since it would allow the positive way that the first film ended to transfer over.
This time there will be a new threat.
The rumor so far is that the new threat, if it can be called that, will be another family that survived the cataclysm that set the Croods in motion to begin with. It's hard to imagine anything being worse than massive earthquakes and exploding volcanoes that could cause the death of an individual far easier than anything, but this time around it seems as though the Croods are being primed to interact with another surviving family. This might challenge their belief of nothing being out there beyond their cave, but it also seems as though it could bring forth an interesting dynamic that might even challenge the strength of the family and the bonds they hold with one another. To think that another family survived isn't hard to do since the survival instincts of the human beings that are said to have lived so long ago would have to be far greater than they are today. It will still be interesting to watch however since it will add something to the movie that we didn't get to see in the first one, a different family with possibly a different perspective.
The Croods is a fun family movie that isn't too over the top with its humor and yet isn't so cutesy that you can get a cavity just watching it. The movie should hopefully be something fun and engaging to watch when it comes out.