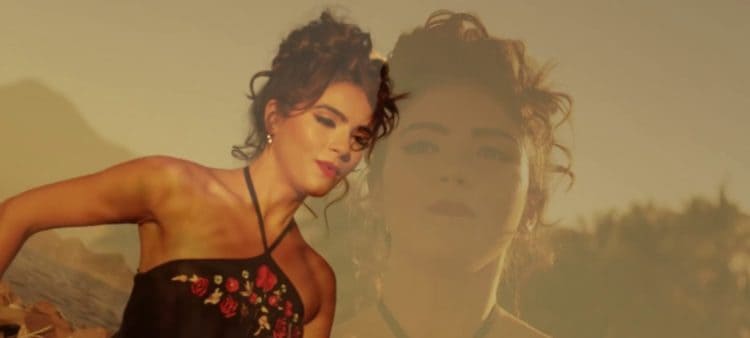 Although there is not a lot of personal information out there on this actress, Areinne Mandi is known to be a rising star in California and has been achieving a number of roles in both television shows, and on the big screen. She was born in Los Angeles, CA and got her debut not too many years ago. If you follow her newest series, The L Word: Generation Q, then you are probably familiar with who she is, but here are 10 things you didn't know about Arienne Mandi, so keep reading to learn what they are.
1. Where she made her debut
According to Celebs In Depth, Mandi made her television acting debut in 2014, on The Interns. Her guest appearance was the role of Mimi, and later that same year the actress went on to play the role of a Nicaraguan girl in the, Matador.
#2. Her new role on, The L Word: Generation Q
The Showtime drama sequel to, The L Word, is The L Word: Generation Q, and it has a wide range of actors with Mandi being one of the newest cast members. She plays the role of Dani, who, according to Out, "is a powerful and calculating PR executive whose ambition is only tested by her conscience." The show follows the characters; Dani Nùñez, Micah Lee, Sarah Finley and Sophie Suarez through their careers and personal lives as try to find their way through life's experiences, from love to heartbreak, in the city of L.A.
3. Mandi bares more in steamy scenes on L Word: Generation Q
Mandi bares a little skin in one of her scenes on L Word: Generation Q, and it's described in Celebrity Movie Archive. Arienne's character bares some skin while acting out a scene with Rosanny Zayas. The show's hot topics of love, romance and relationships leaves its fans seeing more of Mandi than just a pretty face.
4. She's had guest appearances on popular television series
Starting in 2014, Mandi has made several appearances on a number of popular hit television series and you're sure to recognize the name of most, if not, all of them. You can see her as Charlotta on Hawaii Five-O (4/20/2018), Emma Sweeny on NCIS (3/16/2018), Afshan on Agent X (12/13/15), Catalina Diaz on NCIS :Los Angeles (10/05/15), and Nicaraguan girl on Matador 8/12/14).
5.  Was co-star to Steve Guttenberg in Break Even
Mandi costars in Break Even with Three Men and a Baby's star, Steve Guttenberg. In Break Even, four friends take an adventurous trip to a remote island and find themselves in for a bigger adventure than they planned when they come across $50 million in cash that was part of a drug cartel sting.
6. Appears to be single
There's not much posted on Mandi in regards to her personal life, but what's seen on her social media sites, it doesn't appear that she is involved in anyone in particular, although it doesn't mean she doesn't have a 'special someone' in her life. Most pics involve her with groups of friends or the typical selfie. But keep following her social media and sooner or later, you just might see she's in a definite relationship.
7. She's into fitness and boxing
Instagram is the site to see what a lot of celebs do in their personal life. You can see what they are into when it comes to their time away from the camera, like fashion, fitness, vacations, family, pets and other interests. On Mandi's Instagram, it's pretty clear that she's into fitness with the pictures she posts, and boxing appears to be one way she keeps in shape.
8. Still rising on Instagram
Mandi is still an up-and-coming star and her social media reflects that. She's starting to make a name for herself, which means it till take time for her number of followers to grow as her popularity grows. As of now, Mandi has reached 12.3k followers on her Instagram, but with the way she's been getting roles and tapping into some of the more popular series as a guest star and recurring role, she will surely see that number grow.
9. Her latest big screen film, Baja
Another adventurous film involving a group of friends Mandi was selected for is Baja. Baja centers around four 22-year olds that plan a road trip to Mexico, with all four buddies having their own reason for wanting to take the trip, however, things don't go exactly as planned and when they don't, they must come up with a plan to get themselves and trip back on track. Mandi plays the role of Lisa in the film and was released last year.
10. Her net worth
With the all the roles Mandi has taken on since her debut, it's been estimated that she currently has a net worth  of approximately $500,000. Depending on what she is paid for guest roles, recurrent roles and big screen films, her net worth will change over time. As of now, that is a pretty solid figure and definitely something to be proud of.